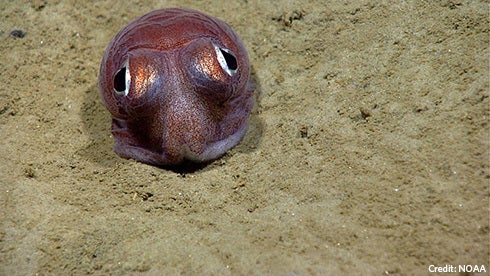 In establishing the first U.S. marine national monument in the Atlantic Ocean, President Barack Obama is protecting an ocean area that harbors whales, puffins, 1,000-year-old corals, undersea mountains, and chasms deeper than the Grand Canyon.
The designation of the Northeast Canyons and Seamounts Marine National Monument protects 4,913 square miles and begins about 150 miles southeast of Cape Cod. Although little fishing occurs there now, the designation phases out commercial fishing and prohibits other extractive activities such as mining and drilling.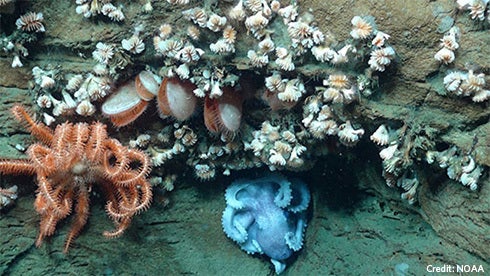 The monument is the latest addition in a movement to protect special ocean areas across the country and the globe. Unlike the Administration's other marine monument designations, it is located offshore from major urban population centers: according to the U.S. Census Bureau, at least 25 million people – more than 8 percent of the U.S. population – lived in counties with ocean coastline from Maine to New York in 2010.
President Obama's move to protect the area comes after scientists associated with the New England and Mystic aquariums catalogued its rich, healthy ecosystem. In 2013, the National Oceanic and Atmospheric Administration sent a deep-sea submersible vehicle to probe the region and capture video of the abundance of marine life there.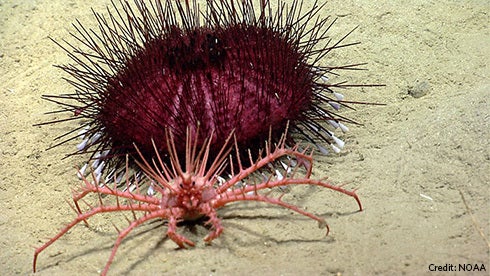 On their missions to the area, researchers discovered rare species and explored a series of canyons and underwater mountains that rise as high as 7,000 feet from the seafloor—the only such formations in the U.S. Atlantic.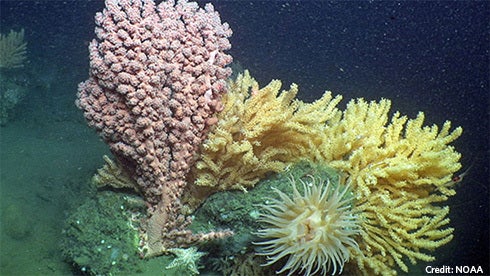 The protected area includes three canyons and four underwater mountains, where scientists have documented hundreds of species. Brilliant cold-water corals, some the size of small trees, form the foundation of deep-sea ecosystems, providing food, spawning habitat, and shelter for fish and other marine animals. The region is also home to tunas, sharks, seabirds, dolphins, and other marine mammals, such as endangered sperm whales and rare North Atlantic right whales.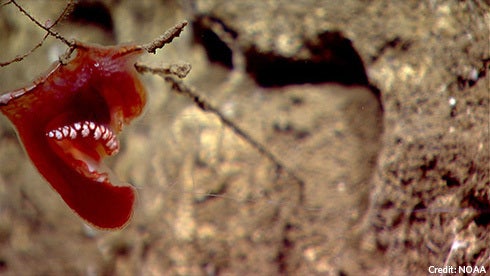 While the U.S. has a long tradition of protecting lands—Yellowstone, our first national park, was established in 1872—marine monuments are part of a newer generation of preserved areas. President George W. Bush established four U.S. marine national monuments in the Pacific Ocean in 2006 and 2009. President Obama has expanded two of those—the Pacific Remote Islands and, last month, Papahānaumokuākea, in the Northwestern Hawaiian Islands, which regained the mantle as the world's largest marine reserve; it held that distinction when President Bush created it in 2006 but had been surpassed by larger reserves in other countries' waters. The expanded Papahānaumokuākea is more than four times the size of California.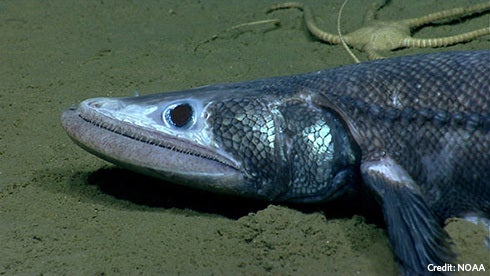 When the Northeast Canyons and Seamounts Marine National Monument was proposed, it drew support from hundreds of thousands of scientists, educators, business owners, boaters, surfers, beachgoers, Connecticut legislators, and members of faith-based organizations—together with the region's leading aquariums and conservation organizations, representing millions more people.
Robust ocean food webs are the foundation of New England's whale watching, recreational fishing, and seabird viewing industries. Research has shown that protected areas increase the likelihood that marine life will reproduce and boost the abundance, individual sizes, and diversity of sea life. Given sanctuaries in which to feed and breed undisturbed by humans, more fish and fish larvae can spread out beyond the reserve's boundaries and support more fishing opportunities.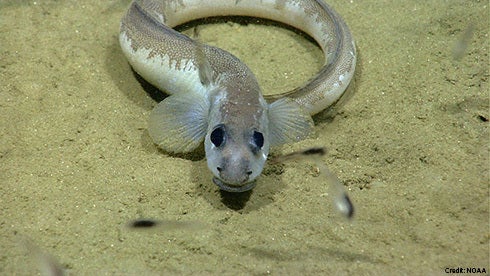 Today, limited fishing occurs in the canyons and seamounts area, much of which is too deep and rugged for bottom trawling, the dominant fishing mode in the region. Bottom trawling is prohibited in two canyons already. But the president's action protects against future extractive activities as the push to fish, drill, and mine in new places puts these fragile habitats at risk. And with climate change already affecting ocean conditions–recent research has found the nearby Gulf of Maine warming faster than 99 percent of the world's marine waters – the monument will serve as an increasingly important refuge for the region's sea life.
The monument creates a safe haven for marine resources that have helped define New England's maritime culture. It's a major step forward and an investment that will reap dividends for generations to come.
Calling all HuffPost superfans!
Sign up for membership to become a founding member and help shape HuffPost's next chapter
This post was published on the now-closed HuffPost Contributor platform. Contributors control their own work and posted freely to our site. If you need to flag this entry as abusive,
send us an email
.