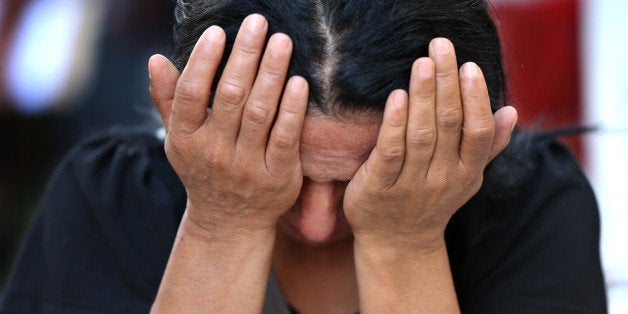 The world continues to be stunned on a daily basis by the senseless violence that is devastating so many families and communities. Terrorism, war, murder and violence targeting racial and ethnic minorities, women and children happen with such frequency that they have become the new norm numbing our sense of outrage at these atrocities.
The daily violence reflected in these and so many more incidents is deeply shocking and stirs up powerful feelings of fear, anger, outrage and sadness. The questions swirl, and consume our thoughts. Why? Who? How?
It is natural to feel this way. Violence is horrible and the purpose of violence is to horrify. As part of a global community of peace-builders, I hear daily stories of violence from across the world, both the stories that captivate the media and the stories that we never see and yet are no less tragic.
My own practice in these moments is to weep and then to work. In weeping we open ourselves to the depth of sadness that incidents of violence evoke. Grief, real grief, is such an important response to the loss of life and the damage to people and the world around us. Through our tears, we connect to those who suffer, and we humanize a situation caused by the dehumanizing actions of others. Grief also connects us to love, and it is through love that we are called back into what The Rev. Dr. Martin Luther King Jr. called "a worldwide fellowship that lifts neighborly concern beyond one's tribe, race, class and nation."
If we do not allow ourselves to feel this sadness, to really grieve, then our fears and pain turn instead to grievance. Who is to blame? How can I get my revenge? Our world is locked in an endless cycle of grievance. Grievance is the fuel of terrorists, and the inspiration for those who choose violence as a means to the ends that they desire. One act of violence fuels another and the grievance/violence cycle continues, day after day, generation after generation.
In contemplating a world descending into the depths of war in his own time, Dr. King went on to urge those gathered at Riverside Church in New York City, April 4, 1967 to see love as an absolute necessity for the survival of humanity. "When I speak of love, I am not speaking in some sentimental and weak response... I am speaking of that life force which all of the great religions have seen as the supreme unifying principle."
If we are dedicated to breaking this cycle of violence and reclaiming the power of love, first we weep. We weep for those whose lives are lost to or damaged by violence. We weep for their families and friends and communities who suffer. We weep for the generations who follow whose lives will be changed. But our sadness leads not to paralysis but to a deeper commitment to confront this violence and work for peace in our communities, in our country and in our world. Our sadness connects us to deep feelings of compassion and love for our fellow human beings and all living creatures. This is a power that no criminal, cowardly, dehumanizing act of terror and violence can overcome - or, in Dr. King's words, "Darkness cannot drive out darkness; only light can do that. Hate cannot drive out hate; only love can do that."
First we weep and then we work through acts of courageous love towards the goal of peace.
REAL LIFE. REAL NEWS. REAL VOICES.
Help us tell more of the stories that matter from voices that too often remain unheard.