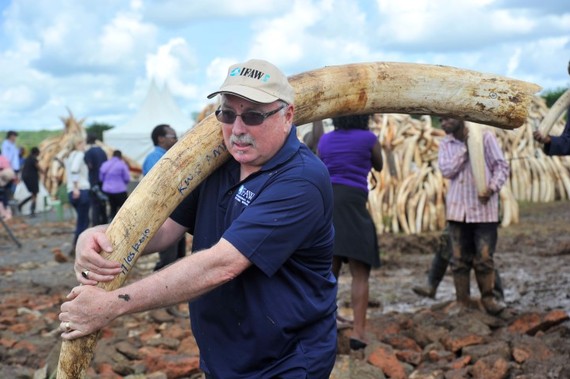 The author arrived early to help bring tusks of a record-setting 105-tonne cache to the burn site at Nairobi National Park. It will be set on fire on Saturday.
The Giants Club, founded by His Excellency Kenya President Uhuru Kenyatta with the presidents of Botswana, Gabon and Uganda, with support from the international NGO Space for Giants, has giant ambitions to bring various stakeholders in elephant conservation together to solve the global crisis.
These ambitions have materialised in the first-ever summit of its kind that in addition to tackling the poaching crisis through various approaches, will provide guidance and financial mechanisms to protect and maintain the continent's most significant elephant landscapes well into the future.
Leaders from the key range countries are in the same room committing their power and influence to a worthwhile cause. We, a few leaders of some select NGOs, are here to lend our support and if asked, to put their feet to the fire.
The summit commences tomorrow at the Mt. Kenya Safari Club and will feature panel discussions on frontline protection, the role of influencers in policymaking, and the maintenance of safe habitat for these majestic animals.
I am honoured to join top CEOs, philanthropists, conservationists and dedicated celebrities in discussing this multi-national crisis.
However powerful, it's a nimble group, limited to only 100 participants and their key advisors.
Space for Giants founder Evgeny Lebedev hosts a dinner that night, where participants will be encouraged to share their conservation investments with others one-on-one. We are excited to present our recent project tenBoma--which has already shown results in tracking poaching networks so as to stop them before they can slaughter elephants--with the people who can support its future in whatever way possible.
The following morning, the presidents of the Giants Club will announce key conservation interventions and donors will make pledges to the cause.
Following this gathering, we will all travel to Nairobi National Park to be witnesses as the Kenyan government sets fire to 105 tonnes of elephant ivory and rhino horn - the largest stockpile to be burned by any country at one time.
Since 1989, Kenya has destroyed more than 30 tonnes of ivory. Presidents Mwai Kibaki and Daniel Moi destroyed five tonnes in 2011 and 12 tonnes in 1989 respectively before H.E. Kenyatta set ablaze 15 tonnes last March. The burning of the 12 tonnes in 1989 captured media attention and helped lead to the international ivory trade ban in 1990.
Since 2011 more than 100 tonnes of ivory have been destroyed by countries such as Belgium, Cameroon, Chad, China (including Hong Kong), The Republic of Congo, Ethiopia, France, Gabon, Italy, Kenya, Malawi, Malaysia, Mozambique, Philippines, Sri Lanka, Thailand, UAE and the US.
The gravity of these few days is felt every moment I am here. The outcomes will make huge strides for elephant protection in the African continent.
We cannot forsake our lofty ambitions.
Calling all HuffPost superfans!
Sign up for membership to become a founding member and help shape HuffPost's next chapter