Can you imagine a visit to a Disney park without seeing Buzz or Woody? How many times have you heard kids at a fish tank yell, "There's Nemo! There's Dory!" It's even easier for kids to talk about their feelings because of Pixar's Inside Out. For 20+ years, the stories and characters from Pixar Studios are a part of our collective experience. For the first time, Pixar opened up their studio archives for a glimpse at their vast collection. Drawings, movie scripts with hand-written notes, Toy Story toys collected by John Lasseter's aunt, and even a mock-up of Carl Fredricksen's tennis ball festooned walking cane created for Up are all part of the 5 million piece conglomeration.
The Pixar Living Archives is dedicated to gathering, organizing, and preserving all the materials used in the creation of Pixar movies. Archivists and historians Christine Freeman and Juliet Roth shared materials dating back to the original storyboard drawings for Tin Toy by John Lasseter. Tin Toy was completed in 1988, and was the first computer animated film to receive an Academy Award.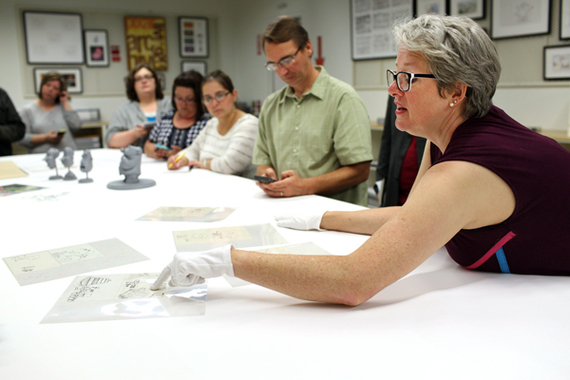 Freeman explained the nugget of the idea for Tin Toy was expanded into Pixar's first full-length computer animated film Toy Story. The Tin Toy character morphed into "Lunar Larry," who would eventually become Buzz Lightyear, and a ventriloquist dummy in the short evolved into Woody.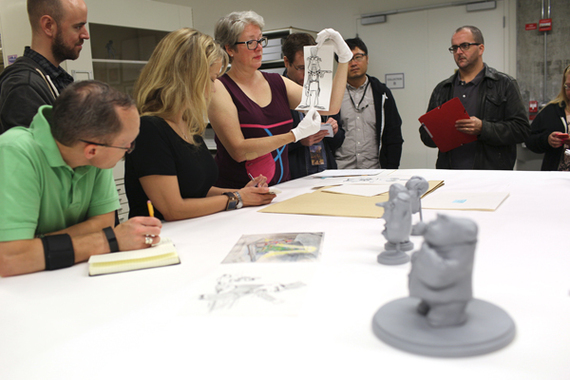 As the visual imagery of Buzz and Woody evolved, so did their personalities. Christine Freeman said, "Woody was a real jerk," but eventually softened to the Woody we know today.
The Pixar Living Archive includes sketches, paintings, models, and toys, and not all of the toys are recognizable either. The artists created their own "mutant toys" like a Hulk Hogan body with a CHiPs doll head stuck inside; developed as a mock-up for Sid's room in Toy Story.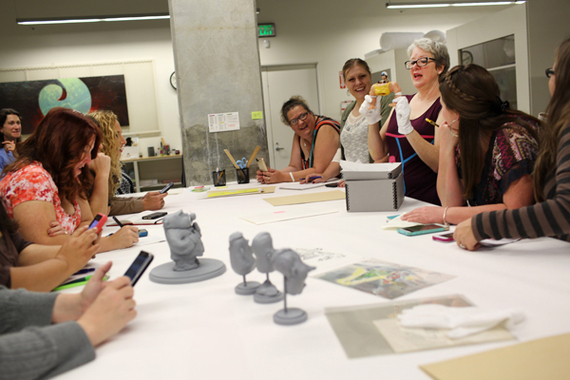 Pixar's next story, THE GOOD DINOSAUR opens nationwide in theaters on November 25 - check out the most recent trailer below.
Calling all HuffPost superfans!
Sign up for membership to become a founding member and help shape HuffPost's next chapter