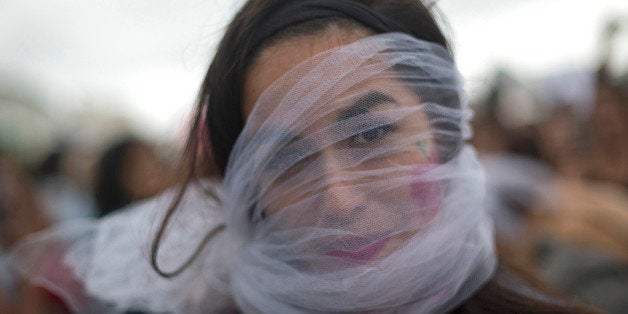 I woke up one October morning to find that a few men had used their social networking accounts to post sexual comments about a 12-year-old girl.
She is one of the participants in the Brazilian version of the cooking reality show MasterChef Junior; the show's cast is made up entirely of children. But for these unidentified men, protected by their online anonymity, she was an old enough to be an object of sexual desire, and the target of comments about her body.
It was abominable. And for me, and for most Brazilian women it was...also quite familiar.
In order to tell my own story before an audience of 450 people-- not to mention the cameras that recorded that moment-- during my talk at TEDxSão Paulo, I had to gather enough courage.
"I decided that I would not go back to a place of silence and fear."
When I was 11, I received grotesque comments about my body from a stranger on the street. Speaking about the first experience of sexual harassment is always painful. Recalling that my childhood was violated with sexually-inappropriate interactions makes me angry. But what's worse is the burden of guilt attached to the memory.
"What did I do to provoke this?" I asked myself. The explanation: I am a woman.
Although my first experience with harassment took place when I was a child, I only managed to talk about it at 27.
The motivation came after I read a friend's post on Facebook, in which they complained about sexual harassment in public places. That's when I gathered the strength to turn that experience into words. In that moment, I decided that I would not go back to a place of silence and fear.
You can imagine my surprise when some people questioned the veracity of my #FirstHarassment hashtag. As if sexual harassment of girls hadn't been utterly normalized in our society!
Thus, the MasterChef Junior episode shed light on a pervasive problem that is often ignored or treated as a minor issue.
"We cannot fight something we don't believe happened. There is a systematic effort to keep victims silent."
A 12-year-old girl enrolls in a reality TV show, because she loves cooking. On the Internet, men feel attracted to her and, ignoring her age, decide to post sexual comments about the child. This leads to protests on social media, but one doesn't need to go far to find similar stories: just ask women to recall their own past.
When we invited them to speak about the first time they experienced harassment, we realized that this behavior is much more frequent than we thought. But their terror is hidden under a veil of blame and secrecy, woven together by male sexism, which protects the men and blames the victims.
We cannot fight something we don't believe happened. There is a systematic effort to keep victims silent. It's not a super villain that's behind this silencing project; it manifests whenever we are convinced that complaining is an overreaction, that we must forget, that "it is water under the bridge" and that to complain constitutes "self-victimization."
When we are victims, from the age of five, of invasive and inhuman behavior-- then something very powerful happens when we realize that we're victims.
That's the moment when a woman starts to speak freely and openly: she understands that what happened was wrong, that male sexism is responsible for the lack of support she received, or for being afraid to ask for support at the time. She realizes that sexims was responsible for the notion that she had provoked, or allowed, the incident of harassment to take place.
They finally realize they were victims of sexual harassment as children. And they can finally see, with clarity, that there's someone else to blame.
"After all, sexism has no borders. It happens regardless of skin color, religion, ethnicity, age, or physical condition."
This process can only happen when she realizes she's not alone. That is why we created the #PrimeiroAssedio (First Harassment) hashtag on Twitter, where I shared the details of my first harassment experience, when I was 11, and other similar episodes when I was still a child, a preadolescent and an adolescent. We asked others to do the same.
It is not a simple, painless or easy task. But it is important for a woman to take control of her own history and realize that she was a victim. This is not self-victimization. It is the empowering feeling of realizing that oppression is not "part of life." This is the first and most important step towards change.
The hashtag was used more than 82,000 times, including in tweets and retweets. We analyzed a group of 3,111 stories shared on Twitter, and found that the average age at which girls experienced their first instance of harassment was 9.7 years-old.
The hashtag #FirstHarassment spread worldwide, and was discussed on websites, radios, and TV stations in various countries including the U.K., the U.S., Pakistan, India, Ireland, Spain and Portugal.
Even more women shared their stories, which were very similar to ours. After all, sexism has no borders. It happens regardless of skin color, religion, ethnicity, age or physical condition.
Harassment thrives in environments where gender inequality is prevalent; the result is a power play in which women have no right to their city. And we don't mean São Paulo, New York or Mumbai. We're talking about public spaces!
Historically, these spaces were conceived and built according to a patriarchal perspective that has excluded women.
This is the start of a huge and cathartic movement of women who, using up to 140 characters, showed that what happened to the 12-year-old cook is a reality faced by all girls. And how absurd is it that a child must go through this?
This post first appeared on HuffPost Brazil and has been translated into English.
REAL LIFE. REAL NEWS. REAL VOICES.
Help us tell more of the stories that matter from voices that too often remain unheard.