WASHINGTON -- A group of Democratic senators introduced legislation Thursday to reform the Foreign Intelligence Surveillance Court amid revelations that it secretly authorizes widespread surveillance of Americans.
Sens. Richard Blumenthal (D-Conn.), Ron Wyden (D-Ore.) and Tom Udall (D-N.M.), all vocal critics of the National Security Agency's dragnet data collection, announced two new bills that would change the FISA court to a more adversarial system and appoint a special advocate to protect privacy and individual rights. Speaking to reporters at a press conference on Capitol Hill, the three Democrats slammed the court for its lack of transparency and oversight; they also emphasized a growing desire among lawmakers to respond as more information comes out on the federal government's surveillance methods.
"When this dramatic change occurred, a change that I think will be regarded as significant in our country's constitutional history, there was nobody there to offer the other side," Wyden said, referring to the court's controversial interpretation of the Patriot Act Section 215 and FISA Court Amendments Act Section 702, under which the NSA programs are lawful.
"I know of no other court in America that is so one-sided," he added. "For example, you hear often, 'you can appeal' … How do you appeal something that is secret?"
"The adversarial process is a hallmark of American justice, but the FISA court only hears one side -- the government's side," Udall said, while Blumenthal called the court "an anomaly in a democratic, transparent government."
Under one piece of legislation, the FISA Court Reform Act of 2013, the presiding judge of the FISA Court of Review would choose a special advocate for a five-year term from candidates nominated by the Privacy and Civil Liberties Oversight Board. That special advocate would follow all court proceedings and be granted authority to appeal decisions that "involve a new or significant construction or interpretation of law." The bill also would require the FISA Court of Review to evaluate all decisions appealed by the special advocate, and require the attorney general to declassify or summarize decisions involving broad or significant interpretation of law, while taking national security into consideration.
The bill is co-sponsored by Sens. Patty Murray (D-Wash.), Chris Coons (D-Del.), Al Franken (D-Minn.), Kirsten Gillibrand (D-N.Y.), Jeff Merkley (D-Ore.), Jon Tester (D-Mont.), Mark Udall (D-Colo.), Sheldon Whitehouse (D-R.I.), Tammy Baldwin (D-Wis.), and Ed Markey (D-Mass.).
Rep. Adam Schiff (D-Calif.) is preparing similar legislation in the House to appoint a special privacy advocate. The California Democrat has suggested several measures to make the court more transparent and curtail the scale of the NSA's surveillance.
The companion legislation, the FISA Judge Selection Reform Act of 2013, would seek to create a more "geographically and ideologically balanced" court. It would expand the FISA court from its 11-seat body to 13 district court judges with two new seats assigned to the U.S. Court of Appeals for the D.C. Circuit and U.S. Court of Appeals for the Federal Circuit.
Currently, only Sens. Jon Tester (D-Mont.) and Tammy Baldwin (D-Wis.) are co-sponsors.
This isn't the first legislative effort in response to NSA leaker Edward Snowden's revelations in June that the NSA was mining data on phone and electronic communications from millions of Americans. Wyden, along with Mark Udall, introduced a bill last month that would limit the federal government's authority to collect data, while Merkley and Sen. Mike Lee (R-Utah) put forth legislation to declassify FISA court opinions.
President Barack Obama also returned to Capitol Hill this week to meet with Democrats in both chambers, his first visit since news of the NSA programs broke. Senate Democrats reportedly pressed Obama on the surveillance behind closed doors Wednesday. Following the meeting, a few of the more skeptical senators said they had been invited to meet with the president at the White House Thursday.
Administration officials and congressional aides were mum on details, but said the meeting would provide an opportunity for lawmakers to voice their concerns directly to Obama and discuss possible ways to reform the FISA court. Wyden, who is attending the meeting, said he appreciated the chance to walk through his proposals with the president.
Blumenthal said there was "great receptivity" within the administration toward the idea of a special advocate or the adversarial process.
One reporter pointed out that their announcement came on the same day that Snowden was finally able to leave the transit zone of the Moscow airport and granted asylum to live in Russia for a year. The lawmakers were asked if the focus on Snowden -- and his presence in a country with which the United States shares frosty relations -- would make their legislation a harder sell.
Blumenthal said Americans have "no tolerance" for people who prematurely disclose the facts, but they also are "appalled and astonished" when told the government has been collecting their phone numbers.
"I think the American people are capable of separating the illegal, completely intolerable actions of a lawbreaker like Snowden from the legitimate concerns that are expressed by protecting individual rights," he said.
Read more on FISA Court Reform Act of 2013:

Read More on FISA Judge Selection Reform Act of 2013:

UPDATE: Speaking to reporters upon his return to the Capitol, Wyden was reluctant to divulge the details of Thursday's meeting with Obama. The senator said he and Mark Udall tried to convey the "urgency of reform."
"We tried to talk about how ... in our view, security and liberty are not mutually exclusive, that our country can do both," Wyden said, adding that he also focused on FISA court reforms.
"The FISA court is the one that took that Patriot Act definition of 'relevance' and allowed it to morph into the bulk phone record collection program on millions and millions of Americans," he said.
Wyden declined to discuss what Obama told lawmakers in the room, simply noting that the president was "open to ideas." Vice President Joe Biden was also present at the meeting, he said.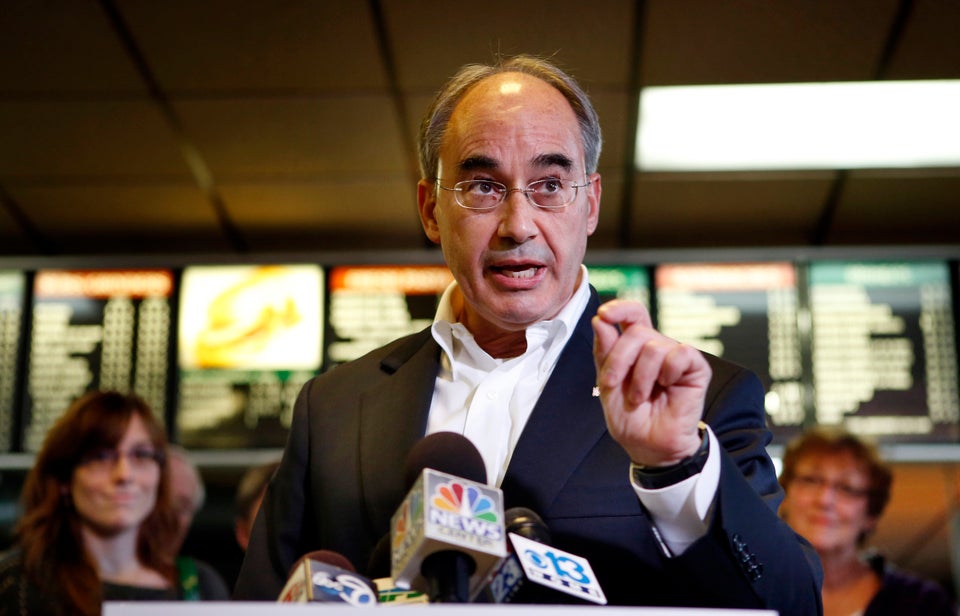 Great Political Names
Popular in the Community