 WASHINGTON -- Unfazed by campaign-season accusations of raiding Medicare, Democrats on the Hill said they are willing to consider reforming the entitlement program to avert the so-called fiscal cliff.
"On Medicare, I don't know of any bipartisan group that has wrestled with this problem that has not said Medicare and other health care costs have to be part of the solution," Sen. Kent Conrad (D-N.D.) told reporters on Capitol Hill Tuesday, adding that he is not against Medicare being a part of fiscal cliff negotiations.
"They are the fastest growing accounts in the federal government. So clearly if you're going to deal with the long-term fiscal sustainability of our circumstance, health care accounts have to be a part of it."
The openness of Democratic lawmakers to pursue Medicare reform suggests that the party estimates only a limited political price for such a pursuit. "I think there are things you can do on Medicare that will cut costs and keep people getting the benefits they need," said Sen. Charles Schumer (D-N.Y.).
But the base of the Democratic Party has warned members that cuts to the entitlement program should be minimal, if not entirely off the table, in negotiating a lame-duck grand bargain with Republicans.
The party isn't the only one threatening political repercussions if Democratic lawmakers sign off on steep Medicare reforms. During the past two elections, one of the most frequent attacks from the presidential race on down was that President Barack Obama cut $716 billion from Medicare to fund the Affordable Care Act. In 2012, the GOP presidential ticket, Mitt Romney and Paul Ryan, pledged to restore the funds as an obligation to the retirees.
The GOP talking point was misleading, because it failed to specify that most of the spending reductions under Obamacare were aimed at insurance companies and hospitals, not beneficiaries. But it helped Republicans win congressional seats in 2010 and it helped neutralize a traditional Democratic advantage on the Medicare issue in 2012.
So, it's understandable that Democrats would be hesitant to entertain more Medicare-cut attacks. But, in the early stages of fiscal cliff negotiations, few seemed nervous.
Sen. Tom Harkin (D-Iowa) said he was just as inclined to tackle Medicare reform, despite the election year attacks.
"As long as they don't cut eligibility, raise the retirement age ... but if they want to cut down on how much we're paying to providers and to insurance companies, device manufacturers, things like that, [then] sure, fine," Harkin said.
Sen. Debbie Stabenow (D-Mich.) also was unfazed by election year politics, saying she could support Medicare reform to avoid going over the fiscal cliff, provided it was the right proposal.
"[Republicans] did not win that message, because it simply wasn't true," Stabenow said.
For Harkin, Stabenow and many Democrats, the key issue with reforming Medicare is deciding what exactly to reform. Reductions to benefits remains unacceptable. But cuts to the supply side, as well as eliminating wastes and inefficiencies, are more easily stomached.
The timing of such reforms, also, is a point of disagreement. In a speech at the Center for American Progress on Tuesday, Sen. Dick Durbin (D-Ill.) , urged progressives to be open to Medicare and Medicaid reforms as part of long-term deficit talks.
But he also said both entitlement programs, along with Social Security, should be off the table during fiscal cliff negotiations.
"Progressives should be willing to talk about ways to ensure the long-term viability of Social Security, Medicare and Medicaid, but those conversations should not be part of a plan to avert the fiscal cliff," Durbin said in his remarks.
"I think the point we tried to make in the campaign was the Paul Ryan approach [turning Medicare into a quasi-voucher program] we think threatens the existence of these programs and the services they provide," Durbin told reporters later in the day. "That's unacceptable. There has to be a better, more positive approach that saves money and at the end of the day, is going to keep these programs alive."
Sen. Jeanne Shaheen (D-N.H.) agreed with Durbin that Social Security should be off the table, noting that it has not contributed to the debt. But she conceded that changes to Medicare are necessary.
"If we're going to deal with the debt and deficits long term, we've got to look at health care costs," Shaheen said. "And obviously Medicare is affected by that."
Still, some Democrats refused to remove Social Security from negotiations during the next few weeks of critical negotiations.
"I'm not drawing any lines in the sand on anything," said Sen. Jeff Bingaman (D-N.M.).
Sen. Jon Tester (D-Mont.) also declined to get into specifics. "There are some opportunities to do some stuff with Social Security in particular. I don't even want to get down that line until we get to a bigger package."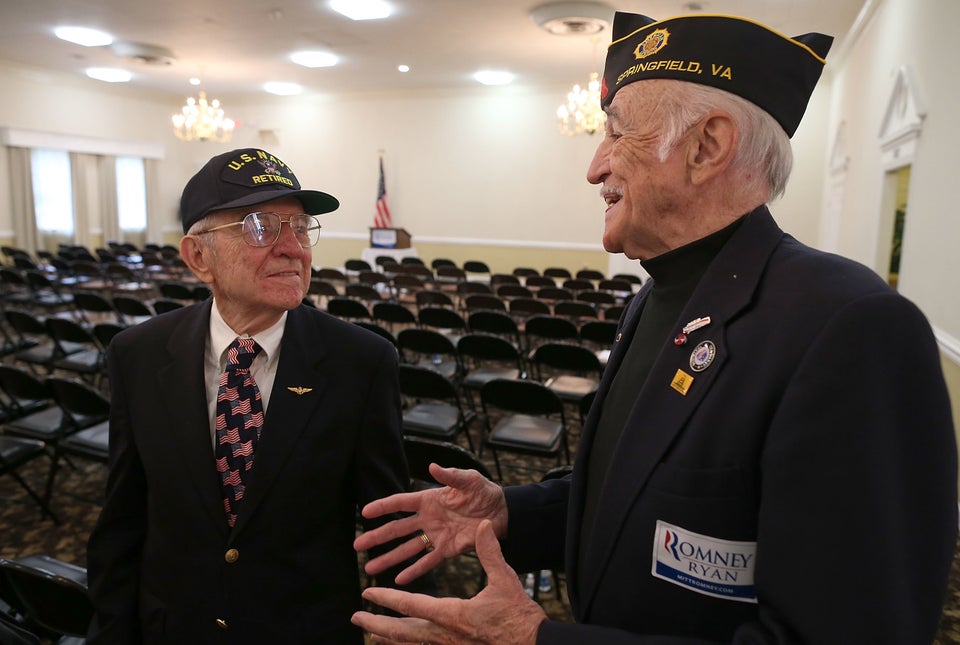 What Could Fall Off The Fiscal Cliff
Popular in the Community