 WASHINGTON -- Tense "fiscal cliff" negotiations on Capitol Hill Sunday inched forward slightly as Republican senators agreed to take Social Security cuts off their list of immediate demands.
The cut that GOP leaders had proposed -- picking up on a now-defunct offer from President Barack Obama -- involved basing Social Security cost-of-living adjustments on a chained consumer price index (CPI), which grows more slowly than current measures of inflation and therefore would give seniors less in benefits as time went on.
But Senate Republicans realized in a caucus meeting Sunday afternoon that the idea was a loser for now, even if they might return to it in reaching a larger deal later on.
"CPI has to be off the table because it's not a winning argument to say benefits for seniors versus tax breaks for rich people," said Sen. John McCain (R-Ariz.). "We need to take CPI off the table -- that's not part of the negotiations -- because we can't win an argument that has Social Security for seniors versus taxes for the rich."
"There's a realization that in spite of the president's apparent endorsement of a chained CPI that that proposal deserves more study," said Sen. Susan Collins (R-Maine). "My guess, based on what Democrats are saying is that that reform would not happen during this stage of the negotiations."
A Democratic aide, informed of the reversal from a proposal that Senate Minority Leader Mitch McConnell (R-Ky.) had offered late Saturday -- which included the Social Security cut -- took it as a hopeful sign.
"Well, that's some progress," said the aide, who was granted anonymity due to the sensitivity of the talks.
Senate Majority Leader Harry Reid (D-Nev.) told reporters after the Democrats met in the Capitol that they had made a counteroffer, although he did not say what.
A chained CPI is based on the idea that if one product becomes more expensive -- steak, for instance -- consumers will switch to a cheaper substitute -- say, chicken -- thereby spending the same amount for food. The chained CPI would make the same switch, dropping steak from its measure of inflation and replacing it with chicken, resulting in a lower tally of inflation and, if linked to Social Security, lower payments to seniors.
The GOP would like to institute this limited inflation measure at some point, even if they have to wait for a broader debt, deficit and tax reform plan next year.
"We do expect it to be part of the debt ceiling negotiations," said Sen. Bob Corker (R-Tenn.), in a signal that extending the nation's borrowing limit -- which the United States has nearly reached -- will not be part of any imminent deal.
"Chained CPI would be to stabilize Social Security," Sen. Kay Bailey Hutchison (R-Texas) said. "That's not the way it's being portrayed, and therefore I think it should be dropped. And I think all the Republicans agreed to that."
"I don't think anybody ever expected Social Security to be part of this," added Sen. John Cornyn (R-Texas), referring to a last-ditch deal this year. "It's all going to be about taxes of some kind or another."
There were some glimmers of bipartisan agreement on what may or may not end up in a pared-down deal. Hutchison said lawmakers in both parties had essentially settled on extending the Bush income tax cuts below the $400,000 or $500,000 threshold. She also said the estate tax isn't "the real hang-up" for most people.

Instead, Hutchison and several other GOP lawmakers said, a major sticking point for Republicans remains a Democratic proposal to impose a two-year moratorium on the major spending cuts mandated by sequestration while, separately, using new tax revenue for new government spending.

"I think the hurdles are that you can't use tax increases on anyone to pay for more spending," she told reporters. "You have to have a component in there of deficit reduction."
"[Democrats are] not interested at this point in talking about any entitlement reforms," said Sen. Roy Blunt (R-Mo.), who described the mood of his conference as leaning "heavily" toward frustration. "I believe Senator McConnell can and will say, with equal certainty, that we're not interested in taking new tax revenue to pay for new spending."
The fiscal cliff is the combination of the expiring Bush-era tax cuts and the impending across-the-board spending cuts Congress mandated when it last agreed to raise the debt ceiling. The tax cuts expire and the government is required to start cutting about $100 billion after the new year.
Democrats have been insistent on preserving the Bush-era tax rates on income below $250,000. They seemed more pessimistic about achieving a deal.
Asked if he thought there would be an agreement on Sunday, Sen. Jay Rockefeller (D-W.Va.) said no.
"I'm going to stick around another hour just to see what happens," he said, leaving his party's caucus meeting in the afternoon.
UPDATE: 6:09 p.m. -- Reid later appeared on the Senate floor to signal that Rockefeller was correct in his assessment there would be no breakthrough Sunday.
"There is still significant distance between the two sides, but negotiations continue. There's still time left to reach an agreement," Reid said, announcing that the Senate would return on Monday, New Year's Eve. "We'll have further announcements, perhaps, at 11 in the morning."
That would leave just 13 hours to finish a deal with the House, which is far from guaranteed with a chamber led by Republicans adamantly opposed to any tax hikes.
Ryan Grim contributed reporting.
Before You Go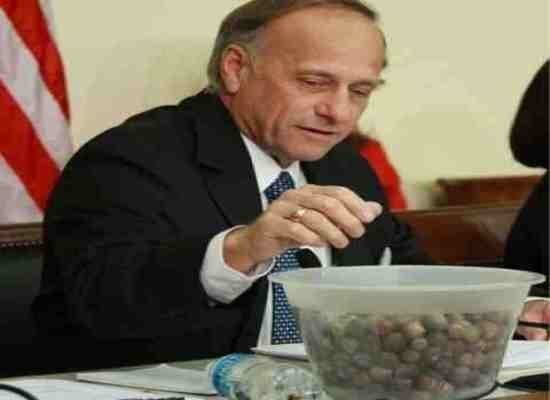 More Crazy Examples of Congressional Theatrics
Popular in the Community