 This holiday season, instead of visions of sugar plums dancing in my head, like many people in Washington and around the nation, I'm having nightmares about plunging over a cliff, the fiscal cliff.  Unless President Obama and Congress reach a deal before the end of the year to avert taking the nation over the fiscal cliff, automatic spending cuts, known as sequestration, will go into effect.  These across-the-board cuts to federal programs could have devastating impacts on rivers and clean water.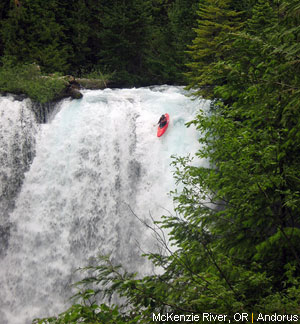 Sequestration would result in cuts of millions of dollars to programs administered by the National Oceanic and Atmospheric Administration (NOAA) to restore fisheries like salmon and steelhead.  These programs have been responsible for highly successful river restoration efforts across the nation, where obsolete and unsafe dams are being removed to restore free-flowing rivers for fish, wildlife, and cities and towns that benefit, environmentally and economically, from the clean water and outdoor recreation opportunities provided by restored rivers.  On Washington's Olympic Peninsula, two 100-year-old dams on the Elwha River have been removed, restoring 70 miles of habitat for salmon and steelhead, and in the process restoring a fishery on which the Lower Elwha Klallam Tribe has depended for centuries. 
Along Maine's Penobscot River, two large dams are being removed and the operation of other dams on the river reconfigured to restore more than 1,000 miles of river habitat for Atlantic salmon, alewives, and shad.  And as with the Elwha, restoration of the Penobscot River will also benefit a Native American tribe, the Penobscot Nation, whose culture is centered on the river.  Success stories like these could be endangered in the future if sequestration takes place.  It would be a shame if fish fought their way upstream only to plunge, figuratively speaking, off the fiscal cliff.
Sequestration would also cut millions of dollars in programs to protect and restore supplies of clean water that all of us depend on.  Programs administered by the Environmental Protection Agency (EPA) to replace aging, leaky sewer pipes and to encourage the use of green infrastructure such as rain gardens and permeable pavement could be in jeopardy. In the wake of damage from Superstorm Sandy, it is glaringly evident that we should be doing more to deal with aging water and sewer infrastructure and to promote natural infrastructure such as healthy floodplains and wetlands that absorb and store floodwaters.  Sequestration will put all of these efforts at risk.
It doesn't have to end up this way.  We don't have to leap off the fiscal cliff like lemmings to the sea.  We all recognize that our nation needs to get its fiscal house in order.  To achieve this, however, we need a balanced solution, one that relies on sensible budget cuts that do not harm programs that provide enormous benefits to our nation, along with responsible revenue increases that are applied fairly across our society.  Programs that benefit the public health and well-being by promoting a clean environment should be encouraged, not eliminated.  Restoring rivers by removing obsolete and unsafe dams, reconnecting communities to the rivers that flow through them, and reducing polluted runoff from city streets and farm fields are the types of programs that pay multiple benefits today and for future generations.
Similarly, sensible tax incentives that promote the betterment of society by encouraging charitable contributions to churches, schools, and, yes, groups such as American Rivers, should be preserved.  The tax code is replete with harmful subsidies that could be eliminated, such as those which encourage continued dependence on dirty fossil fuels that exacerbate global climate change and the problems that accompany it. 
As each day passes, the fiscal cliff looms ever larger and with it, the threat of doing greater harm to the environment.  In this season of hope, let us hope that President Obama and Congress will exhibit the wisdom and bipartisanship necessary to prevent taking the nation over the cliff and will do so in a way that protects the environment, including rivers and the clean water they provide.
Calling all HuffPost superfans!
Sign up for membership to become a founding member and help shape HuffPost's next chapter