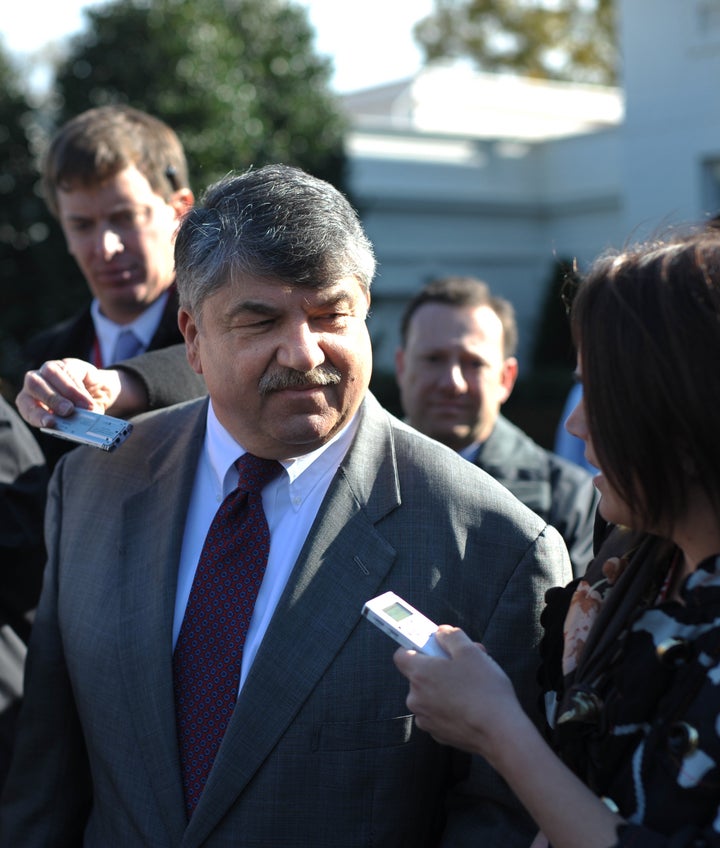 WASHINGTON -- Shaking up the "fiscal cliff" negotiations as they enter their closing stages, one of the top labor leaders in the country urged Democrats on Monday night to put the brakes on the deal and reconsider an even-further scaled-down proposal.
Richard Trumka, president of the AFL-CIO, tweeted his opposition to a proposal that would raise tax rates only on incomes above $400,000 for individuals and $450,000 for couples, while inviting future debt-reduction standoffs just months down the road.
"Its not a good #fiscalcliff deal if it gives more tax cuts to 2 percent and sets the stage for more hostage taking," Trumka wrote.
Trumka added, "We cannot set the stage for further destabilizing hostage taking from Republicans in the form of another debt ceiling crisis and another sequester crisis."
AFL-CIO officials said that Trumka supports a fallback option, which would include an extension of lower Bush-era tax rates below $200,000 for individuals and $250,000 for couples, as well as an extension of unemployment insurance and a pledge to deal with the sequestration spending cuts in the coming weeks.
The comments could persuade some liberal Democrats to pause on the current deal or even vote no. And with the vote tallies in the House still unclear, that could pose a problem for the deal's supporters.
Another AFL-CIO official said that the union was dismayed during the course of Monday to see the White House concede ground on the tax threshold fight.
"We are very concerned about a situation which seems like we have a couple hundred billion of dollars of concessions made on one hand -- some of which will be permanent -- and on the other hand, we are going into a further and further round of fake fiscal crisis -- the debt ceiling, the sequester -- in which we are going to hear, of course, from the same fiscal hypocrites that we have to cut this and that," the official said. "We just gave away $300 to $400 billion [by giving in on the tax rate threshold]. If we had an actual fiscal crisis, that would be the first place to look for the money."
The official said that the AFL-CIO wasn't formally urging lawmakers to oppose the deal -- at least not until more details about the bill were known.
"We are throwing cold water on the kind of drift that we felt this afternoon," the official explained. "This really troubles us."
Calling all HuffPost superfans!
Sign up for membership to become a founding member and help shape HuffPost's next chapter
BEFORE YOU GO
PHOTO GALLERY
Do These Things, Don't Cut Entitlements