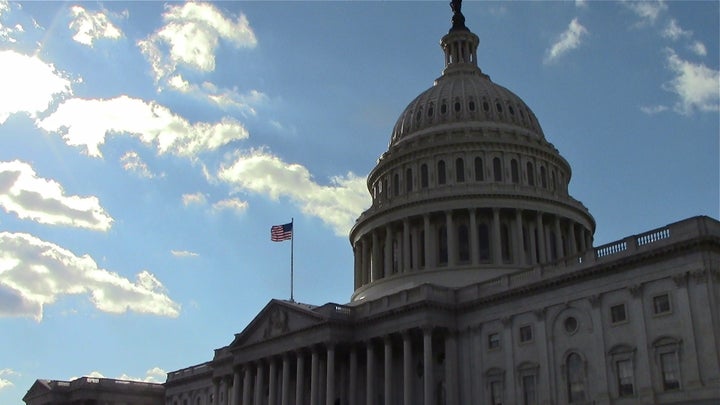 WASHINGTON -- With less than a day and a half before the nation hits the so-called fiscal cliff, Senate leaders declared Sunday afternoon they had made no progress in cutting a deal in their chamber.
"I'm concerned about the lack of urgency here. We all know we're running out of time," said Senate Minority Leader Mitch McConnell (R-Ky.), complaining that he had worked into the night Saturday to make an offer to the Democrats, but hadn't received a response.
"There is far too much at stake for political gamesmanship," he said, suggesting that Democrats were playing games. "The sticking point appears to be a willingness, an interest or frankly the courage to close the deal," McConnell said.
"I want everyone to know I'm willing to get this done, but I need a dance partner," McConnell added, saying that he had reached out to Vice President Joe Biden in hopes of breaking the logjam.
Senate Majority Leader Harry Reid (D-Nev.) acknowledged that the sides were stuck.
"We've been trying to come up with some counteroffer to my friend's proposal," Reid said. "We've been unable to do that," he continued. "I've had a number of conversations with the president, and at this stage, we're not able to make a counteroffer."
The fiscal cliff is the combination of the expiring Bush-era tax cuts and mandatory across-the-board spending cuts, which all kick in after the new year. The House of Representatives also returned on Sunday to consider a last-ditch deal, but it will have nothing to vote on if the Senate can't reach a compromise.
A Democratic aide said the problem was that McConnell's proposal includes basing Social Security's cost-of-living adjustments on something called a chained CPI, a measure of inflation that grows more slowly than the way Social Security measures inflation now. Democrats point out that the change would effectively cut benefits for seniors, and most oppose it.
"It became clear that they are insisting on chained CPI as part of the deal. And they consider doing any [tax rate] threshold as a concession," the Democratic aide said, referring to the debate over extending lower Bush-era tax rates only for income below a certain level. Democrats want to preserve the lower tax rates only for income under $250,000, while the GOP is pushing for a higher threshold.
Reid came to the Senate floor a second time on Sunday to make the point clear. "We're willing to make difficult concessions as part of a balanced, comprehensive agreement, but we'll not agree to cut Social Security benefits as part of a small or short-term agreement, especially if that agreement gives more handouts to the rich," he said.
Democrats had signaled some willingness to entertain the chained CPI, but only with other concessions from the GOP, such as giving President Barack Obama the power to raise the nation's debt limit.
"The idea was if you are going to do debt ceiling, you would then do chained CPI," the Democratic aide said, speaking anonymously because talks are ongoing and extremely sensitive. "They can only ask us to make that concession in that pairing. We are not going to do anything with chained CPI now [without a debt ceiling deal]. That's a poison pill."
"At some point in the negotiating process, it becomes obvious when the other side is intentionally demanding concessions they know the other side's not willing to make," said Reid.
A senior Republican aide said McConnell had called Biden immediately after it became clear that negotiations were falling apart with Reid. Biden and McConnell have a long history of working together in the Senate, and the two were key to resolving last year's debt ceiling standoff.
"I suspect they'll be talking soon if they're not talking right now," said the aide. "We obviously need to jump-start this discussion in some way, and so we figured that calling the vice president would be a good way to do it."
The aide said Democrats submitted two proposals and Republicans submitted four proposals before negotiations hit a wall on Saturday at 7 p.m. The aide wouldn't say what he thought the vice president could do at this point to salvage a deal; instead, he pointed to Biden's history of helping in moments of crisis.
"We've had success in the past. The vice president has been able to resolve some of these situations that we've been stuck in at the last minute in the past," the aide said. "Anybody who's able to get a result here, we're all for it."
NBC's Carrie Dann tweeted that Biden, who had been in Delaware over the weekend, is now at the White House.
UPDATE: 4:30 p.m. -- Republican senators leaving a GOP conference meeting Sunday afternoon told reporters that they are dropping chained CPI from their fiscal cliff proposal.
"CPI has to be off the table because it's not a winning argument to say benefits for seniors versus tax breaks for rich people," said Sen. John McCain (R-Ariz.). "We need to take CPI off the table -- that's not part of the negotiations -- because we can't win an argument that has Social Security for seniors versus taxes for the rich."
"There's a realization that in spite of the president's apparent endorsement of a chained CPI, that that proposal deserves more study," said Sen. Susan Collins (R-Maine). "My guess, based on what Democrats are saying, is that that reform would not happen during this stage of the negotiations."
"I don't think anybody ever expected Social Security to be part of this," said Sen. John Cornyn (R-Texas). "It's all going to be about taxes of some kind or another."
Sam Stein contributed reporting.
The article has been updated with comment from a senior Republican aide.
Popular in the Community