WASHINGTON -- On Jan. 1, 2000, the world awoke to find that little had changed since the night before. After years of hype around what was then called Y2K -- the fear that computer systems across the globe would collapse, unable to handle the year shifting from '99 to '00 -- the date change turned out to be a momentous non-event.
Next week, the United States is in for much the same, after months of frantic hype about the economic disruption that awaits if Congress and the president fail to reach a deal and the federal government goes "over the fiscal cliff." (The difference between Y2K and the fiscal cliff being that computer programmers worked around the clock to ensure the former was a non-event.)
The so-called fiscal cliff is a combination of automatic tax hikes and spending cuts scheduled to go into effect Jan. 1. But the agencies responsible for implementing those changes, including the IRS and the Pentagon, are well aware that congressional and White House negotiators will most likely come to some sort of deal within weeks or months -- and so they are planning to carry on as usual, according to a broad review of private and public government plans.
In other words, there will be no cliff. There won't even be a slope. Congress and the president can have their public and private dramas, but the government officials responsible for carrying out their eventual orders have seen this movie before, and they know how it ends.
An IRS spokesperson said the agency is not commenting on possible fiscal cliff consequences beyond a letter it sent to Congress last week. That letter's purpose was to inform lawmakers just how many taxpayers would see higher tax bills if the alternative minimum tax (AMT) isn't patched. But the letter also holds clues to the agency's broader plans -- or lack thereof. The IRS told lawmakers it would not reprogram its system to account for the possibility the AMT would not be patched because "if Congress were to act at some point next year to enact a new AMT patch, the time and substantial expense necessary for the IRS to reprogram its systems ... would ultimately be wasted."
The IRS also isn't commenting on how it will handle tax withholding from paychecks in the new year, but if it uses the same reasoning it has applied to the AMT, there is no reason to believe the agency will reprogram all its computers to begin immediately withholding higher amounts come January. Such an effort would be wasted if Congress ends up extending tax cuts for those making less than $250,000, as it is broadly expected to do, even by House Republicans.
The IRS might be able to move more quickly on the end of the payroll tax holiday, which both parties have signaled they will let expire. But even if the IRS can immediately implement a payroll tax hike, and employers can instantly begin witholding at higher rates, a person making $50,000 a year will see $40 or so less in his or her first paycheck of 2013.
Other agencies are planning to do just as little as the IRS to prepare for a fall off the fiscal cliff. On Friday, Defense Secretary Leon Panetta assured his personnel that nothing would change come January, saying that no layoffs would be announced in the near future, nor would any be announced without extensive advance notice.
The Government Accountability Office, charged with overseeing other government agencies, itself is not planning any January changes. Instead, the GAO is backloading any possible cuts toward the end of the fiscal year in June and assuming a deal will be reached before then, according to a source at the agency who isn't involved with the press operation.
Energy Secretary Steven Chu also said no immediate cuts are in the works, though he did not rule out future furloughs. "I do not expect our day-to-day operations to change dramatically on or immediately after January 2, should sequestration occur," Chu wrote in an email to staff on Thursday. "This means that we will not be executing any immediate personnel actions, such as furloughs, on that date."
On Thursday, the Environmental Protection Agency sent out a memo that read almost identically to Chu's, and Health and Human Services Secretary Kathleen Sebelius also told her staff not to worry about department operations come January, according to a staffer there. At the Federal Trade Commission, workers were told the same.
[HuffPost readers: Do you work at a federal agency? If so, send any fiscal cliff guidance you've received from your bosses to ryan@huffingtonpost.com.]
Much like government workers, for the vast majority of the population, life on the other side of the cliff will be no different than life on this side. Those most likely to get hit, however, are the jobless, who would see unemployment benefits cut off. (They would be eligible for back benefits once a deal is cut.)
The most substantial fiscal cliff pain, then, will likely be felt by House Republicans. Indiana Rep. Dan Burton, a strongly conservative Republican, laid out on Thursday what has increasingly become conventional wisdom across party lines.
"If we go over the fiscal cliff, the president just comes back and says, 'Okay, we're going to give tax cuts to everybody under $250,000.' Who's going to vote against that? Everybody'll vote for that. Everybody," Burton told reporters in the Capitol. "Because it will be just a fait accompli. You won't be voting on whether you're going to do away with a tax cut, you're going to be reimposing tax cuts for everybody under $250,000. So the Republicans are in an untenable situation."
UPDATE: 12/21 -- According to an email forwarded by a reader, the Department of Transportation sent a memo to employees nearly identical to that distributed by EPA and DoE, indicating a high degree of coordination. A person who works with the National Science Foundation says he was told informally to prepare to trim 20 percent of the budget off an upcoming project, depending on how negotiations go.
According to sources, the White House and Department of State have also sent similar memos.
Laura Bassett, Sabrina Siddiqui, Sam Stein, Andrei Scheinkman, Jason Cherkis and HuffPost readers contributed reporting.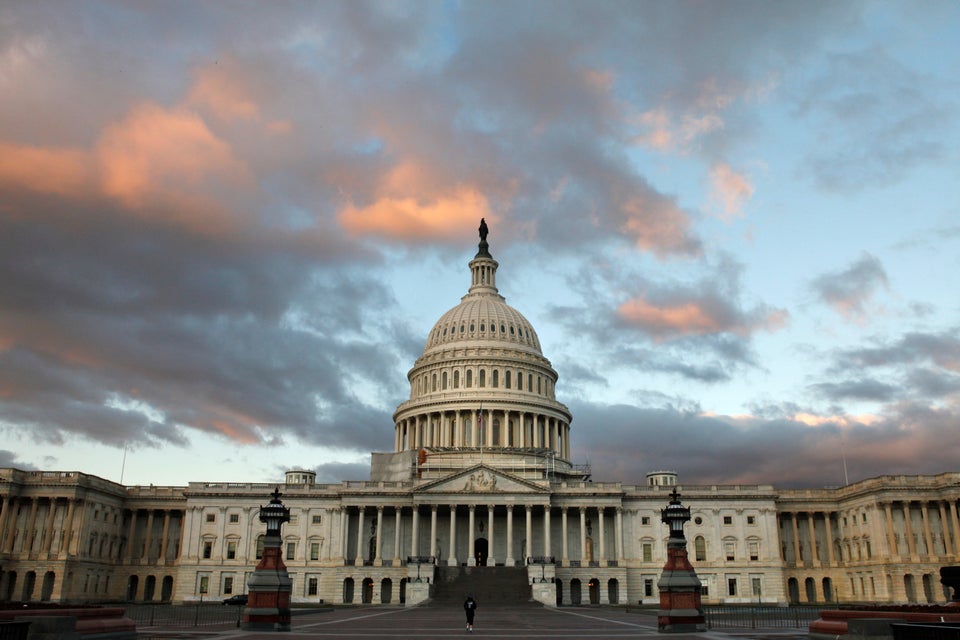 Do These Things, Don't Cut Entitlements
Popular in the Community