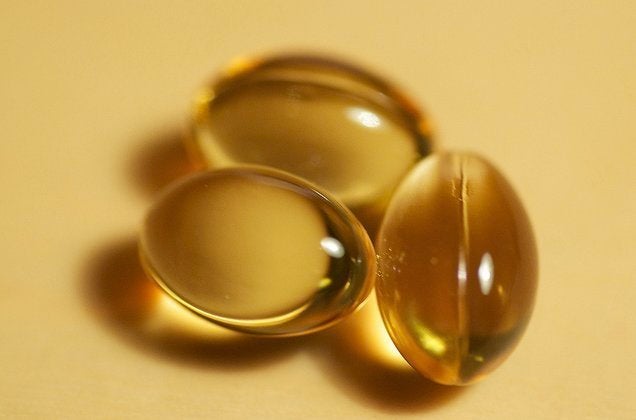 Fish oil supplements, which contain omega-3 fatty acids believed to promote heart health, may not benefit people who have already had a heart attack or stroke, according to a new review of previously published studies.
The review, which appears this week in the Archives of Internal Medicine, covers 14 clinical trials that included more than 20,000 people with a history of cardiovascular disease. After pooling and re-analyzing the trial data, the researchers found no differences in the risk of new cardiac events or heart-related death in people taking fish oil supplements versus placebo.
"There is no evidence that omega-3 supplementation is effective for secondary prevention of cardiovascular disease," says lead author Seung-Kwon Myung, M.D., a researcher in the department of family medicine at Seoul National University, in South Korea.
Fish oil capsules contain two omega-3 fatty acids also found in fatty fish, eicosapentaenoic acid (EPA) and docosahexaenoic acid (DHA). Doctors and researchers have been interested in the potential cardiovascular affects of these fatty acids since the 1970s, when studies first called attention to the low rates of heart disease in cultures with a fish-heavy diet.
Early clinical trials suggested that omega-3s might have properties that fight inflammation, blood clotting, and the hardening and narrowing of arteries (atherosclerosis), but these benefits have never been confirmed conclusively. Studies, including those in people with existing heart disease, have produced mixed results.
The new review, known as a meta-analysis, is the first of its kind since 2009. In contrast to that earlier review, which found that fish oil supplements reduced heart-related death risk by 13 percent compared to placebo, Myung and his colleagues found no association between fish oil use and the risk of sudden cardiac death, heart attack (both fatal and nonfatal), heart-related chest pain, heart failure, or stroke.
This finding is far from the final word on the subject, however. The "jury is still out," says JoAnn E. Manson, M.D., director of preventive medicine at Brigham and Women's Hospital, in Boston.
In an editorial accompanying the review, Manson and a coauthor point out that most of the trials Myung looked at included fewer than 500 participants and lasted less than two years, and some used relatively low doses of EPA and DHA. All of those factors could have skewed the analysis, Manson says.
In addition, heart patients in the more recent trials -- including those published since 2009 -- tended to be taking prescription medications such as cholesterol-lowering statins, which could have disguised the benefits of fish oil, says Manson, who is conducting a large-scale trial on vitamin D and omega-3s for the prevention of both heart disease and cancer.
"I don't think [these results] mean that omega-3 fatty acids won't be shown to have a role, especially in primary prevention, in populations that are not taking multiple medications," Manson adds.
Until the benefits of fish oil supplements can be confirmed or ruled out, heart patients and others trying to maintain a healthy heart should get their omega-3s directly from fatty fish such as salmon and tuna, Myung says. He recommends "at least two servings of fish per week" -- but not supplements -- to his own patients.
Manson agrees. "I think the evidence is strong enough to recommend at least two servings per week of fish, preferably the darker, fatty fish that are high in omega-3 fatty acids," she says.