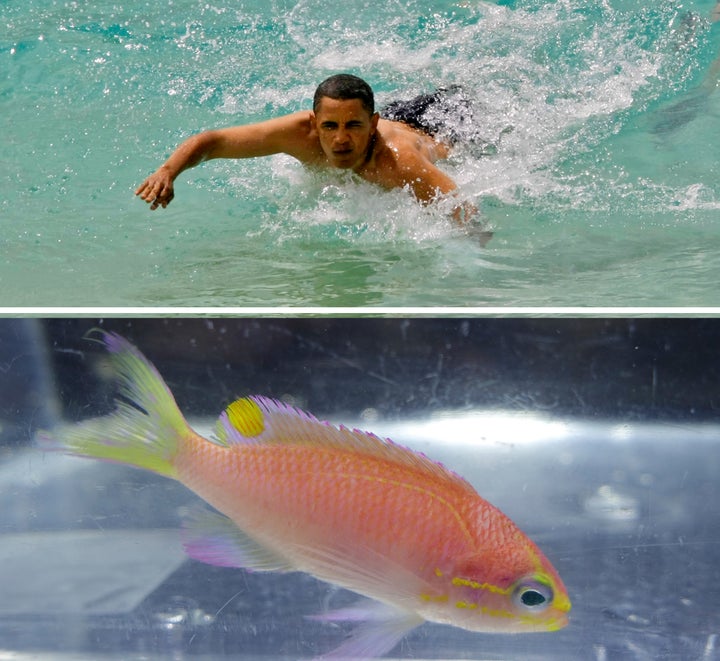 And now, three scientists have come up with the perfect way of thanking him for his efforts.
"It's a very special fish because as far as we know, it is the only fish species, so far, that is endemic to the [Papahānaumokuākea Marine National] Monument," Pyle, a scientist with Hawaii's Bishop Museum, told The Huffington Post on Friday.
Last week, Obama expanded the monument to include 582,578 square miles and the 7,000 species that live there, including endangered monk seals, whales and sea turtles.
"It just seemed like the perfect fit," Pyle said.
Pyle first discovered the fish, roughly 1.5 inches long, during a June 5 research dive to a deep sea reef in Papahānaumokuākea, which surrounds the remote Northwest Hawaii Islands.
During Obama's Thursday visit to the Midway Atoll to celebrate the monument's expansion, famed marine biologist and conservationist Sylvia Earle asked, on behalf of the scientists, for the president's blessing to name the fish after him.
The proposal was published in a video released Friday by National Geographic.
"Am I wrong here, or is there a familiar name in the middle of this?" Obama asks as Earle shows him a picture of the fish. "This is a nice-looking fish."
The president, of course, approved the proposed scientific name, which Pyle says will be made official in a scientific paper to be published later this year.
(The scientists have asked that media not publish the proposed name until it is finalized.)
Fish species in Hawaiian waters are well documented, which, according to Pyle, makes the discovery of a new one all the more unlikely.
So when his team realized the two specimens they collected during their two dives hadn't yet been observed or recorded, they were thrilled.
"This was a rare case of a true, bona fide, brand new discovery," Pyle said. "This is the real excitement of what we do, being able to find something that no one has ever seen before."
Although he and his colleagues are still finalizing an official scientific name for the species, it will contain some form of "Obama." They have asked the media not to publish the proposed name, which the president pronounces in the above video, to avoid any confusion in the unlikely case it changes before the fish is formally named in the scientific paper.
The male fish has a unique pattern on its dorsal fin ― a bright blue ring with a red center, filled with wavy yellow lines ― which, Pyle said, is reminiscent of Obama's campaign logo.

Scientists know very little about this species other than it's in the genus Tosanoides, lives near deep water reefs and is believed to be endemic to the monument, which means it is likely not found outside the remote waters of the Northwest Hawaiian Islands.
"Endemism is an important concept in conservation because when you're trying to decide [what areas] to protect, [choosing] areas with high endemism means that you're not just protecting one population of that species, you're protecting the entire global population of that species," Pyle said.
Below, catch a glimpse of the little Obama fish ― a living testament of the president's epic legacy of conservation.
This story was updated to show that Pyle later clarified that the proposed name of this fish likely won't change by the time it is made official later this year.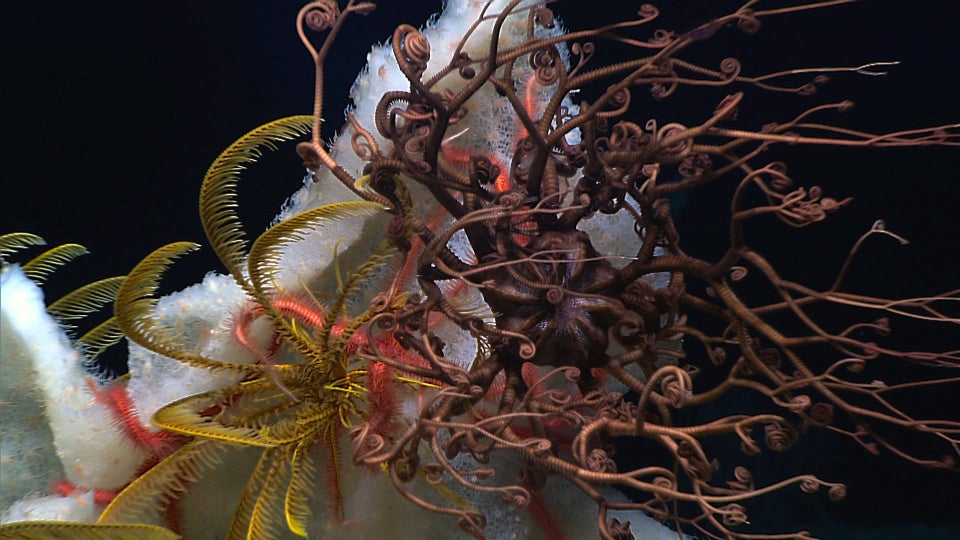 Hohonu Moana: Exploring Deep Waters off Hawaii
Popular in the Community