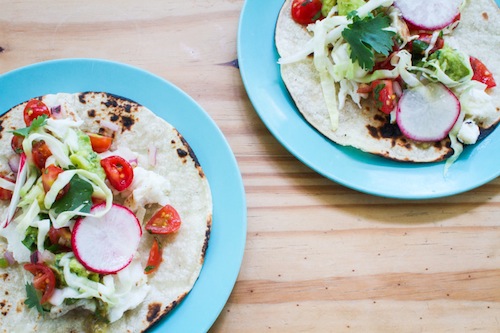 When the summer comes, I want few things more than fish tacos and excessive amounts of micheladas. Nothing works better than alcohol and fresh, limey flavors to take the edge off the heat. The combination suits our sticky summer bodies and definitely beats chasing after Mr. Softee, a tradition I'm happy to forgo since the ice cream trucks in Brooklyn no longer stock Luigi and his gumball eyes.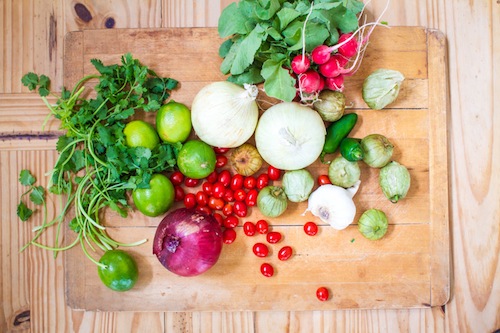 The inspiration for this post began on a recent trip to San Francisco. I'm lucky enough to have a rad job working for Good Eggs, a farm-to-fridge grocery service that is making local food way more accessible for people in cities. One of the many perks? I get to fly to SF for work and eat glorious -- and I mean glorious -- Mexican food.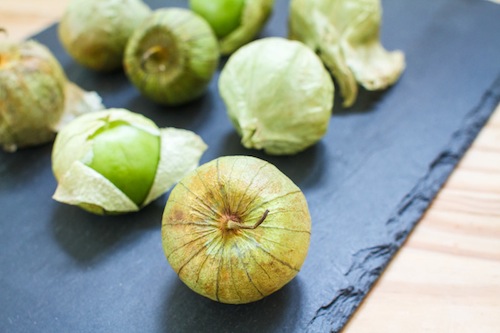 I learned a couple of things about myself on this last trip to San Francisco: growing sustainable food systems is my life mission and fish tacos make me do crazy things. It was over fish tacos and beer that I decided it was acceptable -- no, preferable! -- to awaken a college romance that had been hibernating for four years. I could plead temporary taco insanity (and have a good case, at that), but, hey, there's something about this meal that makes people ok with letting loose. And I kind of like that.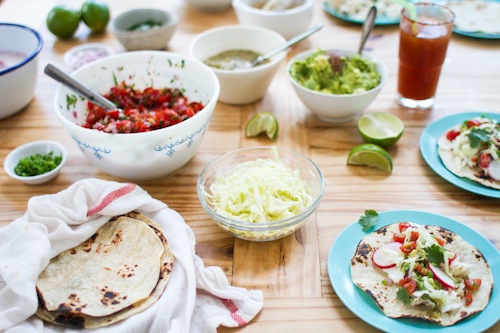 I'm really not sure why this meal encourages rule breaking more than most, but it has for as long as I can remember. When I was younger, we had tacos every Friday and it was the only night my parents allowed my brothers and me to put our elbows on the table. Why this night was different from any other? I have no idea, but we took full advantage. We would eat the entire meal with our elbows glued to the table in pardonable rebellion.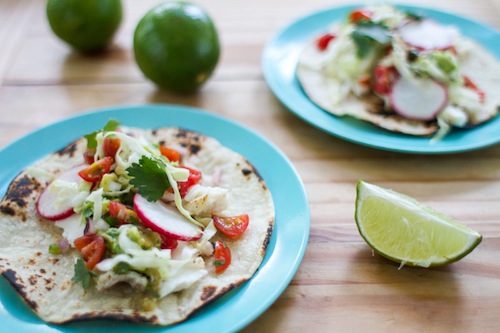 I don't do that anymore, though mainly because I'm not flexible enough now. Put your elbows on the table, don't move them and pretend to construct a taco. No, really, do it -- it's so hard.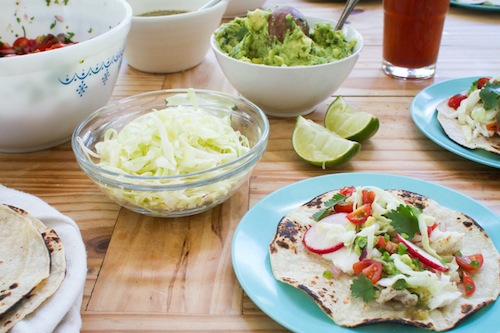 Nonetheless, even in stiff old age, this meal still lets us break a fundamental convention: around the taco table, utensils are nonessential and we get to play with our food. Friends pass around ingredients and everyone uses their hands to build out their tortillas, reveling in the dance of the taco assembly, a little fiesta for our fingers. Our beer bottles get dirty and we lick our fingers, letting our hands get a head start on the mischief to come.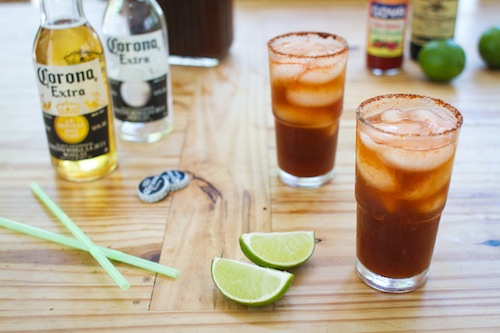 I like to grill my fish for tacos and to serve them on small tortillas with salsa fresca, cilantro-heavy guacamole, limey cabbage slaw and a roasted tomatillo sauce. A little hot sauce and Mexican crema never hurt anyone and crisp radishes, thinly sliced on a mandoline are essential. You can cook everything in advance except the fish, so you won't be stressed -- giving you more time to enjoy that (those) michelada(s).
1lb grape tomatoes, quartered
½ red onion, finely diced
2 tablespoons cilantro, roughly chopped
2 teaspoons Serrano chilies, finely diced
2 teaspoons ground cumin
Juice of 1 lime
Salt and pepper to taste
Well, for this one, you just put everything together and check for seasoning. Definitely add more lime juice if you think it needs more acid -- and don't be shy about adding an extra teaspoon of Serrano chili if you feel it needs more kick.
12 tomatillos
2 tablespoons cilantro, roughly chopped
2 teaspoons Serrano chilies, roughly chopped
Head of garlic
½ teaspoon sugar
Salt to taste
Olive oil
Preheat your oven to 400 degrees. Rub olive oil all over the head of garlic and wrap it in tin foil. Roast for about 45 minutes, or until the cloves are super soft. For the recipe, you only need 3 cloves, but I like to have extra roasted garlic around. It's amazing as a snack smeared on toast.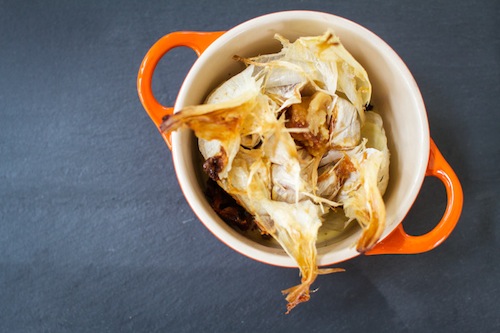 You can prepare the tomatillos in the oven, or you can use a gas grill like we did. Cut the tomatillos in half and rub all over with olive oil. If you're roasting, put the tomatillos into a baking dish lined with tin foil and roast for 20-30 minutes until they're nice and charred. On the grill, cook over a high flame for 5 minutes on each side or until they've blackened and shriveled.
Once the tomatillos have cooked and cooled, throw all of the ingredients into a food processor and blend until smooth. Add salt to taste!
5 avocados
½ Spanish onion, finely diced
4 limes
6 tablespoons roughly chopped cilantro
2 Serrano chilies
Salt to taste
In a large bowl, squeeze the limes over the finely diced onion, add a pinch of salt and allow the onion to macerate for at least 10 minutes. This is a crucial step that eliminates the raw onion flavor. Put in the avocado and mash away, adding the cilantro and chilies last. I like my guacamole super heavy in the cilantro department, so adjust to your own liking.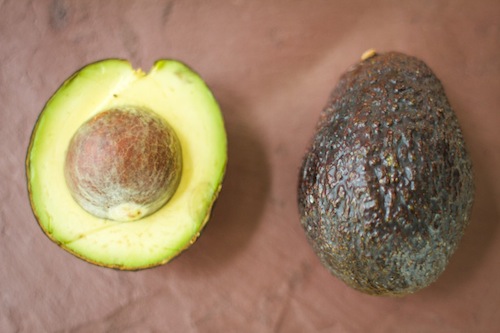 ½ head of green cabbage
2 limes
Salt
Cut the cabbage in half vertically (essentially into quarters) and carve out the core. Going against the grain, cut the cabbage into slices as thin as you can make them. Squeeze over the limes and add a big pinch of salt. Allow all the flavors to linger for a couple of minutes and then adjust the season as necessary.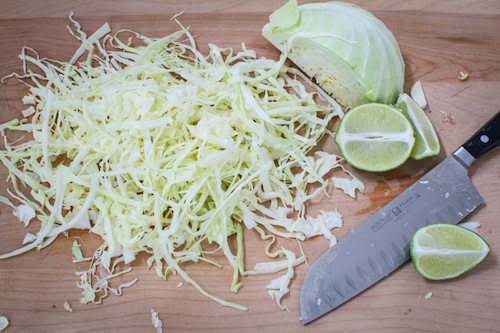 4 pounds white fish (halibut, cod, etc.)
4 tablespoons olive oil
Salt
1 teaspoon ancho chili powder
20 tortillas
Rub all of the ingredients (except the tortillas, of course) into the fish, cover and let marinate in the fridge for up to 4 hours. Bring the fish to room temperature before grilling. Cook the fish over a hot grill for about 4 minutes per sides until just opaque. If you don't have a grill, it's totally cool to bake in the oven for roughly 20 minutes at 375 degrees.
To warm the tortillas, if you have a grill, spread them out and char on both sides. Otherwise, you can warm them over an open flame on your stovetop. Use a pair of tongs to hold each tortilla over the flame and flip when just blackening. Wrap them in a clean tea towel to keep warm.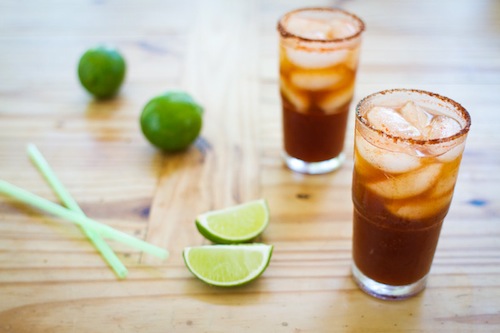 6 pack Corona
Juice of 6 limes
4 tablespoons Worcestershire sauce
2 tablespoons soy sauce
6 tablespoons hot sauce
1 tablespoon chili powder
2 teaspoons coarse kosher salt
Mix together the Worcestershire sauce, soy sauce, hot sauce and lime juice to create your base and then pour in the beer. Yum! In a small bowl, mix the chili powder and kosher salt until fully incorporated. Use the limes to rim your glasses and dip into the chili powder mixture. Drink away! Done!
All food styling and photography by Echo Hopkins. Follow her on instagram @echohopkins
Related