Imagine for a minute a group of coders huddled over computers for two days straight. Not an uncommon sight of the tech-inclined, right? Now hold that picture, and imagine that instead of an office or even café, they're sprawled out in front of Dory and Nemo's friends. That's just what took place over Earth Day weekend this year when teams of coders around the world were hosted not only by newspaper organizations (ie: The Economist in London), but also aquariums--all for a common goal.
Tackling the 17 Sustainable Development Goals by 2030 is no easy task, as governments, the private sector, civil society, and individuals must all come together to ensure we meet these goals. However, with challenges, innovative solutions often come to rise. Accustomed to finding original models to address our top diplomatic and developmental concerns, the Secretary's Office of Global Partnerships (S/GP) went hard at work, in 2013-- well before the SDGs were even formally adopted in 2015--to determine a way for the U.S. Department of State to gather solutions that address Sustainable Development Goal #14 on conserving oceans, seas and marine resources, including ensuring sustainable fisheries for years to come.
After brainstorming various channels by which solutions to these challenges could best be obtained, S/GP realized that tapping into the ingenuity of budding volunteer coders and technologists, while also utilizing the expertise of marine experts, might bring about the collaborative spirit and innovative solutions that oceans and fisheries, and the people that rely on them, so desperately need. Marine and fisheries experts would provide problem statements based on the top challenges facing oceans and fisheries, then technologists would provide proposed solutions through a crowdsourcing hackathon model.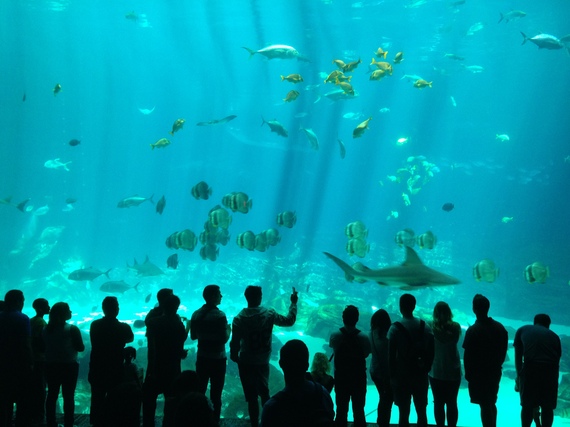 With a model in place, Fishackathon was born. Held in in five U.S. cities in its first year, Fishackathon grew to 12 domestic and international locations in 2015, increasing to 40 cities across six continents this year. Aquariums, tech hubs, universities, and even newspaper organizations hosted teams of volunteer technologists who focused their prototype solutions on one of nine developed problem statements, which were submitted by organizations such as the BillFish Foundation, Global Ghost Gear Initiative, World Wildlife Fund, National Oceanic and Atmospheric Administration (NOAA), and The Nature Conservancy.
At the end of the weekend, there were 37 finalists in the running to become the global winner, which was announced on World Oceans Day, June 8. Proposed solutions centered on four key themes: fish identification; lost fishing gear; internet access to commercial fishing permit and vessel data; and compliance with marine applicable fishing laws, regulations, and decrees covering regions.

Team FISHazam from London, UK developed an app that seeks to correctly identify fish species by using a spectrogram with a light emitting "finger print." A video presentation of their project is available here. While Team FISHazam focused on a solution for proper fish identification, the finalists from Amsterdam developed Tap-a-Boat, an app that empowers coastal law enforcement and the public to digest information on vessels, marine protected areas (MPA) and illegal blacklists, and helps detect illegal fishing activities through satellite data, statistical analysis, and applying game theory and design. The global winner, Team Akubic from Taiwan, developed a low-cost water sensor that can detect the presence of an invasive Asian carp species in the Great Lakes region, addressing World Wildlife Fund's problem statement that focuses on the need for more agile approaches to fisheries data collection in order to enable stock assessments and effective management of fish, such as the invasive Asian carp. Many of the teams continue to further develop their solutions and are seeking funding to bring the apps to full fruition, ready for use by the people that could most benefit from them.
Without the support of numerous partners, Fishackathon, and the promising solutions that resulted, could not have taken place. One of these partners was none other than Sir Richard Branson. An ardent ocean and fisheries advocate, he has written and publicly spoken on the major role "good governance, increased public awareness, and technological innovation," can play in maximizing ocean conservation. That is why we were ecstatic when, in March 2016, he announced his support of Fishackathon, sponsoring a $10,000 cash prize to its global winner. In his Virgin Group blog post, "Fishing for Change," Branson writes, "Fishackathon is a wonderful example of how we can use technology to address some of the world's most challenging issues. As an animal lover, ocean enthusiast, member of the Ocean Elders and supporter of Ocean Unite, I'm passionate about protecting the ocean and its species, and am looking forward to seeing what wonderful innovations the Fishackathon spurs."
The innovation that Fishackathon spurred is just the beginning. Governments, the private sector, and civil society can all come together to ensure that we continue to create opportunities, such as Fishackathon to encourage original solutions to our world's most pressing developmental concerns; solutions that may even come about from a weekend sleeping (or coding) alongside blue tangs and clownfish.
Find out more:
• Find out more about the 2016 Fishackathon.
• Read more about the ocean and sustainable fisheries and the 2016 Our Ocean conference.
• Follow @fishackathon and #codeforfish, for more information and updates about Fishackathon on Twitter.
• What are the Sustainable Development Goals?
This post is part of a series produced by The Huffington Post in partnership with Secretary of State John Kerry's Our Oceanconference and Ocean Unite, an initiative to unite and activate powerful voices for ocean-conservation action. The series is being produced to coincide with the Our Ocean Conference (September 15th, 16th) as part of HuffPost's "What's Working" initiative, putting a spotlight on initiatives around the world that are solutions oriented. To read all the posts in the series, read here. The State Department does not endorse the content of this blog. Follow the conversation on Twitter with the hashtag #OurOcean #MakeASplash.
REAL LIFE. REAL NEWS. REAL VOICES.
Help us tell more of the stories that matter from voices that too often remain unheard.