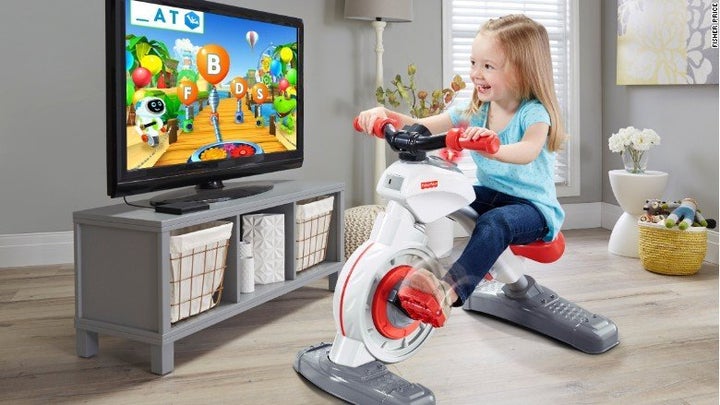 A new product from Fisher-Price is stirring up debate about screen time and physical activity for kids.
At the Consumer Electronics Show (CES) in Las Vegas this week, Fisher-Price unveiled the Think & Learn Smart Cycle, a bluetooth-enabled stationary bike for kids.
Designed for children ages 3 to 6, the bike allows riders to play games on a tablet or smart TV while pedaling. The Smart Cycle comes with an educational gaming app, "Mission to Tech City."
The product's display at CES featured a sign with the tagline, "The more kids pedal, the more they can learn." Parents can also purchase additional education-focused apps like "SpongeBob SquarePants,""Shimmer and Shine," and "Blaze & the Monster Machines."
The Think & Learn Smart Cycle is not the first stationary bike from Fisher-Price. The company introduced the original Smart Cycle nearly 10 years ago.
But while that was a plug-in toy that riders could connect to their TVs, the new higher tech version is bluetooth-enabled and compatible with smart devices. It even has a special tablet-holder on the handlebars.
When Fisher-Price unveiled this latest Smart Cycle bike, many people were excited about the prospect of encouraging children to engage in physical activity while also learning new things.
Twitter users praised the innovation for making screen time healthier for kids.
Others on Twitter found humor in the new toy, likening it to SoulCycle for tots. They even imagined other innovations in toddler fitness tech.
And many drew comparisons to the "Black Mirror" episode, "Fifteen Million Merits," in which people in the future earn currency by cycling on stationary bikes for long periods of time.
But the Think & Learn Smart Cycle attracted criticism as well. Many people questioned the need for such a product, noting that a simple tricycle, bicycle or other outdoor activity could provide an better experience.
Still others countered the negative response, noting that cold weather, unsafe neighborhoods or lack of yard space prevent many kids from running around outside. They argued that the Smarty Cycle allows kids to be active at times when they would've otherwise sat immobile staring at screens.
While some media outlets have suggested that technology like the Smart Cycle could play a role in combatting childhood obesity, Fisher-Price has focused its marketing thus far on the benefits of learning and having fun while being physically active.
Still, it's hard to ignore the product's similarity to the exercise bikes adults use for weight loss and fitness. The implication, therefore, is that this toy ― even in a small way ― may push young kids into society's unhealthy obsession with diet and exercise.
Or maybe it really is just preparing future generations for that "Black Mirror" reality. Clearly, there's a lot to consider with this new Fisher-Price's toy. Only time will tell if it revolutionizes playtime.
The Think & Learn Smart Cycle will retail for $150 and is expected to hit stores around the end of summer or beginning of fall 2017.