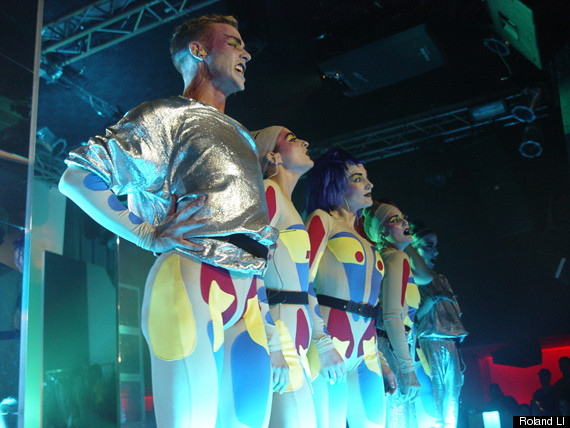 Last Thursday, Amstel Light made the Highline Ballroom a playground for the well-heeled West Chelsea crowd, with flashy flatscreen TVs, flowing bottles of beer and a literal velvet rope at the entrance. The brewery sponsored a series of free concerts, in Minneapolis, Chicago, Boston and finally New York, that were supposed to evoke Amsterdam's nightlife. On the left of the stage, two artists painted their interpretations of the Amsterdam skyline, while the opening DJ spun remixes of Yeah Yeah Yeahs, house bangers and the like. (Never mind that Amstel is headquartered in White Plains, N.Y., also the site of Snapple's headquarters and not far from this reporter's hometown.)
In any case, Amstel didn't have to look far in enlisting Fischerspooner, the duo of New Yorkers Warren Fischer and Casey Spooner, with a troupe of wildly dressed dancers. Their most recent effort, last year's Entertainment, has a cover and title that sums up the group's aesthetics: a flamboyant concoction of futuristic dress, sexually ambiguous themes and throbbing bass. Spooner was the night's centerpiece, a self-described "elderly gay man" who compared poorly against, um, Lady Gaga.
"I'm old and she's a chick, so I lose," he said.
But truly, the band was putting on a wild act when Ms. Germanotta was still a wide-eyed singer at dive bars, and their current setup is no less ambitious. The dancers went through a half-dozen costume changes, from TRON-esque skins to ballerina tutus to glitzy silver suits. Their expressions were robotic, but strangely alluring, a visual metaphor for the band's hedonistic music.
One can't mention Fischerspooner without mentioning "Emerge," the decade-old hit that defined Fischerspooner's rise to fame, but risks the one-hit wonder trap.
"This song is basically my ugly child. I can't get rid of it," said Spooner. "I don't want to be a hitmonger."
At this point, the audience was greatly concerned that the song wouldn't be played at all - Spooner is known to stop the show whenever there are technical issues - but he instead recruited Cody Critcheloe of the band Sscion to belt the lyrics.
Spooner said that he could no longer relate to the song, since it referred to a simpler time of aspiring to fame, and while the last couple albums haven't enjoyed nearly as much success, it's safe to say that he's an icon of sorts. The band even curated an exhibition at the MoMa last year, a sort of rumination on fame and its discontents. Alas, "Emerge" seems to have the great irony of being the band's most famous, but now most ill-fitting, track.
Spooner puts it more concisely.
PHOTO GALLERY
Fisherspooner
REAL LIFE. REAL NEWS. REAL VOICES.
Help us tell more of the stories that matter from voices that too often remain unheard.