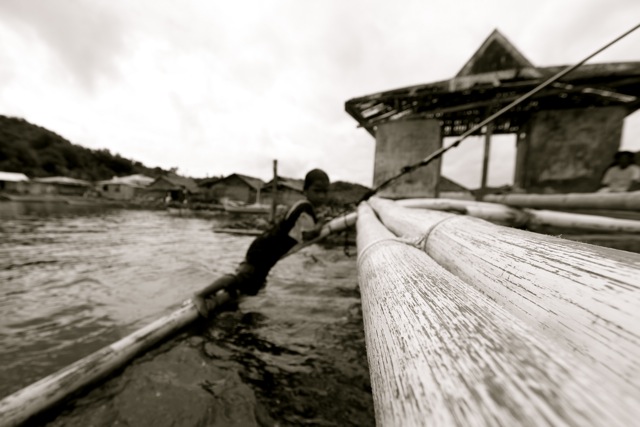 Palawan, Philippines -- "Don't move, I just need to see if the jaws of a tiger shark can fit around your head," were education and communications officer Gregg Yan's next words after our introduction at the World Wildlife Fund for Nature (WWF-Philippines) headquarters in Quezon City, Philippines. I felt this same enthusiasm and commitment 270 miles south, from a data enumerator in a small island in Northern Palawan.
Biton is not on the map. The remote location in the municipality of Taytay lies in between the Luzon Sea and the disputed waters of the South China Sea, which required travel by land, sea and air. Solar panels on the rooftops of Biton's thatched homes are a response to limits on electricity each day. Taytay receives twelve hours of electricity from 5:30pm to 5:30am while the bordering municipalities of El Nido, an international tourist destination, receives sixteen hours and Roxas with twenty-four hours.
Abundant marine, animal and plant life in the Philippines support a rapidly growing population of 90 million. The nation's wealth in natural resources also serves as profitable products in the global market. I sought to learn about a resource management project that is addressing overexploitation and traditional livelihoods.
The Live Reef Fish for Food Trade (LRFFT) brought me to Puerto Princesa, the capital of Palawan, where I traveled north through a forested highway. Luzon, Visayas and Mindanao are the Philippine's three major regions, which consist of 7,100 islands, with Palawan in western Visayas. Traditional Filipino homes called kubos dotted the landscape while men and women rode on water buffaloes to tend to their plots. Indigenous people were the first to use kubos. They are constructed with bamboo, covered with a thatched roof and lack running water and electricity. Rice paddy fields or stretches of a crop often accompany the kubos elevated on stilts to rise above floods and unwelcome visitors from the tropical rainforest.
I arrived in Taytay, a municipality where the LRFFT is most active and undergoing changes that are steering fishing practices away from environmental degradation. According to WWF's data enumerator Ely Buitizon, the trade's impact on communities is close to irreversible if issues are left unchecked and exposed of its cycle that leads fishermen to travel farther and farther from their original areas due to stock depletion.
The WWF calls the LRFFT a "boom or bust" business. Yet, their conservation efforts in Taytay are a working model for both the Philippines and neighboring nations.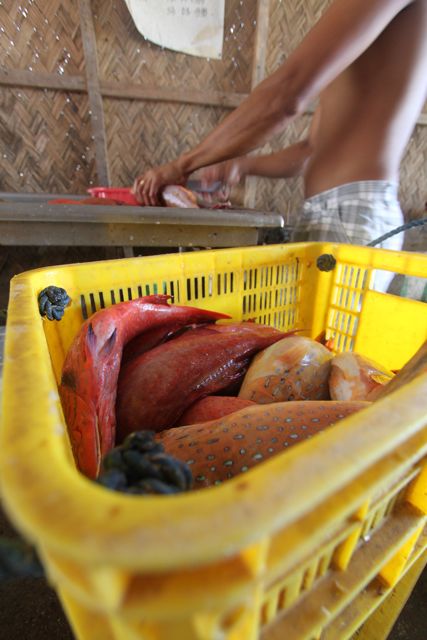 In Biton, a district that is an hour's boat ride from Taytay, local leaders have primarily fought for food security. "Not long ago, we could catch puffer fish very close to our shores," said Biton's district counselor Helen Dandal, "now we haven't seen any in the waters." The puffer fish, considered a culinary delicacy in nations such as Japan, is but one of the species caught in Northern Palawan and traded in other parts of the Philippines and abroad. The most prized and heavily fished species in the LRFFT is the coral trout, known as Plectropomus leopardus, which changes names depending on the locality. Locally called suno in Taytay, the fish garners high prices that increase sharply when exported to places such as Manila and Hong Kong. According to Dr. Margarita Lavides in her office at the Environmental Science Department at Ateneo de Manila University, the Philippines is experiencing a rapid decline in fish stocks at the commercial level and at larger undocumented municipal rates.
Biton's remote location is both a sanctuary and a social bubble from the bustling city centers of live reef fish distributors. The lack of local newspapers shelters the population from the crisis that looms all too close in the distance as China and Southeast Asia are embroiled in maritime and territorial disputes over the Spratly Islands. While foreign and national news rarely reach the people, local information and traditional ecological knowledge is equally confined to many of the islands. Palawan is known for strict regulations on development and enforcement of zoning laws that are loosely followed elsewhere. In managing human impact on the ecology, the province was declared a Game and Wildlife Sanctuary in 1967 and a Mangrove Forest Reserve in 1982 from a presidential decree. Yet in recent years, underdevelopment is creating a struggle within a population competing against a borderless economic backdrop, a global market with infinite demands for finite resources.
"When in need of money to buy a sack of rice, we take out a catch from the fish cage to sell," said Dandal. Jokingly and with hints of seriousness, the locals of Biton call their underwater fish cages an alkansya, meaning a savings box. Local governments, the Palawan Council for Sustainable Development and organizations such as the WWF began to develop policies for fisheries management in 2008. Support from other institutions, such as the United States Agency for International Development and the WWF's Coral Triangle Network Initiative propelled Taytay to become Palawan's first municipality to draft a Live Reef Fish Management Plan in 2009. The efforts are educating the population about sustainable practices and facilitating the use of fish cages.
Coral trout and other local fish are grown in the cages that are submerged from 15 to 30 meters. Fishermen believe that the deeper a cage, the more natural coral trout develops and retains its red or green color that receives attention and a higher price. "We plant sweet potatoes, but eventually the monkeys eat them all," said Dandal, "but the fish, if you can sell at least three pieces, your family survives."
The tiers of selling coral trout begin from the fishermen to a local trader, buyer and corporate distributor. The role of middlemen is one factor to increasing prices and inequity in the market. It is rare that a community has a local trader who owns his/her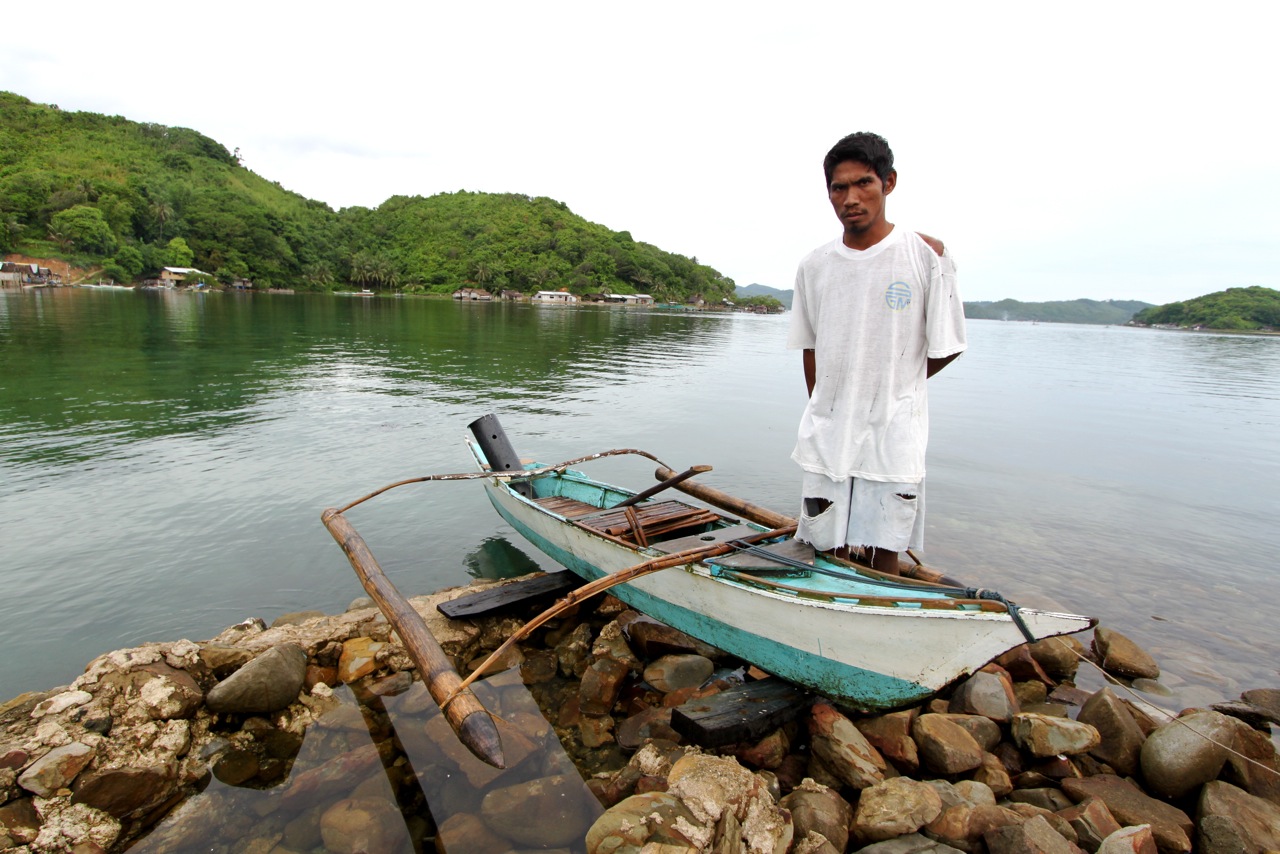 own distributing
company that sells directly to fish markets and the restaurant industry. In the case of Biton, her name is Della Canciller, an LRFF trader who has lived in a neighboring island for twenty years and owns Seaworld, a direct distributor for coral trout with ships going to Manila. Locals in Biton trust Canciller and are content with her prices. The most valuable are the ones that are alive. A kilogram of live coral trout sells for about $42.00, while 100 to 400 grams ranges from one to four dollars at the first sale. Biton's fishermen will not see the trajectory in prices once their catch leaves the small wooden aquariums built in their narrow boats and are sold to local buyers.
Rearing young fish in cages help relieve the environment from overfishing, but many are sourced from the wild, which impact species reproductive capability and the catch overall. Although steps toward sustainability are occuring, harmful practices persist that are a challenge for both the local government and organizations. In recent years, fishermen from far distances in Visayas are arriving in Taytay's waters to capitalize on stocks that are either low to nonexistent in their own municipalities. They are also bringing environmentally destructive methods. "We don't deny that blast-fishing occurs in some areas," said Hernan Fenix, the designated fisheries section head of Taytay, "but the instances are limited and lesser now compared to the past."
Biton's residents are thankful for outside organization's conservation efforts, such as the WWF's actions that resulted in marine protected areas around the municipality. The presence of illegal fishing practices are also embedded in their stories, a difficult situation to defuse because of the local government's minimal enforcement power. A security guard stands day and night in Biton's marine sanctuary, yet when cases are reported, it is either too late or unsafe for one guard to combat the illegal actions.
My trip to the outskirts of Palawan is part of a longer investigation on the role of resource extractions on the most marginalized communities in the Philippines. As current headlines announce new scientific studies on the rapid rates of ocean acidification and mass extinctions due to climate change, its impact begins in the many remote regions of the globe. In these places, such as Biton, a family's livelihood and survival is dependent on incessant global demand, whether in boatloads of live reef fish, in hardwoods or in mining, the interconnection between developing and developed locales is primed for positive change or disaster. Sustainable fishing practices in Taytay balances a household's daily needs with the option to sell catch to local buyers.
A question remains whether the central government can transplant Taytay's model in areas that are resistant to government and NGO involvement. Biton shares a common struggle with areas in the Coral Triangle in preserving the natural sources of their livelihood while maintaining a sufficient income from the LRFFT. "We can't immediately trace the increase in prices," said Buitizon, "but what's evident is that the fishermen do the hardest work, have the highest economic needs, invests the most time in the trade, yet receive the least profit."
A special thanks to the World Wildlife Fund for Nature (WWF-Philippines).
Coleen Jose is currently on grant from the Pulitzer Center on Crisis Reporting and the Dean Rusk International Studies Program at Davidson College.
Calling all HuffPost superfans!
Sign up for membership to become a founding member and help shape HuffPost's next chapter