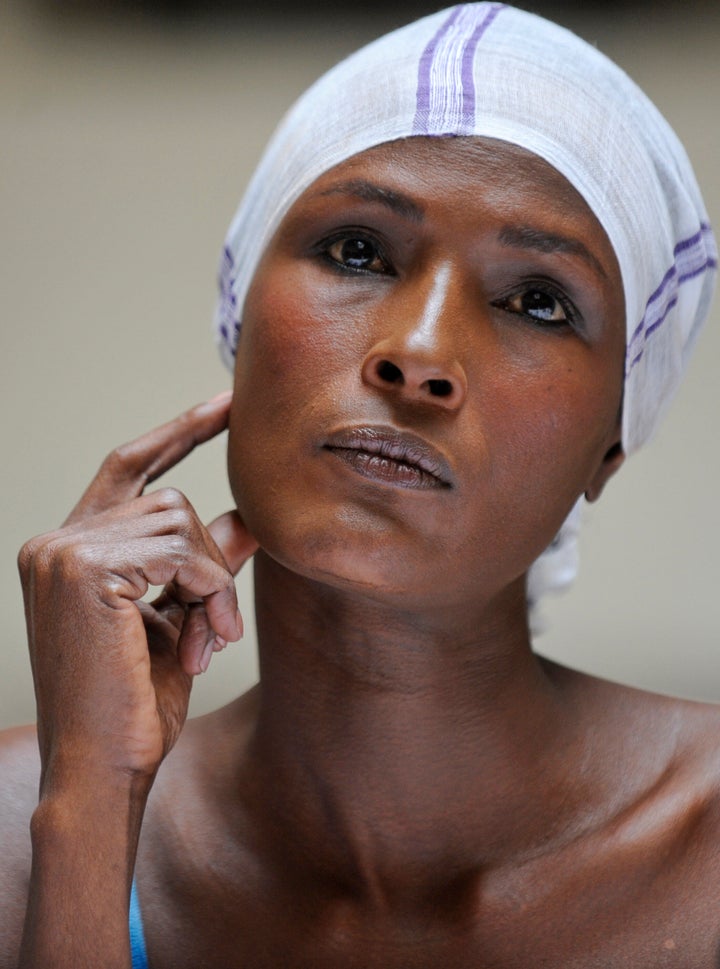 She will labor, perhaps at home and completely alone, for one, two, three days. She will move, she will cry and she will fight, desperately, to deliver her baby. Instead, the soft tissue in her baby's head will compress her pelvis, causing the tissues to die and leaving a hole, called a fistula, between her vagina and bladder, or rectum -- or both. And so after the prolonged labor, she will be left childless and incontinent, leaking urine and feces and finding it difficult to do anything -- go to the market, attend church. Perhaps, as is often the case, she will smell so bad that her husband kicks her out of the house, forcing her to fend for herself.
It is a horrifying story, but Doctors Without Borders/Médecins Sans Frontières (MSF) says, one that must be told. The group is fighting to draw attention to the issue of obstetric fistula, a preventable effect of obstructed labors that impacts women in remote and impoverished areas of the world, particularly sub-saharan Africa and Asia.
The Fistula Foundation estimates that fewer than six in 10 women in those impoverished areas give birth with any trained professional, including a midwife or doctor. So when complications arise, they are left to battle through the labor completely alone -- a problem compounded, the foundation reports, by rampant malnutrition, which causes young mothers to have underdeveloped pelvises and increases the likelihood of a difficult, obstructed birth.
And yet, however tragic a fistula sufferer's ordeal, she is one of the lucky ones, says Dr. Gert Morren, a surgeon responsible for the obstetric fistula programs of MSF, Belgium. Because she is one of the women who survives -- a voice for her sisters who have died in labor.
MSF is working in concert with other organizations -- including the Worldwide Fistula Fund and The Fistula Foundation -- as well as larger organizations like the WHO, to help combat this massive public health issue. Fistula is not a disease, Dr. Morren stresses, but a "handicap" that is "perfectly preventable," through skilled OB care, which the UNFPA says is not an option for many women because their husbands or mothers-in-law force them to stay home to give birth. (The UNFPA reports that another kind of fistula can be caused when the vaginal canal is ruptured in a violent rape, which happened so often in Congo in 2003 that doctors considered it a crime of combat.) Treatment for fistula is done via surgery and subsequent physiological work.
In years past, MSF has worked to set up fistula camps in war-torn, unstable countries like Sierra Leone and Somalia where long-term options are not realistic because of the ongoing conflict. But recently, the organization has begun to set up permanent centers in Chad and Nigeria. Last July, Dr. Morren and members from the MSF Belgium team helped open a new facility, in Burundi, where they perform corrective surgery and give women six months of subsequent outpatient care.
"It's not enough to close the hole," Dr. Morren says. "There's much more going on. Women have often been excluded and living a long time by themselves. We try and give them the means to start a new life, which has a social and psychological aspect to it, as well as physiotherapy to retrain the muscles and prevent leaking."
Dr. Morren says that while MSF recruits patients through the radio, in churches and through its network of midwives, patients have begun spreading the word themselves.
And MSF's is a two-pronged approach to the problem, which is why it also built a maternity center aimed at preventing fistulas. The idea is to improve both access to and quality of obstetric and neonatal care. This, Dr. Morren admits, is not easy. Huge barriers still exist in terms of encouraging women to use the center. They either don't know it exists, can't get there because of bad roads or are unlikely to visit after having had a bad experience in a bad healthcare center before.
"It's a slow, slow process," Dr. Morren says, "And we're far from there. We're still seeing people delivering at home, developing fistula and only coming to us two or three weeks later. This has all been known for 30 years and it's quite frustrating that we haven't come farther."
Related
Popular in the Community