You have that one friend who you only see in athleisure. Sometimes, you wonder what she wears to work, to weddings and hell, even to bed. Sure, you may not understand it, but it works for her and she owns it. She is the fit chick, the sporty spice of your friend group, the woman who prioritizes health and wellness and inspires you to bring back out your stationary bike-cum-clothesline and get down to business.
This holiday season, your fit chick deserves the kind of gift that is versatile, useful, empowering and all-around badass, just like she is. Don't fret, as there are plenty of options. Athleisure has become a huge market for women looking to lead a healthy lifestyle (and feel damn comfortable while doing it). Traditional brands like UnderArmour, Nike and more are tailoring their current fitness lines to reflect the more fashionable trends. Even celebrities like Kate Hudson and Carrie Underwood are getting in on the movement, creating their own athleisure brands.
I've rounded up some awesome, female-founded products (because they're badass) that provide comfort, function and fashion.
This brand has proclaimed itself as "the ultimate sports bra," and the bra delivers on its title. Founder Sara Marie was sick of the one-size-fits-most sports bra model. The typical sports bra doesn't do much to eliminate bounce and the all-too-real uniboob situation, so Sara did something about it. That something is Shefit, a sports bra that is fully adjustable to accommodate every kind of body. The result is full coverage and support, with the added benefit of no-fuss comfort and style. The fit chick in your life will appreciate the way she can push herself during her workout and not worrying about readjusting the gals.
An answer to cropped pants and exposed arms, Nice Pipes uses sweat-wicking performance fabric to keep active women warm, whether it be in cold fitness studios or the crisp outdoors. Easy to put on and take off, Nice Pipes provide warmth without taking up space in your gym bag – a great alternative to layering. Made from the same type of fabric you find on workout pants, Nice Pipes compress, wick, warm and provide UV protection all in one.
If your fit chick is the outdoorsy type, consider gifting her a Wild Mantle hooded scarf. Founded and designed by Avi Loren Fox, these scarves combine fashion with function, especially on workout days that are especially chilly. If your fit chick enjoys hiking, outdoor running or scenic walks, Wild Mantle has a line of hooded scarves that are perfect for an outdoor romp. The drawstring "On the Go" collection comes in full fleece or wool and fleece combos. As a bonus? All Wild Mantle hooded scarves are ethically made in the U.S.
While this clothing line is for women golfers, we can't help but ogle the stylish, cute, preppy items Dagny Scout offers. Founder Lauren Amery was so over the women's options available and wanted to create apparel that was high-performance, but also fashionable. The clothing line offers golf shirts, skirts and dresses that look great whether they are worn while golfing or relaxing off the course. Stretch fabric prohibits constriction so you can focus on your game instead of being uncomfortable. The dresses also come with comfortable spandex shorts for women concerned with flashing anyone on the green. For hotter days, cooling mesh fabrics are available for purchase.
Fit chicks sweat. A lot. None of this nonsense about women "glistening," we are humans and perspiration pours out of our pores. And it stinks. PiperWai Natural Deodorant uses activated charcoal to absorb wetness and neutralize odor. The bonus is that it contains zero toxins, is vegan, cruelty free, gluten free and made in America. Typical antiperspirants contain harmful chemicals like aluminum and parabens to clog pores and prevent sweat. With PiperWai, you can rest assured that what you are putting into your body is safe.
No matter which brand you choose, your fit chick will appreciate the unique features each product brings to the table. In a constantly growing industry, athleisure needs to stand out and do an important job: make fitness flawless while looking flawless.
Disclaimer: While this is an honest round up of top notch products; we couldn't live without our custom fit bra or charcoal pit product, 834 Design & Marketing is the PR firm for two of these fine luscious lady products.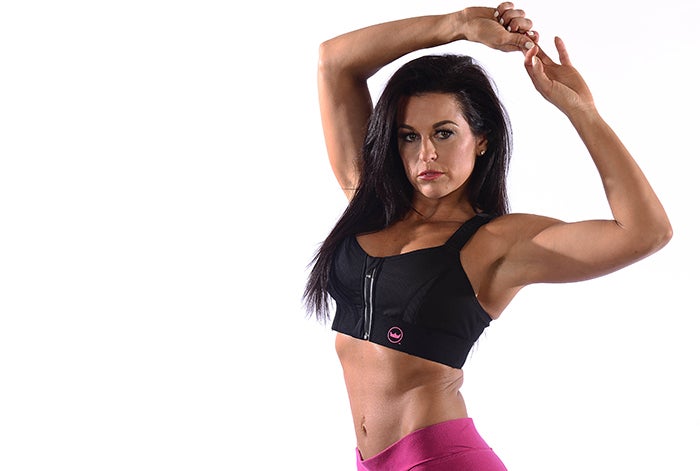 Related
Popular in the Community