We all know taking a vacation is important for our mental health and well-being. We need to unplug, recharge, break up the monotony of our routines and get away from it all. But, our fitness on the other hand doesn't need a vacation. Unless you're over trained, sick or injured, fitness for many people needs the opposite of a break. Fitness needs change. Fitness needs novelty. Fitness needs inspiration. And when I say fitness, I mean physical movement that makes your blood pump and your body break a sweat (not due to the weather).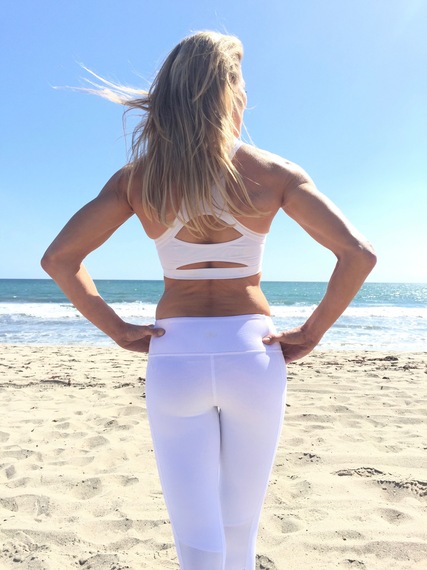 One of the first things I think of when I'm planning a trip is what kind of exercise I can expect to get where I'm going. Are there places to explore, activities I can sign up for, or excursions I can take that are physically active? And, are there any good gyms where I'm staying?
A few years ago my boyfriend and I took a luxury cruise along the Mediterranean. It was an Oceania line, complete with gourmet food and 5 star restaurants. It was the best cruise I've ever taken for many reasons and the food was part of it. Cruises, as you can imagine, can be a disaster for fitness and those who struggle with overeating. You'll often spend a couple days trapped at sea aboard a floating buffet, with an endless smorgasbord of food and drink at every turn. Then there are lounge chairs and pools to beckon you, the lull of the water and hum of the engines purring, "just sleep." The sugar crash from your last snack or piña colada seals the deal. Wake up and it's time to eat again. The cycle repeats until you're at the next port. If your next vacation is on a cruise ship, there are two strategies I highly suggest:
Use the gym and fitness opportunities on the ship.
Explore (almost) every port with your feet. Rather than taking an excursion at every city, we hoofed it and took an occasional cab ride or local bus when necessary. Beware, excursions require a lot of riding in tour buses and waiting for others, so for me, that's a pass.
Whatever type of trip you're planning, there's no doubt that traveling is tricky when you're trying to maintain your fitness, or even improve it. Long bouts of sitting and riding in planes, trains and automobiles can wreak havoc on the body in several ways. Compression of the intervertebral discs, tightening the hip muscles, chest and shoulders (if you sit rounded like in most airplanes), slowing the metabolism and even putting a road block in the lymphatic system - these are just a few of the scourges we may endure during travel. Now let's add disrupted sleep, jet lag and food choices that may not agree with our internal workings while on the road. Any combination of these factors can really hijack your intentions for physical activity when that lounge chair and Mojito start calling your name.
But here's the thing many people don't realize. Vacation can be the best time to revitalize your fitness (or lack of fitness) routine. On vacation is when exercise can be enjoyable, inspiring and far from being a chore on your to-do list. Whether your taste is hiking the ruins in Ephesus, walking from Soho to Central Park or renting a bike in a beach town, adding physical activity to your sight seeing makes it a more visceral experience.
If you're like me, one of the highlights of vacation is the culinary experience. I'm no Anthony Bourdain, but sampling local eateries and delicacies (as long as they're not too gross!) are part of the fun. How can you say no to a hot buttery breakfast croissant in France or gelato in Tuscany? To make local, exotic "I-never-eat-that-at-home" cuisines less guilt-inducing, keeping yourself active helps prevent tipping the scale into the regret zone.
As you plan for your upcoming vacation, keep these tips in mind to help you make the most of your trip and feel good after a long haul:
Skip the tour bus if you're sightseeing and find the most famous walking routes instead.
Check out the hotel amenities. If there's a gym, set aside a little chunk of time to exercise. If you don't have a workout routine of your own, use a fitness app or use YouTube to find a quick workout that piques your interest.
Sometimes there's no gym at your accommodations or the gym is a dingy room in a musty basement. Use the local park.
Beaches make some of the best ad hoc gyms! Running, lunging, bear crawls, yoga or Pilates on your beach towel and swimming require nothing more than your body weight. If you catch people staring it's because they're jealous of your discipline.
Find stairs you can do laps on.
Dance at the local night clubs.
Take lessons doing a popular local sport.
Finally, enjoy some street massages. This will get you ready for the next day's adventure or decompress you after a long haul.
Travel fit tool box:
Exercise bands
Jump rope
Mini foam roller or massage balls
Extra light fold up mat
Workout shoes that you can use for long walks and preferably look cute with jeans or skirts.
Do you have tips for staying fit while you travel? Share yours below.
REAL LIFE. REAL NEWS. REAL VOICES.
Help us tell more of the stories that matter from voices that too often remain unheard.