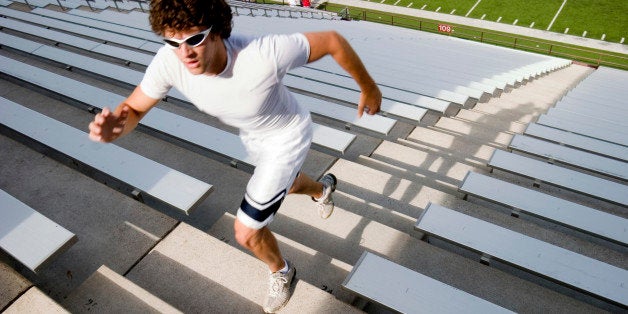 "This year has represented a complete revolution for me in terms of fitness," said Champlain College freshman Dylan Cullen. Upon going to college, Cullen immediately got involved in the intercollegiate cross country team, has registered for a R.I.P.P.E.D. group fitness certification training, and has even started a High Intensity Interval Training (H.i.i.T.) club to get more of his peers involved in fitness. "I've stumbled upon an incredible community of people that have supported me along the way to bettering myself." Somewhere between the joy that fitness brings him and the mental and physical strength he's gained lies an overall feeling of self-assurance, that Cullen said he did not have before college. When fitness no longer is viewed as a chore, you know you're on to something. Getting started during college only makes it easier.
Building a healthy relationship with exercise for personal wellness is important for every individual, especially college students. In a dynamic world filled with stress, sedentary lifestyles, and negative media-induced body image ideals, it is important for students to build healthy habits now to jumpstart a lifetime of wellness.
"College is the absolute best time for students to learn the importance of making time and dedicating energy to a health and fitness program," said Nakeeya Deas, wellness coordinator at Champlain College in Burlington, VT and R.I.P.P.E.D. master trainer. "The habits set in college will transfer into their lives after college. It is our job to teach how to care for the body, just as we do the brain. It's invaluable, it's life long, and it's life changing."
The human body is meant to move, and quite frankly, needs to move! The many benefits of exercise prove that the act of fitness is more than just losing weight or looking good in a bathing suit. Exercise can build confidence, reduce and relieve stress, improve learning and mental health, and can build healthy relationships around common interests in well-being, and more:
Helps Set a Schedule and Routine
Living on a college campus causes most students to lead very random day-to-day lives. While living surrounded by friends, making time for studying, attending social and extracurricular activities, and many other spontaneous plans, schedules aren't the most realistic thing. Although, planning enough time to exercise a few times each week can help give an added sense of routine and order to a college student's week.
"It's easier being back at school because I can utilize the gym and form a routine," said junior Leila Smith after participating in a Da Vinci Body Board class in the Champlain College fitness studio. "Having a range of quality fitness classes with my friends motivates me to be active."
Healthy and active individuals are generally those with stronger immune systems and are less likely to catch colds and viruses that spread around campus. Patrons should be sure to disinfect gym equipment before and after use to prevent the spread of germs.
Naturally Fights off Stress and Depression
Research has shown that regular exercise can boost one's mood and relieve stress in addition to all the physical health benefits of exercise.
In Core courses at Champlain College, professors integrate exercise into their material. I witnessed one professor lead her class of 25 second-year students into a yoga class for their Bodies (COR-240) course final.
Professor Betsy Allen-Pennebaker, who in addition to teaching Bodies instructs the first-year Core course Concepts of the Self (COR-110), said she assigns students a "happiness project" each semester to commit to one lifestyle change for a month that they believe will increase their individual happiness. Most students choose one of two things: get more sleep or get more exercise. At the end of the month, students report on the experience from a psychological and neurological perspective. "All students report significant increase in how happy they are, but additionally how much energy they have, as well as their increased concentration and decreased fatigue in classes," said Allen-Pennebaker. "I work out every day to achieve the same results my students reported in their happiness projects," she continued.
The overwhelming amounts of schoolwork, projects, part-time jobs and 24/7 social stimulation from living on-campus would stress anyone out. Although everyone deals with stress differently, exercise provides a great outlet. When exercising, your brain releases powerful natural chemicals that boost your mood, relax your body, and leave you feeling happier and more focused.
Helps Curb Cravings and Suppress Hunger
When exercising, your body releases endorphins, which in addition to improving your mood can naturally suppress your appetite. Suppressing your appetite can be good for controlling portion size, but extreme dieting, especially with an active lifestyle, is never recommended.
A college diet is not ideal, commonly consisting of cheap, quick, on-the-go meals and snacks, late night take-out, limited dining hall choices and unlimited soft-serve creemees, snacks and soft drinks from vending machines and convenience stores, and free food events around campus that always have cookies and brownies. If you want to keep living this lifestyle, you have to give a little. Exercise ensures that all the easy access to unhealthy foods on campus won't contribute to weight gain or emotional strain.
Know the Signs of Overdoing It
There is such thing as too much exercise that could lead to injury, exhaustion, and/or eating anxieties. It could also have a negative effect on one's social life, work performance or grades. To remain in healthy exercise practice, active persons should focus on consuming a balanced diet, staying hydrated, and getting an adequate amount of sleep. Together with exercise, these will ensure that you feel your best, both physically and mentally.
If you or someone you know is or has struggled with eating disorders, there are services on college campuses and in the community to reach out to. In addition, find local resources at National Eating Disorders website.
Exercising for just 30 minutes a few times a week can help relieve the stress of academics, myth-bust the freshman-15, improve sleep quality and your mood, and boost your brainpower. Forming a routine can even spark a healthy addiction to working out.
"Developing a routine is crucial for anyone with a busy schedule. You have to love what you do, whether it comes to your own job, your classes, working out -- you have to do what works for you," said Bret Dewhurst, R.I.P.P.E.D. instructor and admissions counselor at Champlain College. But he suggests to always challenge yourself, too. "Try something new. If you're looking to improve who you are, you have to take healthy risks. Go to a fitness class for the first time; learn from others in the gym on how to properly lift weights. Working out doesn't require hours of your time to feel successful; the smallest changes to your diet and exercise lifestyles can have tremendous effects," he continued.
Most colleges offer fitness centers with a variety of amenities: gym equipment from cardio machines to free weights, athletic fields to swimming pools. Research the fitness facilities on your campus and in your community, and see what programs are free or discounted to students. With all the resources available during college, keeping fit and healthy is an attainable goal for any student.
There are so many different ways to exercise; finding a workout you enjoy is the first step to building a happier, healthier you.
Popular in the Community