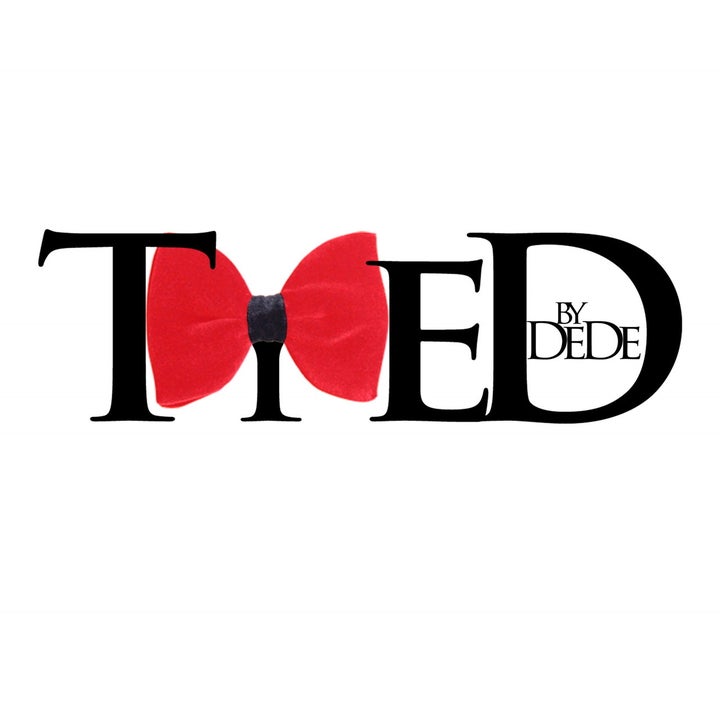 Everyone wants to stay current on what's how in fashion, right? Me too! I'm always on the lookout for the latest shoe on sale at DSW, new jeans from True Religion and the cute new bag from Kate Spade.
But what about the fellas? Who's keeping the gentlemen in the know? I did a little research, and guess what? I found a gem! Tyed By DeDe is a New York based fashion house and they focus on bringing sexy back to the gents. If orange is the new black, then Tyed is the new dapper!
I had the pleasure of a convo with their Chief Design Officer, Deroll Scarlett. Take a scroll and get the scoop.
JW: For those who don't know, please tell us the what and the why behind your custom bowtie collection and subscription box service.
DS: I've been wearing bowties for years now and the majority of my collections are homemade. I started making custom bowties for multiple reasons:
• Bowties are hard to find in stores• Bowties in stores are expensive• I don't have enough hobbies (yeah, right...)
We design and ship a new box of menswear accessories each month. Each set contains a luxury tie, suspenders, socks, a lapel flower and a complimenting pocket square for a stunning new look.
And don't think that we forgot about the ladies. Stay tuned for our ladies subscription boxes coming soon.
JW: Why subscription boxes versus a storefront or boutique?
DS: Curated by our team of expert stylists, we wanted to give our customers the thrill of receiving a never before seen style. It's like getting presents all year round. Luxury style delivered to you in a box of awesomeness.
JW: Do you ship internationally?
DS: We are offering FREE shipping worldwide for a limited time. Orders will be shipped the 1st of each month. And FYI, new users can save $5 on their first box using code getTYEDup online.
JW: We've read your bio and understand that you are from Jamaica. Do you have a "hometown" collection with island flair?
DS: Absolutely! How could we forget about our heritage and culture? Most recently, we created a Pirates of the Caribbean collection to include all of the Caribbean islands. These collections were featured on the runway of the 2017 New York Teen Fashion Week.
JW: As the chief design officer, how do you stay on trend and classic at the same time?
DS: Our luxury custom made bowtie sets our customer apart to be an edgy individual. We pay careful attention to detail by only selecting the best quality fabrics and materials.
JW: In a fashion heavy city, how do you avoid being pigeonholed or lumped into a category with other accessories designers?
DS: That's an excellent question. Being headquartered in New York could be considered a blessing or a curse. On one hand, you're in one of the world's largest fashion hubs—and on the other hand, you're fighting to be seen among the best. We take these factors into consideration with each collection that we launch. Our customer won't have to worry about attending any event and seeing 20 people in the same look. Our customers pick the fabric and our design team does the rest. No more expensive bowties, ties, tie clips, suspenders, pocket squares, socks, lapel pins and clip ons. We take pride in giving our customers exclusive, priority access to the latest styles.
JW: Tyed by DeDe seems like a very charitable organization. What is the drive behind giving back?
DS: Our goal is to focus and re-direct our energy on promoting positivity, providing multiple solutions, and re-defining our mindset through remembering our loved ones and unity of our community—through the support of community organizations.
JW: What is the significance of the New York AIDS walk for you and the Tyed family?
DS: The funds raised for the AIDS Walk New York benefit GMHC and 40 other tri-state area AIDS service organizations that help stop new HIV infections and support people living with the disease. AIDS Walk New York funding powers prevention programs as well as critical efforts to demand a cure. This year, we created and donated red and white custom pocket squares to support fundraising efforts. We walk to end the fight against AIDS.
JW: What are your 2018 goals for TBDD? Is there a chance of branching out into a full on clothing line?
DS: While we continue to get closer to a full on clothing line, Tyed By DeDe will be launching our subscription boxes in vending machines near you! Additionally, our subscription boxes will be featured in major retail locations such as Target, Bloomingdales, Nordstrom, Neiman Marcus, TJMaxx, and Wal-Mart.
And staying true to our core mission, we will continue to support community organizations to get us closer to ending these epidemics plaguing our communities.
For more on Tyed by DeDe and their upcoming lines, visit: www.tyedbydede.com and you can follow them on social media at @TyedByDeDe.
Related
Popular in the Community