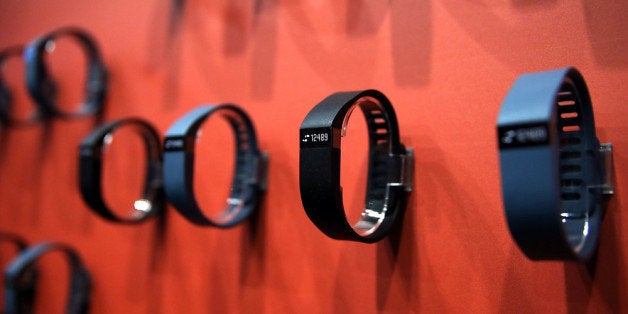 In a statement sent to The Huffington Post on Tuesday evening, Fitbit said that the company is "sorry that even a few consumers have experienced these problems" with Force, its newest product. Fitbit encouraged people who experienced "any irritation" to stop wearing the $130 device, and said it has set up a dedicated email account for people to communicate directly with the company.
The Huffington Post interviewed more than a half-dozen people who said they experienced skin irritation they attributed to Force, a wristband that tracks distance, steps, stairs climbed, calories burned and sleep. Symptoms ranged from red, itchy skin to painful blisters that would ooze or bleed. Some Force owners said they sought medical care, and were prescribed prednisone and antibiotics.
By Tuesday, after Consumerist and The Huffington Post reported on the complaints, a Fitbit moderator who had responded to some owners in December, but fell silent for a couple of weeks after Christmas, again began to reply to people in the forum.
It is unclear what causes the irritation. Fitbit said it may be caused by an allergy to nickel, found in the stainless steel used in Force. Some of the people HuffPost interviewed said they had no known allergies and had worn metal watches and jewelry without any irritation for many years. Some who posted in the forum said they had worn Flex, Force's predecessor, which also contains traces of nickel, without any issue.
Fitbit did not respond to questions from The Huffington Post about the number of complaints it has received or how many devices may be affected.
Fitbit has said it will provide "immediate" refunds for people who bought Force, or they can exchange it for a different device.
Full statement form Fitbit:
We are looking into reports from a very limited number of Fitbit Force users who have been experiencing skin irritation, possibly as a result of an allergy to nickel, an element of surgical-grade stainless steel used in the device.

We suggest that consumers experiencing any irritation discontinue using the product and contact Fitbit at force@fitbit.com if they have additional questions. Customers may also contact Fitbit for an immediate refund or replacement with a different Fitbit product.

We are sorry that even a few consumers have experienced these problems and assure you that we are looking at ways to modify the product so that anyone can wear the Fitbit Force comfortably. We will continue to update our customers with the latest information.
Popular in the Community