Some owners of the Fitbit Force, the company's latest wrist-worn activity tracker that measures steps, stairs climbed, calories burned and sleep, are reporting severe skin irritation, including rashes, blisters and peeling skin.
Some of these people, who have taken to Fitbit and Engadget online forums as well as to Twitter with complaints, have reported seeking medical care for injuries they say were caused by the band. Fitbit Force came out last fall and retails for $130.
Wearable devices, or so called wearables, with sensors that connect to a network or an app and collect data that can include sleep and heart rate, were hot items at last week's International CES, the annual technology trade show, in Las Vegas. The Fitbit complaints come as the company is emerging as a market leader in the nascent category. According to NPD Group, a market research firm, Fitbit was responsible for 68 percent of the full-body trackers sold in the year ending Jan. 4. All Fitbit Force bracelets are currently shown as backordered on Fitbit's website.
In a statement to The Huffington Post, Fitbit said "numerous factors" may "cause skin irritation," including sensitivity to the device's stainless steel, which contains nickel, "reactions to bacteria that can accumulate in wristbands, or a sensitivity to the material of the band elastomer." The company said it would offer refunds or exchanges to those affected.
Based on interviews with five people as well as posts on the Fitbit forum, which on Monday evening had ballooned to 24 pages, rashes on the wrists of some Force owners seem to follow a similar pattern: A person wears Force for a few weeks without incident, and, after recharging it a few times, notices redness under the main part of the device, which houses the sensors, battery, display and charging port.
Mike Townsend, 56, a retired air traffic controller from River Falls, Wis., said his skin became irritated after wearing Force for about two or three weeks. He initially thought the irritation was caused by bacteria, so he used alcohol wipes to clean the bracelet and made sure to clean his wrist after exercising. But the rash got worse.

"Apparently I have a high threshold for pain, because it got to the point where I wasn't able to wear anything on my left wrist," Townsend said in an interview with The Huffington Post. "Even a tight-fitting shirt would be an irritant."
Townsend described his skin under the Force as an itchy, "red, raised rough area."
"Anything that would rub against it would just be painful," Townsend said. "The sores were such that if you scratched them, they would break and ooze or bleed. It was unpleasant, to say the least."
Townsend tried switching Force to his other wrist and wearing the band more loosely, but after about a week his skin became irritated again. He has returned the device to Fitbit and is awaiting a refund. He said his "wrists are healing, albeit slowly."
It's unclear what causes the reaction, and some people with rashes who are posting in the forum said they had no issues with Force's predecessor, Fitbit Flex, which like Force, has a stainless steel clasp that contains traces of nickel.
Some who spoke to HuffPost, including Townsend, said they have never before had allergies to metal watches or jewelry. Some reported having no known allergies.
Some of those with complaints reported receiving canned email responses from Fitbit. Customers interviewed by HuffPost and people posting in Fitbit's forum expressed frustration that the company isn't doing or saying more.
When people first started reporting issues in the thread in December, a community moderator would respond to individuals in the forum. But as complaints increased after Christmas, the moderator fell silent.
"It's just not acceptable that you pay $129 for a product and then end up seeking professional medical help for a rash that develops from use of that product," said Susan Pomeroy, a 63-year-old fitness instructor from Lawrence, Kan., who said she went to the doctor last month after developing a rash under her Force. Pomeroy, diagnosed with contact dermatitis and given a prescription for prednisone, said she was frustrated that the company hadn't made an official statement or warned people.
"I am concerned for the health of others," Pomeroy said.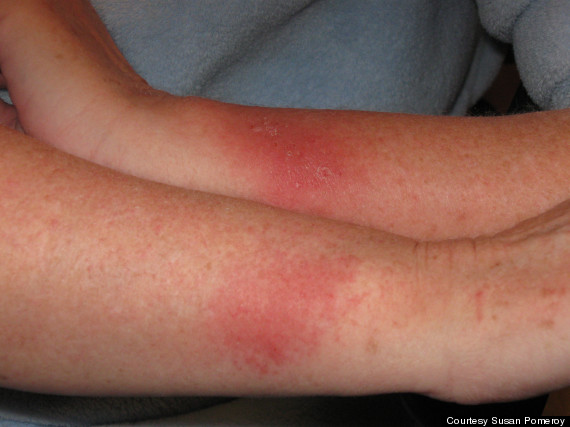 A photograph showing Susan Pomeroy's wrists after wearing Fitbit Force. Pomeroy said she had completed a full course of prednisone when this photo was taken, and had worn Force for three weeks on her left wrist and for only for six hours on her right.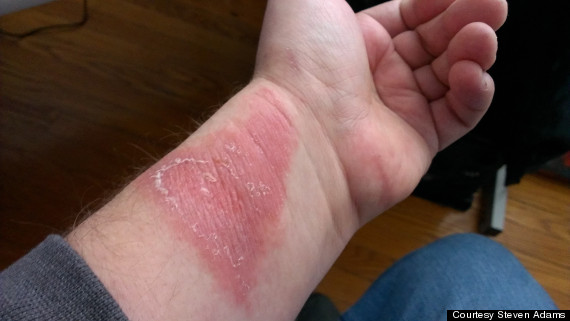 A photograph showing the wrist of Steven Adams, 31, of Charleston, W. Va., which he said he took after wearing his Fitbit Force for about a month.
Full statement from Fitbit:
We are aware that some of our customers have reported a skin irritation from wearing their Force device. We conduct testing in order to satisfy a variety of internationally accepted standards relating to the safety of the materials in our devices. Fitbit wristbands are made of an elastomer material similar to many sports watches and do not contain latex. The Fitbit Force clasps and casing are made with a surgical-grade stainless steel, which is commonly used in watches, jewelry and other products in contact with the skin.

As with any jewelry or watch, numerous factors could cause a skin irritation, such as nickel sensitivity (surgical stainless steel is an alloy containing traces of nickel), reactions to bacteria that can accumulate in wristbands, or a sensitivity to the material of the band elastomer.

However, our customers are our top priority, so we already have been taking steps to make this right with any customers who feel that they have an allergy related to their Fitbit device including offering a refund or a choice of a replacement tracker. Fitbit will handle all shipping costs and will provide a refund in any difference in price.
Engadget, like The Huffington Post, is owned by AOL.
Related
Popular in the Community