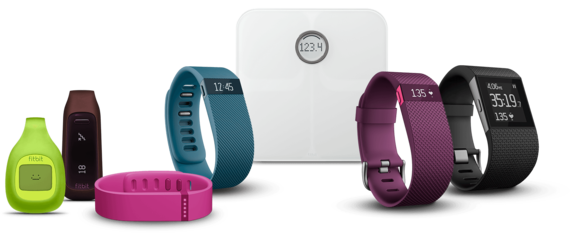 Co-authored with Ryan F. Blake
Over the last ten years silicone wristbands have become synonymous with major movements. From famous athletes, to sports teams worldwide, individuals have used these bands to raise awareness for important causes. Today, many individuals are wearing a new type of device and like the traditional bands, these new gadgets also stand for something equally as important if not more, your health.
Fitbit (NYSE: FIT), the health and fitness wearable technology company believes in empowering and inspiring people to live a healthier, more active life. By designing products and experiences that fit seamlessly into daily life people can achieve better health and fitness goals. However, in addition to the product itself, the company has also created an opportunity to help customers attain another form of well-being, a healthy stock portfolio.
Currently the company is down 51% YTD, equivalent to its trailing 52-week performance as the stock gave up 2015 gains into the close of the year and continued to slide into 2016. To top that, peak bearishness hit after the firm released earnings February 22nd as current quarter forecasts missed consensus estimates, driving the stock down 21% in a single session. This price movement has brought FIT's valuation into value territory for high-growth stocks, creating a buying opportunity.
For instance, FIT's current P/E of 19.40 (March 11 close) makes the stock look like a value play on a relative basis. Other tech and lifestyle stocks like Under Armour (78.37 P/E), MSFT (37.79 P/E), Nike (29.19 P/E) trade at premiums relative to FIT while Garmin (16.63 P/E) and Apple (10.86 P/E) appear cheaper. Additional comparisons of earnings growth shows that PEG ratios are higher for all of the above stocks as well. On a relative basis, Fitbit is an attractive investment.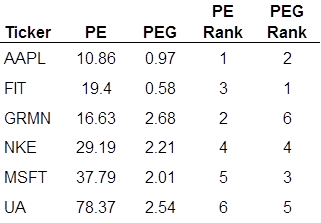 The Opportunity
The beauty of Fitbit's product is their availability and usability for both highly active and fitness centric individuals in addition to the more passive or novice fitness individual. There is also the social aspect of Fitbit. Beyond the app's native "challenges" (competitions between other users), outside platforms offering integration are expanding the Fitbit ecosystem and opening additional marketing and sales channels.
Platforms like ShapeUp and Retrofit are big opportunities for Fitbit as employer and other institutionally driven health incentives target better living and lowering medical costs.
These opportunities are just beginning to pop up in the US and laying foundations for future programs and wider adoption. For instance, Oral Roberts University (ORU) recently required all incoming freshmen to participate in an exercise program that impacted their grades. ORU did this by using Fitbits to monitor Freshmen activity levels and has now opened the program to all students.
Will this program become a trend for universities and schools? It's easy to see how it could given existing programs and efforts. For example, the First Lady's Get Up and Move Initiative is pushing to get younger kids more active inside and outside of school. What if Fitbits were used to track activity levels in kids with a reward system for more active minutes? Personal and school-wide incentives. Extra 15 minutes of recess (bonus, more active time!), special field trip(s), a movie, whatever.
Now granted, the kid angle makes this example a lower probability but looking at a different demographic/market examples are already reality.
Employer sponsored health accounts offer the larger potential for Fitbit. Think about scaled contributions to health accounts based on activity levels. Employee engagement through fun workplace games and other system wide competitions. Afterall a proactive approach to one's well-being costs far less for both national health care and the private sector options.
Another example is the recent partnership with John Hancock. Members who wear a fitbit are eligible for a 15% discount on their life insurance policy. Given the demand for savings, can this model scale to all insurance companies? If so, can FIT further expand these revenue streams beyond retail consumers?
Fitbit is already the market leader with 85% of the market share in 2015 in the core wearable fitness tracker market according to NPD Group. But with the corporate wellness opportunity, there's no predicting how vertical FIT's revenue can go.
Expanding Into New Markets
The Fitstar acquisition in March 2015 is a hidden gem. It expands the company's paid offerings beyond Fitbit Premium, gets Fitbit into the growing online fitness instruction market and gives Fitstart more resources to continue and expand instructional video production. The acquisition adds a recurring revenue stream from FitStar's premium subscription user base and sale of individual workout programs on its apps. While currently small relative to hardware sales, the subscription revenue will be recurring and predictable. And now with the review tested Blaze, Fitstar can craft custom exercise programs based on user's body data, thus making the Blaze into an instant personal trainer.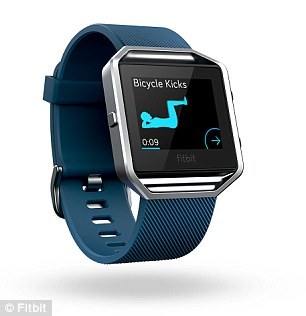 Further, at the end of 2015, Fitbit users had an average of 7.5 friends which is a 65% increase from 2014. Now with Fitstar, Blaze and Alta, the company is attracting new customers thus potentially growing user's social network experience even more in 2016. If this growth continues Fitbit could very well become the Facebook of fitness.
Today the stock may be down, but we refuse to believe that a company predicated on competition will not find a way to retain and gain more market share amid other players in this space. After all, it's popular domestically but it's only gaining steam abroad, where it may be even more popular than in the U.S. due to expansion into China and India. It's time to get FIT.
Calling all HuffPost superfans!
Sign up for membership to become a founding member and help shape HuffPost's next chapter