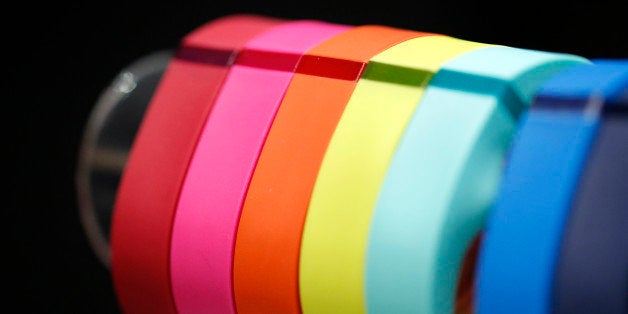 It might not be necessary to spend money on a fitness-tracking device if you already own a working smartphone.
According to a new study from the University of Pennsylvania School of Medicine, free smartphone apps can be about as accurate at measuring your steps as popular wearable fitness devices, many of which cost around $100.
The study, published Tuesday in the Journal of the American Medical Association, measured a bunch smartphone apps and fitness devices selected from top sellers in the United States. Researchers asked 14 participants to put on all the devices at once: on their waistbands, a Digi-Walker SW-200 pedometer, Fitbit Zip and Fitbit One; on their wrists, a Fitbit Flex, Jawbone UP24 and Nike Fuelband; and in their pockets, an iPhone 5S running Moves, Health Mate and Fitbit step-tracking apps, as well as a Samsung Galaxy S4 running just the Moves app.
Laden down with all those gadgets, each participant walked on a treadmill -- first for 500 steps, then for 1,500 steps -- while an observer tallied their steps. When the trials were finished, researchers checked the amount of steps each device or app had recorded, then noted the difference.
The researchers found that the accuracy of the wearable devices and the smartphone apps were about the same, and that for the most part they all tracked pretty close to the real amount of steps walked.
"For the average person who wants to know whether they are getting enough physical activity, any of these devices are accurate enough for tracking step counts," Meredith Case, a medical student at UPenn's Perelman School of Medicine, told The Huffington Post.

A closer look at the trial results
The pedometers worn on the waist produced the most precise results. The smartphone apps came in second, but they weren't far behind.
The wrist devices were found to be the least precise. While the Fitbit Flex and Jawbone UP24 were fairly close to the actual step number, Nike's Fuelband had the largest deviation.
Unless you need to-the-step accuracy, the study results indicate that your smartphone's built-in capacity to measure steps with a free app should be enough for fitness tracking. This means you probably don't need to buy a wearable gadget, especially one for your wrist, unless you intend to use it for other purposes, like tracking your sleep.
That said, it's worth keeping in mind that the study observed only 14 participants -- and only a handful of devices and apps, when there are dozens and dozens available to consumers.
Companies sold millions of fitness trackers in 2014, and they're expected to sell millions more this year, even though the market for them is contracting in response to the arrival of smartwatches. Two-thirds of adult Americans already have smartphones.
Related