When it comes to workouts, there's no better combination than an energetic sweat session and a killer pump-up playlist. (Consult these studies if you don't believe us.) Terrific tracks distract you from the physical effort, improve your mood and enhance your performance. But what's the best soundtrack for toning muscles in barre class, or burning fat during an indoor cycling session? We've teamed up with Curate Snacks to bring you the perfect workout playlist for different types of exercise, as recommended by top fitness gurus.
So whether you're indoor cycling–crazed, a barre babe or an aspiring yogi, find your workout groove below! We've compiled a master playlist at the end of the post with our favorites of the bunch so you can bump the best tracks the next time you get moving.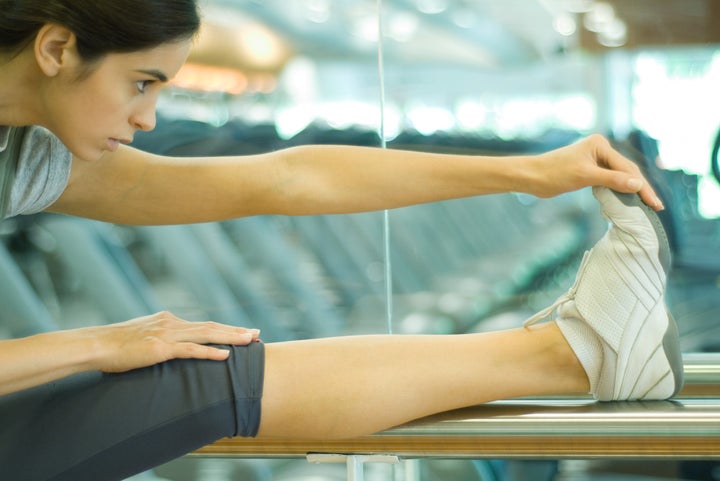 Tanya Becker, co-founder of Physique 57, carefully matches music to her legendary barre routines in order to push clients to get the best results while still having fun. With focus, determination and targeted tunes, barre-goers find grace and strength through intensive, ballet-inspired workouts.
1. "Sweet Disposition," The Temper Trap -- "Perfect for warm up. This song sets the pace and tone without being too overpowering or distracting. I want clients to be able to focus on alignment, form and posture while still getting pumped for the workout ahead!"
2. "King," Years & Years (Merk & Kremont Remix) --"A great tune for working your thighs. This song is from our Coachella-inspired playlist curated by DJ Caroline D'Amore. You need determination and some grit to get through our thigh sections; this song not only inspires clients physically, but also mentally, with an attitude of tenacity."
3. "Holding On," Disclosure (Melè Remix) -- "Working your glutes at a Physique 57 class is no joke! This song is like having a marching band cheer you on, helping you push past your comfort zone and achieve those amazing results."
4. "Formation," Beyoncé (Delirious & Alex K Remix) -- "This remix is perfect for abs. This song is also from our Coachella-inspired playlist curated by DJ Caroline D'Amore. I love using a strong, staccato beat for ab work. It helps clients dig deep and recommit for a strong finish."
5. "Bird Set Free," Sia -- "Good tune for stretches. Our method is about empowerment, confidence, strength and beauty. I try to use songs that leave clients with the feeling they can take on the world."
Aerial Anthems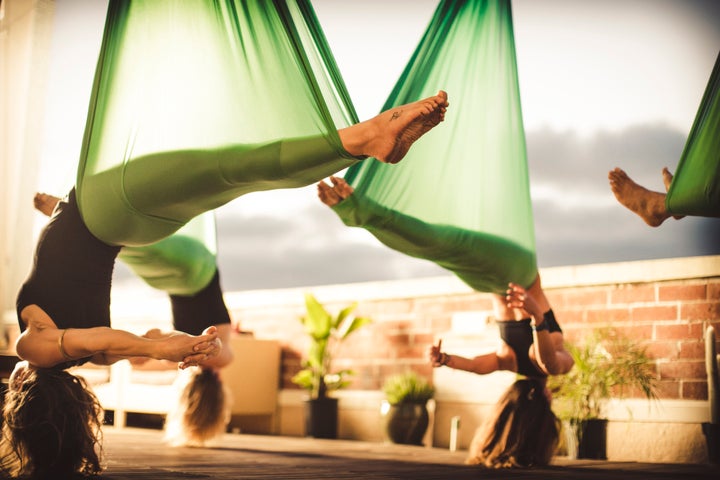 Jason Mejias, an aerial instructor at Aerial Arts NYC, swears by his fun, uplifting playlist. Mejias' students dance through the air, swing from trapezes, climb up ropes and defy gravity to his party-inspired beats.
1. "Run The World (Girls)," Beyonce -- "I meaaan! Even if you're not a girl, the pure energy and beats of this song make you move and feel empowered!"
2. "Titanium," David Guetta feat. Sia -- "There's something about Sia's voice and lyrics that just inspires people. That combined with David Guetta's beats makes this song one of my favorites to play when I want my students to let loose and give it all they've got!"
3. "We Are Young," Fun feat. Janelle Monáe -- "It's all in the lyrics of this song -- who doesn't want to feel young?"
4. "Raise Your Glass," P!nk -- "It's a great party anthem that just gets people in the mood to move. Good for a weekend workout!"
5. "Stronger (What Doesn't Kill You)," Kelly Clarkson -- "This is just an inspirational song that will motivate you in any occasion, whether it's at home, work or gym."
DJ The Dance Floor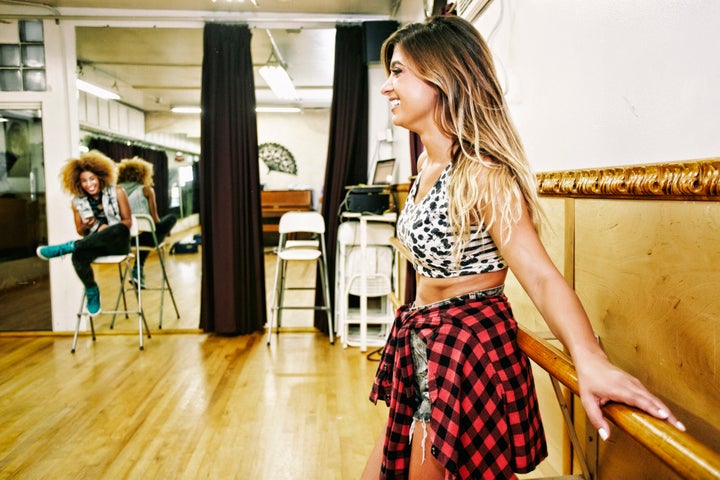 Kelly Anne Wadler, founder of inspirational dance classes "Shine On Movement," gets the mind, body and soul pumping with her dynamic playlist. Students leave her classes feeling revitalized, sexy and strong.
1. "I'm In The House," Steve Aioki -- "You can't go wrong with Steve Aioki. This track has such a party-rock feel, making it awesome for punches, kicks and lighting up the party."
2. "Lollipop (Param Pam Pam)," Alexandra Stan -- "This sexy beat will have you rolling your hips and upper body across the floor! Perfect for a contemporary jazz routine or pole fitness number, this song will loosen you up and and free that wild child in you."
3. "Dale Dale," Francesca Maria -- "Calling all Zumba fanatics! If this jam isn't in your set list yet, add it ASAP! [A] Latin/pop Cumbia mix will get your whole class tearing it up! The verse, chorus and bridge are all loaded with a bunch of upbeat rhythms, making it a dream to choreograph or dance to!"
4. "W.E.R.K. Pt. II," Lizzo -- "This song is POWER! You will easily find your inner diva with this track. It's got a hard down beat, making it perfect for some killer hip-hop choreography and some 'I'm freaking awesome' mojo."
Meditative Melodies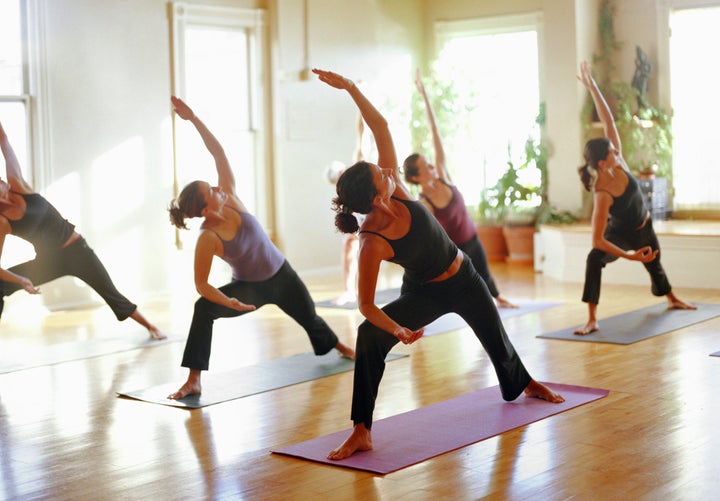 Under the impression that yoga must be practiced in complete silence? Think again. Rebecca Russell-Turner, co-founder of Yung Club, an immersive yoga experience, uses carefully selected tracks to help her students escape into a dream-like world of movement, sight and sound.
1. "10,000 Emerald Pools," Borns -- "This floaty, friendly track is perfect [for] transporting you to an underwater world. This song makes the body feel buoyant as the animations dance around the room, immersing you in the deep cyber sea journey."
2. "Persuasion," AM & Shawn Lee -- "The title of this song easily entices you into a slow, expressive set of sun salutations. Like the best type of persuasion, it is alluring and gentle yet powerful."
3. "Burn With Me," Whilk & Misky -- "Sounds like a beating heart. The music makes the body move without any effort. Helping you escape the pressures of exercise, easily."
4. "Let It Happen," Tame Impala (Soulwax Remix) -- "This track twinkles, teases and builds, leading the body and breath. This song makes your body move wildly and freely during a rapid Kundalini set."
5. "In Sintesi," Róisín Murphy (Psychemagik Remix) -- "The high BPM and arousing lyrics offer the perfect rhythm for Kundalini breath and momentum."
Cycle Chants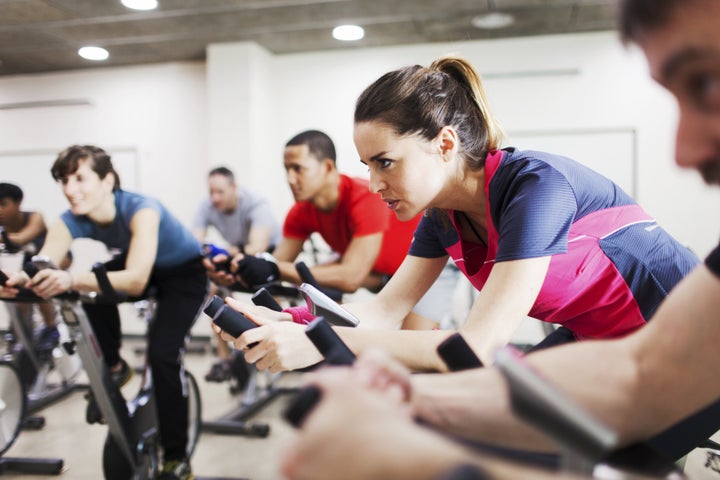 Indoor cycling is a fun, competitive and highly effective cardio workout that gets results fast. Jonathan Carlucci, a master instructor at Revolve Fitness NY, keeps his cyclists motivated by marrying driving, rhythmic beats with an intense cycling workout.
1. "Team," Iggy Azalea (Sisco Kennedy Moombahton Remix) -- "This remix of a track from The New Classic album is a killer warm up. The rhythm will mesmerize you as you start to dig into the beat. It serves as a great reminder that whatever you bring to the bike is enough. With 100 percent effort, focus, drive, determination and resilience; it's enough to get you to the finish line you need."
2. "Bright Lights," Vice feat. Estelle -- "You can't help but feel like a boss, invincible and like you can accomplish anything you choose to, when you hear Estelle's brilliant vocals on top of Vice's beats. This track is exactly what you need to shift into badass gear."
3. "All Four Walls," Gorgon City feat. Vaults -- "Gorgon City always has deep, driving, house beats. Combining those with a powerful lyric summons that extra energy needed to finish the hill strong. Sometimes we only see walls: of our comfort zone, or maybe that incredibly daunting challenge. This lyric reminds us to bust down those walls, shatter some limits and claim our space."
4. "So Hotline (Drake vs Giraffage & Slow Magic)," The Hood Internet -- "Putting a smooth and dynamic EDM line beneath Drake's vocals gives a whole new life to 'Hotline Bling.' It's incredibly hard to hear this track and not want to crank that resistance up and climb!"
5. "Body on Me," Rita Ora feat. Chris Brown and Fetty Wap (Fetty Wap Remix) -- "This track is smooth and sexy. Add the Fetty Wap layer, and it gets really hot. I love to use this track for the beginning of a hill; it's fast and has that driving energy to help build momentum."
Dancehall Domination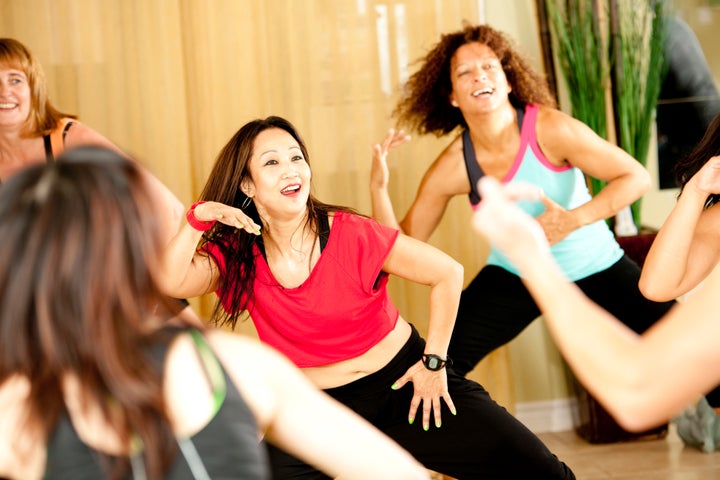 Marie Medina, founder of Fitness Meets Dance Studio, gets her Zumba, Ballerobica, Hip Hop HUSTLE and Turbo Kick students up and moving with electric beats that encourage self expression and free all inhibitions.
1. "Run The World (Girls)," Beyonce -- "Perfect for a warm-up. Fitness Meets Dance is all about empowering women, so what better way to start a class than with a 'Girl Power' anthem? This song gets my students psyched for the workout."
2. "Work," Lil Jon -- "I love this song because it is really motivating and gets the participants focused on what they came to do. As Lil Jon says, 'Let's go, let's work!' There is a fitness quote that says, 'If you still look cute at the end of your workout, you didn't train hard enough.' Lil Jon's 'Work' lyrics definitely convey that message and enforce that motivation."
3. "The Hardest Ever (T.H.E.)," Jennifer Lopez -- "This is another song that I love playing during my workout segments to get the class pumped. I love it because it reminds the participants why they are here -- to 'work hard'! Sometimes I think that kind of motivation is necessary, especially during the last couple of reps." * Remix version used has a much faster BPM
4. "Finish Line," Black Coffee feat. Bucie (Original Mix) -- "This is the perfect song to wrap up a workout. It has a very mellow rhythm with a reduced BPM, which is awesome for a recovery or mat segment of a class. The chorus talks about coming to the "Finish Line,' and I think that it's motivating and rewarding at the same to hear those words as a participant approaches the end of their workout."
5. "Touch Me," Cirus Raskilz -- "I enjoy playing this song during the cool down/stretch segment of my class because it's so soothing. The rhythm encourages a mind and body connection and guides the students into a peaceful finish."
Beauty lies within life's unexpected combinations; and what music is to fitness, flavor is to eating well. Curate Snacks believes in the unexpected, taking a unique culinary approach to create bars that use simple, nutrient-dense ingredients, like Marcona almonds, apricots and a hint of lemon in their refreshing Harmonious Blend bar.