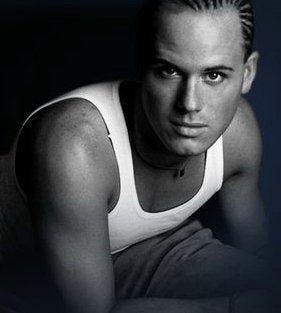 A popular New York City fitness trainer, injured in an elevator accident in the building where he lives, is so afraid of elevators he now depends on his musclebound buddies to carry him up 26 flights of stairs back to his apartment, The New York Daily News reports.
Corey Hill has filed a Manhattan Supreme Court lawsuit against the building's landlord, Stonehenge Properties, and two elevator companies who maintain the lifts in the building, Century Vertical Systems and Transel Elevator, after the incident which left him in a wheelchair, and with a paralyzing fear of elevators.
(Transel Elevator, you may remember, is the same company under investigation for the gruesome death of ad executive Suzanne Hart in an elevator accident last month.)
On November 11th, Hill stepped into the elevator and pressed the button for the lobby when the car went into free-fall before suddenly coming to a stop.
He told The New York Post the incident was, "the scariest thing I've ever experienced in my life. I've sky-dived and done other things in my life, but I've never been scared like that."
Typical of spinal injuries, Hill didn't realize he was hurt until he woke up the next day and realized he couldn't move his legs. According to the lawsuit, he was then in Beth Israel Hospital for 2 1/2 weeks.
A source at Transel Elevators tells Gothamist, "While Transel Elevators may have been named in that lawsuit, they have not done work on the elevators in that building since April 1, 2010."
Meanwhile, Hill is struggling to walk again and undergoing physical therapy. Unable to work, he's falling behind on rent and may soon face eviction.

Popular in the Community