While the rest of the country battles an obesity epidemic, the Southern California beach town of Santa Monica is facing a very different kind of problem -- too much exercise. Some residents are complaining that their gorgeous beachside parks have been taken over by neon blowup balls, barbells and weight machines.
To curb the human traffic jam, city officials are considering charging trainers who hold classes in the park a $100 annual fee, taxing 15 percent of revenue and restricting hours, AP reports in the video above.
The biggest fight is over Palisades Park, which runs along Ocean Avenue and attracts thousands of tourists with its stunning ocean views. Some residents want exercise classes to be banned altogether in the park, complaining that there is no room for kids to play and that the exercise equipment is killing the grass.
But trainers say that a fee and tax would be a major blow to their independently-operated small businesses, CBS reports.
Sonki Hong, who was one of the first to hold fitness classes in the park more than a decade ago, said back then, the park was filled with homeless people. Trainers have made the park safer, he said.

"Santa Monica is one of the healthiest and fittest cities in the world, and we are at the forefront for setting the right example for other cities around the country to follow," Hong said to the Los Angeles Times. "The last thing we should do is regress by limiting outdoor fitness training in parks."
Palisades Park is no stranger to controversy. Local churches and atheists sparred over whether nativity scenes should be allowed in the park. After atheists covered the area with atheist signs in Dec. 2011 (photos below), the city banned both nativity scenes and atheist displays in Dec. 2012.
The Santa Monica City Council is set to take up the fight over fitness classes in the park in March.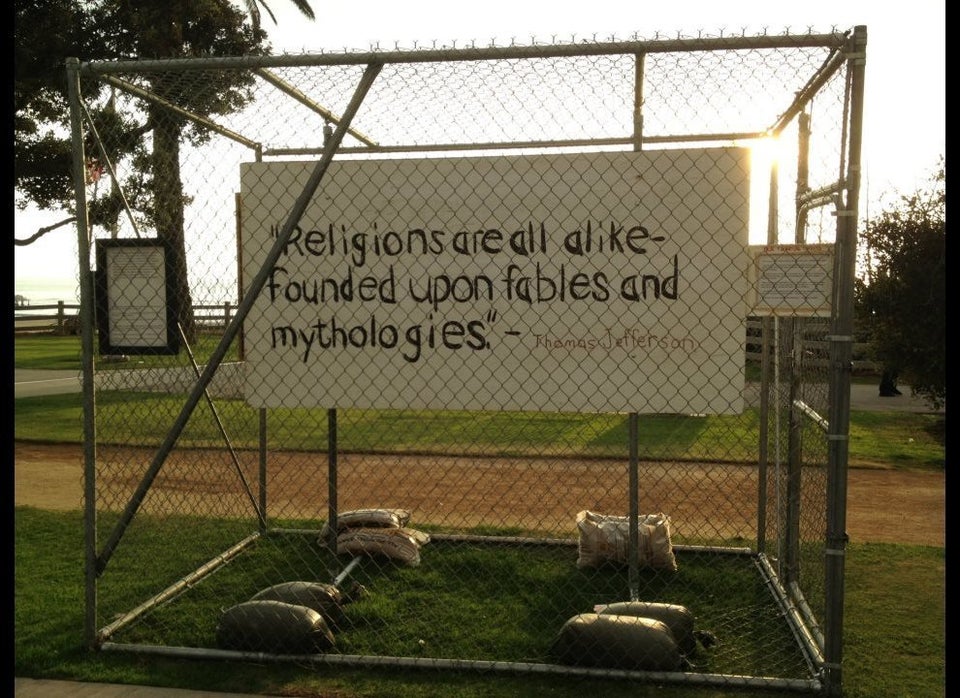 Santa Monica Navity Scene & Atheist Displays