Jennifer Pattee was in her mid-30s when she realized that she wasn't happy. Here was a woman who had met with success at jobs many people would envy -- working in glamorous design studios at Silicon Valley darlings IDEO and Apple. Yet deep down, she knew that her work had lost its meaning.
"I worked with amazing people, but the commute sucked the life out of me," Jennifer said. "Ultimately, I screwed up my wrist from pushing pixels all day (and night) and never taking proper breaks. I had also stopped riding my bike, stopped running, stopped cooking dinners with friends, gained 20 pounds, and developed an anxiety disorder. When the doctors told me I would have to get surgery, I decided to do some soul-searching."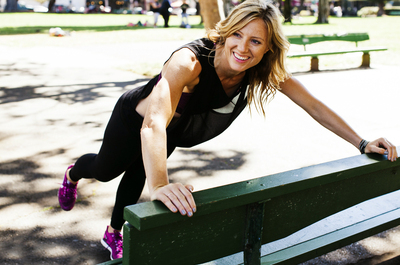 Thinking back on her happy childhood in San Francisco with parents who taught her to find peace in the outdoors, Jennifer felt a calling to help people find happiness by tuning into their physical health. When she was offered a job teaching boot camp exercises classes, she found herself loving the work.
But Jennifer felt an equally strong passion for strengthening ties in her community, and specifically making fitness free and accessible to all. So she started exploring ways to make this happen. She began contacting homeless shelters to see if there was a program she could do, but no one got as excited by the idea as she did. She also tried sliding-scale personal training sessions and pro bono classes.
Then one of Jennifer's clients took a job at Twitter. Working with their employees outside the downtown San Francisco office, Jennifer struggled to find clean parks and open spaces for exercise. As a result of this frustration, she discovered PROXY: an experiment in architecture, culture, and small business incubation that was getting the attention of city planners all over the world.
During conversations with Envelope A+D, the architects and developers behind PROXY, Jennifer found that they shared an interest in getting San Franciscans outside and interacting with their environment -- gathering, moving, and playing with friends. One thing led to another, and soon Jennifer was making her dream of the ultimate hub for outdoor fitness a reality.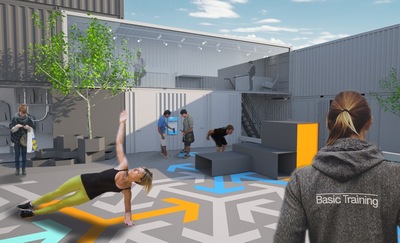 The Basic Training Pop-Up Fitness Hub, which currently has a crowdfunding campaign live on Indiegogo, will include a workout wall, jumping station, and open space. Together, these elements offer the ingredients for a vast array of classes and infinite combination of movements for circuit training. "It's the ultimate adult playground," Jennifer explained. The plan is to include monkey bars, a 40-foot long wall with attachments for TRX bands, battleropes, dowels for pull-ups and hurdles, etc., "step-up" boxes for jumping and bench presses, and open space for yoga classes, boxing, meditation, and so forth. It will also be a place to display art.
Importantly, the Hub will not scream fitness. "There are enough workout parks out there. I wanted something different than the fitness world has ever offered people before," Jennifer explained. "Looking at it for the first time, you might think it was public art and wouldn't necessarily know that it was built for playing on or around until somebody started swinging on it like a monkey."
The space will host organized exercise classes but also encourages "organic movement," or as Basic Training puts it, "What happens when we aren't there." It's free and open all day, everyday for public use.
Finally, the Fitness Hub will serve as a public forum. Basic Training will offer monthly programming to connect people with the inspiration and information they need to lead healthier lives, while enabling them to meet others who want the same things.
Jennifer said, "This space is for fitness, but it's part of a bigger story about civic duty, participation, and livable cities. We've built cities that foster poor health. We've built -- and continue to support -- marketplaces that encourage poor decisions. Everything about our physical culture is messed up. Everything about 'workplace wellness' is also screwed up. In fact, almost everything about the culture of work in America needs a total overhaul. Technology is not the answer; it's part of the problem."
When I asked Jennifer how she feels now in terms of happiness and fulfillment, she exclaimed, "This is my dream job." It connects everything that she's most passionate about -- helping urban planners figure out how to bring more energy into cities, helping people bring more vitality into their lives, and using the tools of architecture, design, and creative collaboration to make it all happen.
Does she have any regrets? Absolutely not. At the same time, she admits that her personal and social life have taken a hit. "Anybody who wants to date me has to really love cooking and giving foot rubs. Preferably he owns a hot tub," Jennifer laughed.
As far as words of wisdom for other people with entrepreneurial ambitions who are scared to start living their lives out loud, Jennifer had this piece of advice, which she (admittedly) stole from Buddha: "The obstacle is the path."
Jennifer said, "A lot of people shut down or get frustrated when they look around and see that the world isn't living up to their expectations. Instead of getting frustrated, find a vexing problem and fix it yourself. In the process of searching for a solution, you just might find your dream job and change a small corner of the world."
Photo credit: Eva Kolenko / Rendering credit: Envelope A+D