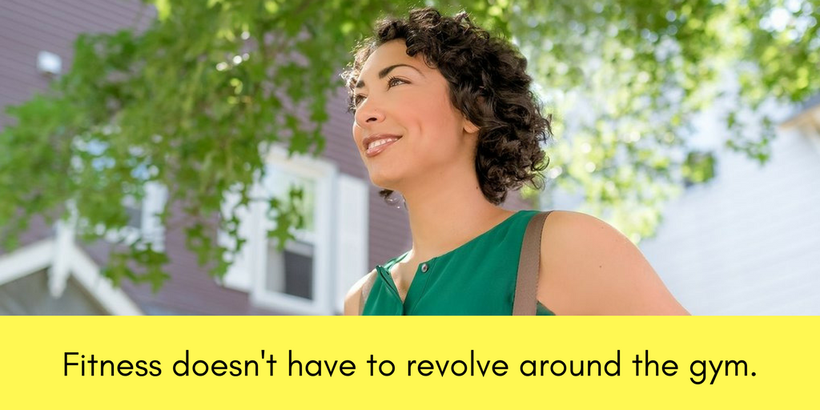 It's about a week into 2018, which means many people have already given up on their New Year's resolutions, especially ones involving health and wellness. Even when motivation is plump with January resolve, pretty much everything seems more urgent than going to the gym: drinks with a friend you haven't seen in five years, the new donut shop in the "the next next Williamsburg," or that thing your boss asked you to do that you don't have to do this instance but now that your alternative is going to the gym it seems like a good time to get ahead on work. Suddenly, your couch/bed/floor/low wooden stool feels extra comfortable when you're wearing the sweats you put on to go to the gym.
Shana Schneider doesn't tell people to rearrange their calendars to fit in hours at the gym. Instead, she shows us how to achieve our fitness goals without sacrificing the things we want to (and would rather) be doing.
Rather than forcing us to prioritize and cut from our schedules, she introduces the concept of "Fitstyle," which she describes as "a behavior, design, or way of doing something that helps you uncover time for fitness where you didn't know it existed." Think leg lifts while you're brushing your teeth, or squats while you're waiting for your mac 'n cheese to come out of the oven.
"It's all about bringing exercise into activities and tasks that we're already doing and creating a habit along the way!"
While Shana's helping people with their goals, she's been fulfilling one of her own. A few months ago, she quit her job to focus on her company, Fitstyle by Shana. I first met Shana three years ago when she was starting to build her audience and brand; I was working for a wellness company looking for partnerships that fit with our research on habit formation. This fall, we reconnected to talk about what she's been up to since then and her views on entrepreneurship.
What insights have you gained about your business since we last talked?
The first is the name of the company: it was originally Zoefit. I realized that people associate me with the term "Fitstyle", and so when I said "Zoefit," people got confused.
I've also had to accept that my image gets associated with the brand, as is typically the case with lifestyle companies. This used to feel weird, or vain, but there's nothing wrong with putting yourself front and center for something you believe in. I've accepted that my person--who I am--is essential to the brand.
Big question: how do you define an entrepreneur?
Great question. I think there are a lot of connotations attached to the word "entrepreneur" these days, like "I wear jeans and a sport coat and I go big and I risk everything." Like if what you're starting isn't big, it doesn't count, but is that really true? Entrepreneurship is about taking risk, but it's also about creating. If you're starting a company, regardless of its size, you're an entrepreneur. If you want to build something with a local scale, do it local.
So often, ventures are diminished as "side hustles" if they're not big. Women especially have embraced this term. But in many cases, you're starting a company. We don't have to call it something cutesy and lessen what we're doing.
Right, there's often an association with "entrepreneur = founder of scalable tech company" while starting any other kind of company makes you less an "entrepreneur" and more of a "small business owner."
Exactly. Like here in New Haven, there's a boutique called idiom that was started by a woman. That boutique has been so successful that, unlike a lot of tech companies, it stayed open during the recession and she's opening a second store now. Does she get heralded as an entrepreneur? She absolutely is one, but do people say that, and if not, what's holding them back?
There is definitely a gender bias in the contemporary vision and portrayal of an entrepreneur. Not just the vision actually--According to Fortune, venture capitalists granted women just 2% of money invested in 2016. It's easy to create an association between the word "entrepreneur" and "male" when that's who we see VCs invest in.
Right. To combat this, we have to be cognizant of how we introduce our friends, how we talk about these things. If a woman you know is starting a company, definitely introduce her to other people as an entrepreneur.
Another thing is that there are so many products we know of and use that are produced by women-led companies, yet we never know these women's names. But a lot of people have heard of Travis Kalanick and Matt Salzberg, even though their companies are not as financially solvent as say, Spanx, which was founded by a woman named Sara Blakely.
Speaking of supporting women: when you decided to take your company full time, what role did partnership play in the transition?
My husband helped me sort through our life plan together. We sat down and went through you know, "here are our finances, if I quit my job, what do they look like, how much do we need to save up before I can quit, etc." Two years ago, when this company had way less of a plan, we started saving, but my husband also gave me a lot of thoughtful pushback until I solidified a business model. He's a real partner in this endeavor even if he's not working directly on it. He also provides an emotional support that's priceless. I've found that if you let it sink in, a good, honest hug can keep you from getting swallowed up by the trough of sorrow!
Shana Schneider is a sought-after fitness expert, and has been featured in national magazines, websites and fitness blogs including The Huffington Post, Scrumptious Moms, and Redbook. She has a recurring television segment on WTNH News 8 and has been seen on WTIC FOX-TV CT and Our Lives News 12 Connecticut. Follow her on YouTube and Instagram.
Cyndi Chen writes about jobs, women, and technology. She is currently pursuing her MBA at Yale University. Interests include human narratives, the brain, pop culture, art, and The Bachelor. Follow her on Twitter.
REAL LIFE. REAL NEWS. REAL VOICES.
Help us tell more of the stories that matter from voices that too often remain unheard.
This post was published on the now-closed HuffPost Contributor platform. Contributors control their own work and posted freely to our site. If you need to flag this entry as abusive,
send us an email
.