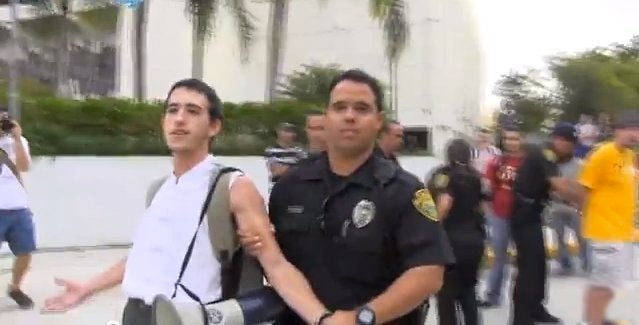 According to police and FIU officials, the Occupy members refused to move, prompting the arrests of five students and two non-students for unlawful assembly.
Occupy members, however, have a different version of events. Occupy FIU member Victoria Aguila told FIUSM, "When someone stood up to say 'let's go to the lawn,' they removed us. We were asked to leave, but when one of our members spoke up to try to get the people to the lawn, he was arrested."
As the group started to assemble at 1:15 pm, Student Affairs staff and police advised them of the areas identified for such activities and the fact that amplified sound could not be used in an area that would disrupt classes. Seven times over the span of three hours, police advised the group of their options, which included moving the event to a nearby area, where classes and other university activities would not be disrupted.

When it became clear that the group was intent on continuing activities that would distrupt [sic] classes, the police notified the group that if they didn't leave in five minutes they would be arrested. After waiting for fifteen minutes, the police arrested seven individuals.
We believe FIU should set an example as a University that respects our constitutional rights and not suppress us to designated "Free Speech Zones" when we want to express ourselves, but instead advocate for a university where its students, faculty and staff can openly express themselves without fearing severe repercussions.

UPDATE: One of the 7 arrested, Alex Rosales, spoke with HuffPost Miami about FIU's official response to the arrests. He believes that president Rosenberg "represents the complete disconnect that the university elite has with the student community and those who share the community's concerns. After-all, he is waging war against students whose families mostly come from working-class and middle-class backgrounds."
Check out mug shots, video, and images from the arrests at FIU, and our Occupy live blog below:

Calling all HuffPost superfans!
Sign up for membership to become a founding member and help shape HuffPost's next chapter
BEFORE YOU GO
PHOTO GALLERY
Occupy FIU Arrests