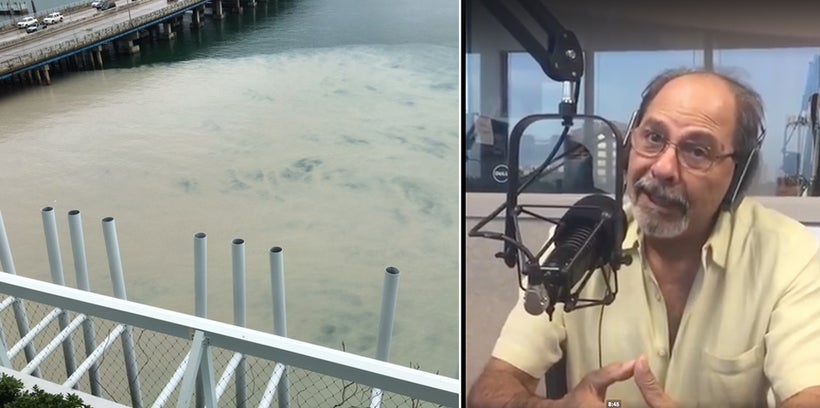 "At the beginning, I thought that the problem arose only when we had king tide events. The problem is not only during high tides." - Dr. Henry Briceño, Florida International University
Dr. Henry Briceño monitors water quality in south Florida from Key West up to MIami's Biscayne Bay and inside the national park of the same name. 
Federal scientists at NOAA completed the bacteriological analysis of the waters off Miami Beach, based on Dr. Briceño's sampling.
They found human fecal bacteria in the water.
Now, the researcher is stuck fighting an uphill battle against the recalcitrant Miami Beach Mayor Phillip Levine, who is denying the scientific results and has begun censoring those who report on the subject.
Levine's administration is polluting our intracoastal waterway like Florida Governor Rick Scott, hiding the true results and other public records like the administration of Michigan Governor Rick Snyder, and accused of using his office to install flood abatement pumps - the ones thought to be polluting Biscayne Bay - on no-bid contracts, which actually benefit Levine's real estate empire disproportionately to the average citizen, in a way that might make Donald Trump proud.
Levine denied the accusation of benefitting from his pump installations last year, but his denials of the scientific findings from FIU and NOAA are falling on deaf ears outside of City Hall.
"Your results mayor, the results of DERM (Miami-Dade County environmental regulators) shows that you have that problem as a chronic problem," Briceño told the Only in Miami Show on Miami's 880 The Biz, "it's happening every single day, with high tides, low tides, with pumps on and pumps off."
What the scientist said next was chilling.
It raises the specter that Miami Beach Mayor Phillip Levine may be following directly in the footsteps of Michigan's state managers under Republican Governor Rick Snyder, who actually knew for a long time about a major water pollution issue in Flint, but hid it from the public anyway.
"I found out that the city had done analysis themselves," said Briceño struggling to keep his voice level in frustration, "and that (Miami-Dade environmental regulators) DERM had done analysis of the same site, and they had found the same."
After three years of study, Briceño revealed publicly that sewage was being ejected from Miami Beach into the bay for the first time this year, and that the new pumps created "point source" outfalls of waste.
The Board of Directors of the Bentley Bay, a 340-unit pair of high rise towers sent a public record email - leaked to me - addressed to Mayor Levine and Miami Beach elected officials just yesterday afternoon with a photo (in our feature photo) a "point source" area of pollution in Biscayne Bay, which recently erupted and settled behind their residential apartment building.
"Last week, we have observed alarming discharge of dark sludge into Biscayne Bay from two locations along the seawall at Bentley Bay," the letter signed by Janne Keskinen, President began, "
We support the City's initiatives addressing flood control. Our residents have endured regular dust storms that have covered residents car and our newly painted buildings for more than a year. We have accommodated the heavy construction vehicles and equipment along with the constant noise. Residents navigated through dirt and mud to get to Alton Road while we were without sidewalks. We have had to address loosing (and replacing at Association expense), our mature Royal Palms and plaza pavers in front of our north tower. Yet, in mostly good spirit, there have been few complaints because we understand the serious need to addressing neighborhood flooding.
"We believe it is imperative to know the source and resolve future discharges so that our Bay remains a source of beauty," Keskinen concluded discussing the waters behind her home, "recreation and pollution free environment for sea life."
Miami Beach city officials replied for publication in this report:
Neither county nor city knows at this time the source of pollution behind the bentley bay condomium this week.

Pumps were shut town after discharge was observed. Still working with Public Works Dept. and DERM to identify the source or sources of discharged sediments.

Similar if someone were to pour used motor oil into a storm drain system, it would go into the bay or any water body, like any storm-water system across the country or world.
When asked directly, Eric Carpenter, Miami Beach Asst. City Manager & Public Works Director said, "You can swim in this water."
However, since the initial revelation of water pollution problems, Miami Beach city officials, led by Mayor Phillip Levine have mounted a campaign of misinformation and lies to hide the water pollution problems caused by their pump systems.
That is when they're not demanding $73,000 to request emails, many of which could read like the above frustrated residents on Miami Beach's densely populated West Avenue and Alton Roads which are lined with high rise apartment buildings.
The Miami Herald first reported that the Biscayne Bay waters west of the tourist mecca were being polluted by the new pump systems during so-called "King Tides." 
In response, Mayor Levine and the City Commission instructed their attorney to demand a retraction from the Miami Herald, in a five-page letter signed by City Manager Jimmy Morales. 
"The [retraction letter] It was a bunch of lies," said Dr. Briceño, "I'm sorry." 
After the scientist had shared his findings with the city, municipal officials asked him for an request for proposal or RFP as they're known, so he submitted plans for a wider study to the city, and mentioned that he'd try to source federal funding for a more extensive analysis of pathogens in the water, if the City of Miami Beach taxpayers were unable to fund it themselves.
Levine and his cohorts on the Miami Beach Commission had the gall to falsely accuse the scientist of seeking money by reporting an inaccurate result.
Or course Dr. Briceño may have been confused, and it's possible that someone at the city actually was asking him donation to the Miami Beach Mayor Phillip Levine's now defunct RFP PAC, which even caused the Democratic National Party to worry about his partner in RFP Jonah Wolfson making a huge donation this past May.  
"Even though the Mayor and the Commissioners and the City Manager knew that that was true, they attacked us," said Dr. Briceño who said off-air that he was actually glad a younger scientist hadn't been the one to discover these problems, because he didn't care about the attendant political pressure that comes with being the bearer of bad news, "I was attacked by the [Miami Beach] Commissioners and the Mayor saying that I was a liar, etc."
"I have many reservations and concerns with their sampling methodology," said Miami Beach Public Works director. "This is something we've spent months talking about to the determent of the city."
Water officials in Flint, Michigan were charged criminally for using flawed methodology in their studies earlier this year, so the issue of whose methodology is proper is not only a matter of concern, but a serious matter of public health.
Hundreds of people swim, kayak, paddleboard, jet ski and boat in the waters west of Miami Beach daily.
"I have 43 years in research, I have 1900 nutrient analysis and 240 bacterial analysis completed and made 25,000 samples in the bay," said the Florida International University scientist forcefully defending his testing, and "You (Levine) have the data, I have the data (from DERM)."
"The pumps are transporting tainted water to the bay."
Ironically, Levine was at Florida International University seeking political gain and attention, when he violated the constitution's First Amendment censored this columnist.
When we asked the City of Miami Beach for a list of all people censored on Facebook by Mayor Levine or a personal inspection of his account, Aleksandr Boksner, Deputy City Attorney replied, "The City of Miami Beach is disinclined to acquiesce to the below request," and directed that all further communication about my request be addressed to him directly at 305-673-7000 ext. 6212 or by email here.
Miami Beach may be a tourist paradise to the rest of the world, but Mayor Levine and his commissioners are busy rebranding their city to locals as a place of censorship and water pollution.
REAL LIFE. REAL NEWS. REAL VOICES.
Help us tell more of the stories that matter from voices that too often remain unheard.
This post was published on the now-closed HuffPost Contributor platform. Contributors control their own work and posted freely to our site. If you need to flag this entry as abusive,
send us an email
.