A bathroom remodel is a top way to increase your home's value, and to give it a functional and visual refresh. According to the Remodeling 2014 Cost vs. Value Report, a mid-range bathroom remodel costs on average $16,128, and you can recoup 72.5% of the remodeling costs during resale. If you are looking to give your master en suite, guest bathroom, or kids' bathroom a new look, use the tips below update your space and to add value to your home.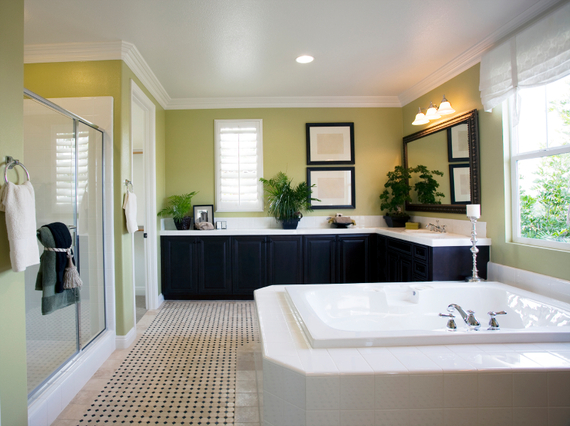 1.) Don't skip the design plan:
The layout and functionality for your new bathroom should be determined by who will be using it the most.
Kids' bathroom: Consider a double sink for a faster morning and bedtime routine; add a built-in, pull out, step stool to help little ones reach the sink; and no-slip tile to avoid any bath time accidents.
Guest bath: Make guests feel at home by incorporating extra shelving so they have a place to store their items without feeling intrusive. Consider built-in shelving both in the wall and the shower.
Master en suite: If you're looking to incorporate spa-like features into your home, this is the place to do so. Consider adding a heated marble floor (the small space will keep the cost down), a walk-in shower and plenty of natural light.
2.) Do assess your skill set: While you may have the vision, do you have the plumbing, flooring and general contracting experience to successfully complete your remodeling project? If you could use a professional hand, visit a site such as Porch.com to find remodeling professionals in your area.
3.) Do select appropriate finishes: Bathrooms can become dated in as little as five years. If you go trendy, consider looking into Ikea to keep your investment to a minimum. If you are looking for a timeless look, consult a professional designer to help select neutral, high-end finishes.
4.) Don't move the plumbing and ventilation: Two of the most important functional features of a bathroom are the plumbing and the ventilation. Surprise plumbing incidents can be costly, so base all renovations around the existing plumbing.
Avoid blocking the main ventilation source (typically a vent fan or window). If your bathroom doesn't currently have a source of ventilation, this should be at the top of your remodeling to-do list, to be proactive about preventing mold.
5.) Do maximize storage capabilities: Does your home have adequate linen or hall closet space, or is your bathroom the primary storage hub for towels, linens, toiletries and cleaning supplies? Consider built-in wall shelves, or wall-to-wall ceiling storage with built-in recessed lights.
About: HomeFinder.com is a digital real estate site that offers an easy to navigate home search experience. Whether you are at home or on the go, HomeFinder.com makes it simple to find your new home. Start your home search today.
Related