We are dangerously close to the deadline for shutting down the world's coal plants.
According to the IEA's recently released Paris compliant scenario actual coal plant power generation needs to essentially cease by 2040. More importantly, big industrialized regions like the US and Europe need to end power generation by their coal fleets by 2030 (EU) and 2035 (US). That's at most two decades away - an insanely short amount of time to fully shut down the entire coal fleet in the industrialized world. With that as our challenge what are the trends to watch for that will either put us on a path to victory or a path to peril?
Trend 1) The Sheen of Inevitability Wearing Thin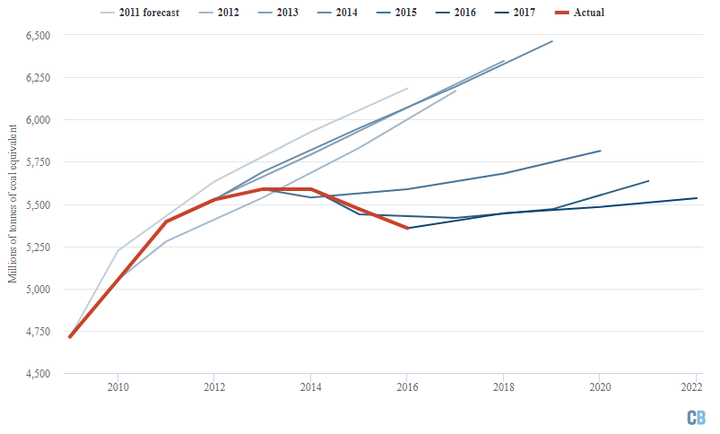 If we are able to transition beyond coal on this war time footing it would put us on a glide path to reduce coal power output by roughly 2.75% each year. That might not sound like a lot but until just a few years ago all coal fired electricity ever seemed to do was go up. Because of a recency and status quo bias that affects all forecasters coal benefits from the perception that growth is inevitable. But in recent years, as the graph compiled by Carbon Brief above demonstrates, we have not only flat lined we are declining at roughly a Paris compliant rate. That means the world can almost see the beginning of light at the end of a long dark tunnel when it comes to coal.
But great as that is, we now need decision-makers to adjust their perceptions to the reality in front of them. As you can see, the IEA simply can't bring itself to project a flat line let alone declining growth for coal. But eventually they will be forced to and when they do approvals, financing, and support for the industry will dry up. Because it's not about whether or not the industry is profitable today, it's about whether or not there is a future to build towards. Once there is no future growth, there is no planning for tomorrow, which means things stop getting approved, and stopped getting built today.
Trend 2) The Chinese Peak and Decline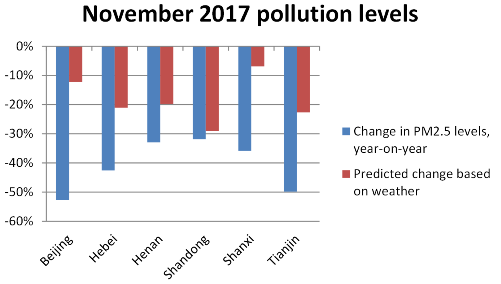 Simply put, so goes China so goes the world when it comes to coal plants. If China does not rapidly reduce its coal consumption, we really don't have much of a chance of reaching Paris goals. The good news though is that the Chinese coal peak came early buying us just a bit of time for any short-term setbacks. It appears we will have a short-term setback in 2017 with Chinese GHG emissions growth projected to rise approximately 3.5 percent in 2017. There may be a flood of articles warning of increased coal consumption and a rebound in emissions in China which will not help with the perception versus reality around the inevitability of future coal growth.
But this short-term rebound looks to be the result of an unsustainable uptick in investment aimed at propping up old, inefficient, dirty industries responsible for the countries air quality crisis - a speed bump on the road to structural macroeconomic changes. Despite this momentary setback signs point to China's continued structural shift away from coal (and perhaps increasingly oil) and a continued focus on meeting the countries air quality goals. In fact, Beijing has empowered the Ministry of Environmental Protection with important new legal foundations modeled after the US Clean Air Act demonstrating the country's commitment to enforcing clean air laws. All 338 major cities and counties have prepared initial air quality plans, with cities such as Shenzhen and Beijing reducing ambient pollutant concentrations by over 20% since 2013. As the Graph above shows this enforcement is now yielding results. With President Xi focused on an 'ecological civilization' as a defining objective, enforcement of China's air quality management system combined with a macroeconomic shift away from polluting heavy industry and power sector reform will help define success in China.
Trend 3) India's 'Beijing Moment'?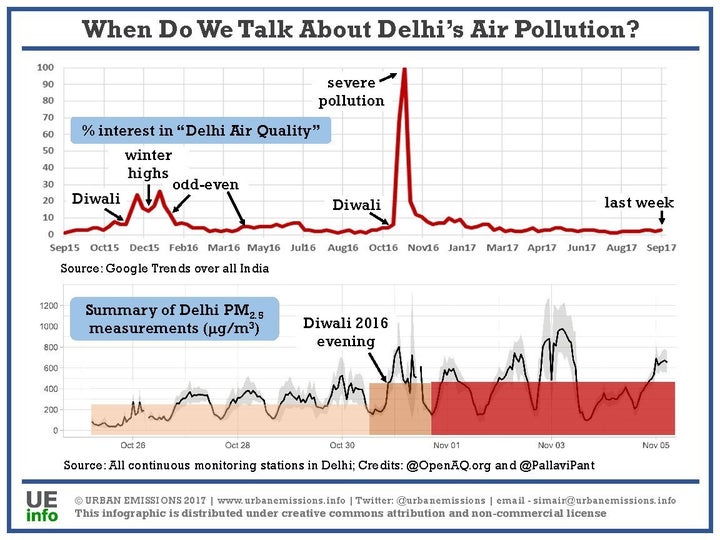 Outside of China, India is the most important swing factor for meeting global coal goals. The country has a population four times the size of the US with an installed power capacity roughly ¼ the size. The headroom to build lots of new power plants, and the political motivation to do so, is strong. But with the country now home to half of the world's 20 most polluted cities and an air quality crisis that has erupted into public view, there is now significant public attention and interest in cleaning up the countries air. However, most public attention is focused on stubble burning in the Punjab or cars in Delhi, not the role coal plays which is significant. Despite the lack of visibility coal receives the countries coal plant air quality standards are in the crosshairs with citizens demanding enforcement despite the Ministry of Environment requesting a five year delay and weakening of the standards effectively letting 300 power plants nationwide continue to pollute during the height of the air crisis.
With solar power already nearly half the price of coal, stranded assets wreaking havoc on state banks, and the government focused on pushing clean power, new coal plant construction is all but frozen. If 2018 becomes the year India decides to get serious about cleaning up air pollution and citizens successfully demand an enforcement of India's existing strict air quality standards for coal plants the increased cost of cleanup will almost certainly lead to retirements down the road given that 65% of all existing units are already more expensive than clean energy. That would take us into an entirely unprecedented modern era - one where we are no longer focused on India's new coal plant pipeline, but we are focused on how many existing plants may shut down.
Trend 4) Growth in Southeast Asia – Coal's Last Frontier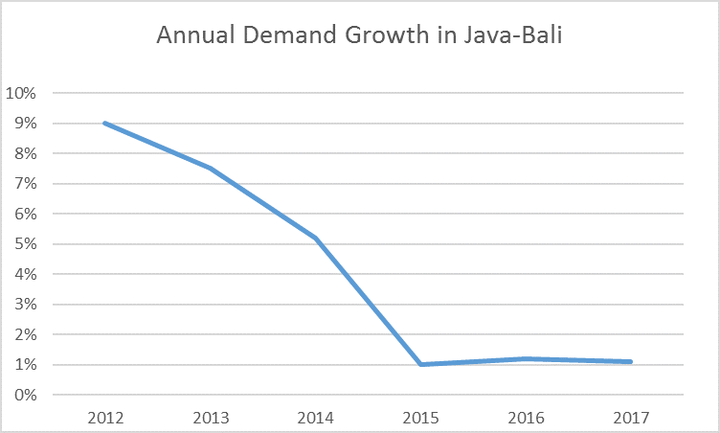 The IEA and others continue to publish scary forecasts about coal plant construction growth in Southeast Asia that have rightly moved the communities focus to this region as the last bastion of potential growth for the industry. With the highest per capita GHG growth rates, significant and subsidized foreign direct investment from China, South Korea and Japan and mercurial clean energy policies at best, it's no wonder coal is king in SEA the last region in the world where clean energy is stubbornly expensive.
But with global growth slowing, clean energy policies improving, and coal plant expansion on the fritz in key markets like Indonesia, it's only a matter of time before clean energy out competes coal in Southeast Asia. That makes delay all the more important in the last frontier. GDP growth in the region has been slowly declining over the last five years. The Asian Development Bank now pegs a slight increase in GDP growth for 2017 at 5% with only marginal increase forecast for 2018 at 5.1%. That will have important ramifications on reserve margins. A big reason Indonesia pulled the plug on its coal expansion plans is that the Java/Bali grid is shockingly oversupplied at roughly 40% reserve margins post 2019 (compared to a healthy 15% in the US). Back of the envelope calculation suggests they could not build another coal plant for a decade and still well exceed US reserve margins. With electricity demand growing by a measly 1% in 2015 and 1.2% in 2016 no new coal plants are needed for the next decade in this oversaturated grid. If growth doesn't pick up dramatically, and grids are already drenched in power, why build new power plants?
Trend 5) Europe - The New Front In The War On Coal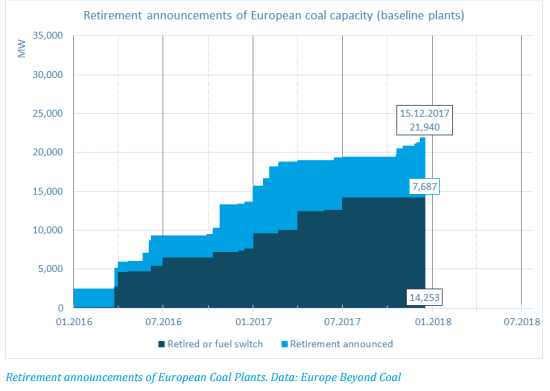 The launch of the European beyond coal campaign was a shot across the bow for the global coal industry. With a sophisticated campaign backed by a high-profile figure like Michael Bloomberg and the region home to the UK who is leading an international coal phase out coalition politics across the region on this issue are rapidly shifting. Plant by plant campaigning empowered by looming new air pollution regulations that will drive cleanup/shutdown decisions for at least 1/3 of existing coal plants will ramp up coal retirement activity in 2018.
As we saw between 2011 and 2015 in the United States compliance with clean air regulations drove clean up/shutdown decisions that were the knockout blow for old uneconomic coal plants. With half of all European coal plants today uneconomic the European fleet is highly vulnerable to these pending decisions. Next year might be the year we begin to see the steady drip of retirement announcements flowing out of Europe in the way we have become accustomed to in the United States.
Popular in the Community