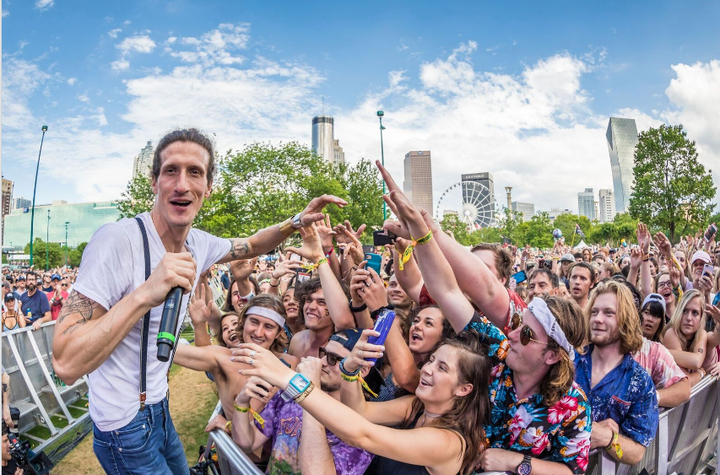 Atlanta's Shaky Knees Music Festival is a well-oiled machine with a super staff, immaculate grounds, three stages, and a roster which rivals Lollapalooza's. Each May in Centennial Olympic Park, the reasonably-priced concert weekend brings together tens of thousands of likeminded fans to listen to their favorite alternative music. As far as festivals go, Shaky Knees (just one of the "Shaky" fests held in Georgia, including the former Shaky Boots for country and current Shaky Beats for EDM) is darn near perfect. By all accounts, the performances this year awed: Anyone in the audience who touched Cage the Elephant singer Matt Shultz during his epic crowdsurf, witnessed LCD Soundsystem's light show, shook with the Pixies, grooved to the XX (thank God for Romy!) after a thunderstorm, "Doot Doot Doot"-ed with Third Eye Bind, or bounced to Phoenix beneath the sparkly city lights would agree.
Here's my take on what else happened:
1. We Experienced the Magic of Being Number One
The Revivalists' song, "Wish I Knew You," is quickly becoming a mainstream success. The laid-back tune currently sits at #1 on the Billboard Alternative Songs chart, and when the band played it Saturday afternoon (see photo above), the crowd instantly crowned it the song of the summer. There's nothing quite like seeing a band perform its first number one hit the same week it tops the charts. Pure joy.
2. A Band Without a Wikipedia Page Gave the Freshest Performance of the Weekend
I'd been waiting to see Hoops since I listed their 2016 EP as one of my favorites of last year, and the Indiana foursome turned out to be the coolest thing going at Shaky Knees Sunday. (Their "Rules" is a jangly, proggy dreampop number I keep on repeat. Reminds me of two of my all-time faves, The Sugargliders and The Ocean Blue.) No outrageous head banging, beard slinging or stage diving, but the music wafted into the late spring sunshine, creating a memory to savor.
3. Ryan Adams Made Me Cry
Sunday co-headliner Ryan Adams's former band Whiskeytown secured him fame in the late 1990s, and in 2001, his video for "New York, New York" – featuring the Manhattan skyline and the twin towers of the World Trade Center – became an anthem for the city after the terrorist attacks of 9/11. During a set filled with heartbreak-rock guitar solos, this reluctant ballad stood out. I regret missing The Shins, another mainstay on my playlists who were performing at the same time on another stage, but seeing Adams play at sunset surrounded by skyscrapers clinched the whole event for me.
4. Bleachers Did Fleetwood Mac
Likewise, when Bleachers blasted into their Sunday cover of Fleetwood Mac's "Go Your Own Way," something felt so right. I witnessed the mood around me change. Everyone in Centennial Park sang and nodded along – from teens to the gray-haired grannies in tie-dye (the ones in line at the food trucks to order seaweed teriyaki or roti curry). When a song builds upon its weight and meaning through decades of shared multigenerational listening, we not only recognize it as familiar, but also we regard it as part of our lives. We don't go to festivals to hear cover songs, per se, but this one mattered.
5. Everything Else Blurred Together
We know Shaky Knees rocks. But please, there are only so many white guys with guitars one can absorb in a weekend. (For the record, I can't distinguish between American movie actors named Chris, Josh or Ryan, either.) I had no idea what Saint Motel looked like. But when the band revved up the main stage with its 2014 single, "My Type," which has nearly 68 million streams on Spotify and is featured in major films and popular video games, I sang along without skipping a beat. It sounded crazy good. I also dug The Record Company and Whitney. But ask me to visually identify any of these band members in a police lineup after seeing them live, and I'd likely fail. How will we remember the indie bands of today if we only hear them through a phone or laptop with headphones on or while wandering around a city park with a beer in one hand and a popsicle in the other, not knowing which stage to approach because we don't even know what the band we love looks like? Shaky Knees has mastered the single-genre vibe, now it's time to diversify.
REAL LIFE. REAL NEWS. REAL VOICES.
Help us tell more of the stories that matter from voices that too often remain unheard.
BEFORE YOU GO