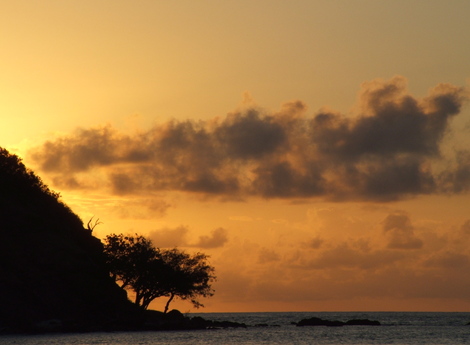 Who hasn't wanted to break loose with nothing but a backpack? To one day sit with your grandchildren on your knees as you thrill them with stories of how you rode a surly Yak deep into the Himalayas, or crossed the Andes on a bus with a howling meth addict for a driver.
But what if you can't just quit your job to go and sell coconut jewelry on a beach? Where can you get maximum traveling kudos for minimum outlay of time and energy?
Set on Morocco's Atlantic coast, just three hours from dusky Marrakech, this walled medieval city is where the likes of Hendrix and the Stones went to get away from it all. Its maze of narrow alleys, little markets and souks piled high with jewelry and leather goods feature a near permanent breeze coming off the ocean, acting as both natural aircon and a deterrent to ever lying on the beach, but which has made it a windsurfing hotspot.
While it is technically a dry town, there are several tourist bars and restaurants that serve alcohol and one that spuriously claims to have invented the mojito. Food ranges from cheap to eye-wateringly expensive, but a real, simple highlight are the stalls by the waterfront where they grill fish and seafood fresh off the boat, leaving the air thick with charcoal smoke and spices.
Highlight: Shopping, food, being rubbed down with black exfoliating soap by a woman old enough to be your mother.
Low Point: The wind, the endless wind!
A backpacker fundamental is the urge to stay longer than intended and only leave reluctantly, and if you don't get that here then there's just no hope for you. Lying in the Caribbean an hour's somewhat hairy flight from Panama City, followed by a transfer in an exceedingly fast boat, the Boca islands are laid back, friendly and pretty damn idyllic.
Originally built for fruit company workers, the brightly colored clapboard houses, bars and restaurants are built out over the water. True, plumbing can be rudimentary (a hole in the wood below you) and all things being connected I wouldn't recommend swimming anywhere near a house, bar or restaurant, but it's rustic, charming and perfect for enjoying a rum cocktail as the sun sets over the water.
Highlight: Serious Hammock time
Low Point: Things that look like twigs but aren't twigs floating past you
Certainly one of the easiest places to get a little Robinson Crusoe; yes the flight is long, and the mandatory overnight stay in the charmless city of Nadi leaves a lot to be desired, but once you board the slow ferry linking this little chain of Pacific islands to the mainland I dare you to carry a care in the world with you.
With a Bula pass you can bob from gold sand island to gold sand island, with a white sand island thrown in for good measure, but once you're off the boat you're there for the duration, so be prepared to kick back, read a book, work on a tan or maybe just a really large cocktail. Be sure to try Flicky Flicky (not sure if that's it's real name or if the locals were just messing with me) a game combining draughts, pool, tiddly winks, and alcohol. Oh, and the sunsets just don't come any better.
Highlight: Sunsets even Instagram can't improve on
Low Point: How many Fijian restaurants do you know?
South America is rarely easy and when it is it's probably just lulling you into a false sense of security, which makes Cartagena's old town so refreshing. Cobbled streets of brightly painted houses trafficked by horse drawn carriages, high city walls with views out across the Caribbean and little restaurants with elderly owners who'll tell you off if you don't finish your food, all combine to make this one of the most disarming spots on the whole continent.
Kick back under a piercing blue sky, explore, wander and then enjoy a dessert from the sweet market in a shaded corner of the main square. Everything looks great, though mostly just tastes of coconut.
Highlight: A cold Aguila beer on the old city walls.
Low point: Prostitutes. Unless you're into that kind of thing, in which case the food.
Whatever deity you believe in they were obviously in a seriously good mood when they invented New Zealand and were pretty damn giddy by the time they reached its beautiful south island.
Take a train across the mountains, walk on glaciers, swim in pristine alpine lakes, ski, snowboard, bungee jump, then enjoy world-class food and cocktails in Queenstown, which is pretty much the signature on the painting really.
High Point: The air, the views, the...oh just all of it, all right.
Low Point: Leaving.
Dan Miles is the bestselling author of Filthy Still, a tale of travel, sex and perfectly made cocktails.
"Hilarious. Like an alcoholic Bridget Jones." -- London Lifestyle Magazine.
Popular in the Community