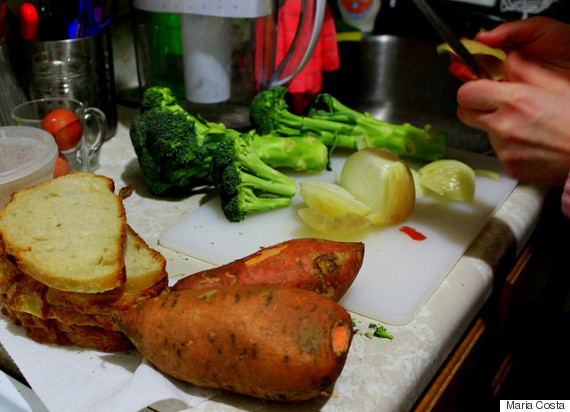 Tell me if this sounds familiar. You arrive home, exhausted from spending the day at your internship or in class (or both!). You drop your bag and face-plant on your bed, but before you can fully relax, a hollow gurgle bubbles up from the depth of your stomach. Suddenly, it becomes all you can think about. You race to the fridge with the best of intentions. I will cook tonight, you resolve, because I am an adult and being an adult means being responsible and using the stove.
And yet, the fridge is mostly bare, save for some questionable half-full Chinese food containers and a green juice you bought on a whim only to realize later that you find the stuff repugnant. You briefly contemplate going out for groceries, but just as quickly as the thought occurs to you, it disappears in favor of ordering Seamless or heading to the caf for some delicious greasiness. You are sated -- how easy it is to forget the growl of a stomach after it has been fully satisfied! -- but your bank account and your body have a much longer memory. Repeat this scenario several nights a week and you find yourself confronting a growing sense of guilt, a sharply declining bank balance, and in need of more elastic pants.
In colleges across the United States, where food is so readily available to students 24 hours a day, it can often feel almost ridiculous to put in an effort to cook for yourself. But if you're anything like myself, cooking is a way to control both my spending and feeling better about my body, and often, it functions as a kind of stress reliever at the end of a tension-filled day. If any of that appeals to you, it's definitely time to start experimenting with home-prepared meals that are just as enjoyable (if not more so) than anything you've ever Seamless-ed. Here are five easy ways to start:
1. Stock up on some staples.
I'm not here to preach to you that you should always have kale in your fridge and almond butter in the pantry. But every college student should try to keep a stock of cheap, wholesome foods on hand. For me, these include a bottle of olive oil, eggs, pasta, a few sweet potatoes, thickly-crusted bread, peanut butter, canned beans, and salt and pepper. Your staples should be determined by what you like to eat, but always allow you to throw together a decently balanced meal (think protein plus carbs) in the time it takes for a delivery guy to come to your door.
I will very often take the time on a Sunday afternoon when my residence hall is quiet to go to the communal kitchen and prep some veggies for the week. I chop up some raw veggies like broccoli and peppers, and store them in Ziploc bags in the fridge, where they become an easy addition to pasta or eggs. If I'm feeling really ambitious, I roast some potatoes while I do schoolwork -- simply poke some holes in the skin with a fork, wrap them in foil, and place in an oven heated to 400 degrees for about an hour, or until a knife can easily glide all the way through the flesh.
You can make some darn good eggs in the microwave with a little practice. You can also steam vegetables for an easy side dish, or even cook beans which -- when tossed with olive oil, salt, and pepper -- can be added to anything for a knockout source of protein.
4. Play with your spices.
The simplest way to jazz up a reliable batch of scrambled eggs is by tweaking the spices you add to them. Turn up the heat with red pepper flakes, or take your food on a tour of Italy by experimenting with dried oregano and basil.
This is perhaps where I will sound a little preachy, but in the moments when we are the most crazy-stressed and hungry, it can be hard to wait even ten minutes for bread to crisp or water to boil. The act of making your own food is a deeply personal one that deserves to be acknowledged each time you engage in it. Take a moment to recognize the tensions of the day and the hungers which both literally and metaphorically cooking will help you to fill. Be grateful for the time you are able to take for yourself, even if it is less than a quarter of an hour, in the middle of a hectic week. And then dig in!
REAL LIFE. REAL NEWS. REAL VOICES.
Help us tell more of the stories that matter from voices that too often remain unheard.