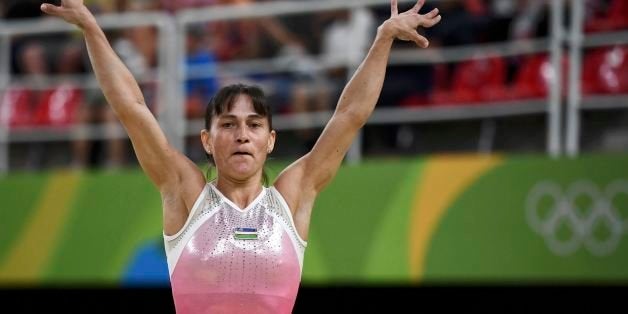 U.S. Swimmer Anthony Ervin, at 35 years old, knocked Michael Phelps (31) off the block as the oldest swimmer to earn gold at the Olympics. No one can forget Dara Torres, who at 40, broke her own swimming record in the 50-meter freestyle just 15 months after having her first child and medaled in 2008 at 41. Dara is the oldest Olympic swimmer in history and set an American record for participating in five Olympic Games.
Equally impressive is 41-year-old Oksana Chusovitina, a gymnast representing Uzbekistan, competing in her 7th Summer Games. And U.S. cyclist Kristin Armstrong, who just turned 43, won her third consecutive gold medal. Canada is represented by 56-year-old Lesley Thompson-Willie in Rowing, and New Zealand by equestrian Julie Brougham, 62. I could go on but I think you get the idea.
Thriving in Middlescence
As we live longer lives, peak performance is not just the purview of young people. Middlescents are harnessing more than their physical fitness to achieve at these levels.
"I had to dig deep inside of myself, rethink how to train my body, and ask new questions about what makes a person stronger and more flexible -- in body and in mind. In other words, I had to understand how not to let my age get in my way," Dara Torres wrote in her memoir.

Experience and mental strength make us awesome competitors. This isn't just limited to athletes. You can embrace a few key elements to help you thrive as leader at home and at work.

Five Essential Elements
There are five essentials that represent a holistic approach to thriving in Middlescence. You don't have to be an Olympian to put them to work in your life. I use the acronym "HEART" to make them memorable:
H - is your emotional health, passion, sense of purpose, joy and gratitude--the food for your soul.
E - is your energy. Energy comes from wellness, a healthy diet, and exercise-- the basics that put the 'go' in your 'Get up and go'.
A - Attention depends on your stress, mindfulness and cognitive health--how fit is your brain and how are you using it?
R - is for Rest & Recovery is your sleep, rest, and recuperative practice--are you getting all you need?
T - Time involves time management, distractions and lifestyle--how wisely are you using your time?

Ordinary People Living Extraordinary Lives
Harnessing the elements to thrive isn't only the hallmark of peak athletes. In my coaching practice, I see people doing it every day. From people who had to recreate their careers after the recession to those who started a new chapter by pursuing a lifelong dream, I get to hear the most amazing stories. I heard this from Terry:
"I committed to making a life change from Finance to Aviation. I selected what turned out to be one of the most challenging times in US history for selling discretionary vehicles. I recently moved to represent a manufacturer and after six hard years I finally feel like I have passed the test and am enjoying a great opportunity. I am super optimistic."
Just like an Olympic athlete, living the life you were meant to live takes courage, focus and patience. It also takes training. Want to learn more? Click here to access the Thriving Quiz to see how you are doing and what you can work on to become the best version of yourself.
Related
Popular in the Community