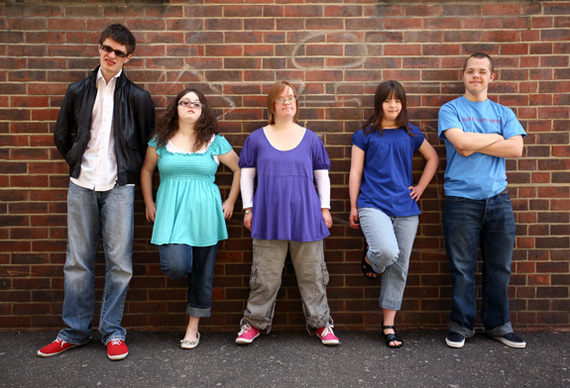 Okay, picture this. A group of five young people, friends since childhood, live together and share their lives with the world through a docu-series titled The Specials. You say to yourself -- what's so special about that? Sounds like just one more reality show.
Well, you're in for a delightful surprise because you'll be captivated by what you see in this show. This is like nothing you've ever seen before.
You'll want to catch The Specials airing on Sunday, September 7th, during an all-day marathon presentation of two seasons, on the Oprah Winfrey Network, OWN, starting at 2:30 p.m. EST.
The series chronicles four years in the lives of five young adults, ages 19 through 23. What makes this so "special" is that these five young people all have intellectual disabilities. The cast consists of Hilly, Sam, Megan, Lucy and Lewis. Four of them have Down syndrome and one has Williams syndrome.
When Hilly was about 19, she decided she wanted to live independently. Her parents, Carol and Dafydd Williams, looked around and couldn't find a home situation they liked without having Hilly live with strangers. They decided to start a home where she could live and Hilly now shares the house with four friends she's known since she was a child -- and their daily lives form the basis for the show.
In an interview on Influencers Radio, series creators, Katy Lock and Daniel May, explain how they felt compelled to share this endearing story when the original TV pilot was not picked up. The resulting Webby Award and People's Choice winning story has touched the lives of people around the world as a web show.
Executive Producer, Carolyn Strauss, watched the web show and her passion for it led to the current series that is being aired on OWN.
This groundbreaking series affords us the ability to peer into the world of these young people as they go about their everyday lives, going to school or work, socializing at the pub and having a love life (or not). The good, the bad and the funny.
As anyone who lives with an intellectually-challenged person knows, these "special" people are more like the rest of us than they are different. They love, they hurt, they struggle, they accomplish and, yes, they all have their own individual personalities and feelings -- just like the rest of us.
Many of us might have a hard time looking past the exterior image we see or hear and fail to look inside the person and get to know them. Many might feel uncomfortable when in the company of a "special" person.
This series moves us all past that and allows you into the world of these young people where you find yourself forgetting about their disabilities. You get enmeshed in the touching, honest, innocent and, yes, funny dramas of their lives. And you'll find yourself laughing with them, not at them.
These young people bravely share themselves with the world, telling the audience about their lives by narrating scenes and intros, and engaging in individual interviews.
You'll get to know and love them all: Sam, the ladies' man, Megan who is loved by both Sam and Lewis, Hilly who loves to be the house mother and diva, Lucy who stands up for herself and Lewis, who struggles to express himself to others. All the drama you could ever want, and then some, in a heartwarming fashion.
Gather your popcorn and grab a comfortable chair because you won't want to leave your seat once you enter the world of The Specials.
Popular in the Community