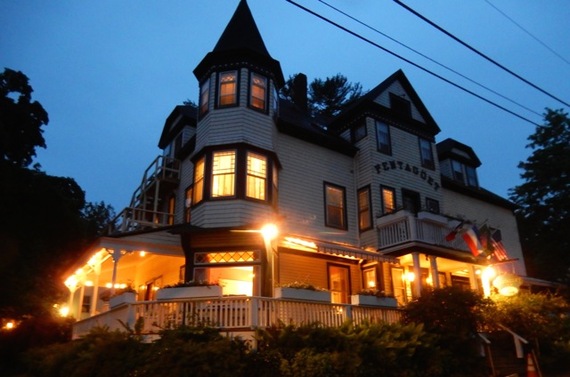 Imagine a crackling fire, a fine glass of wine, a decadent meal, and no need to call for a taxi or grab your car keys. Your room is right upstairs. Who wants to go out in that raging blizzard or ferocious thunderstorm, anyway? The weather inside's delightful at the following five hotels, inns and B&B's renowned for stylish accommodations, excellent staff, and exceptional, innovative chefs who will see to it that you are fed -- body and soul.
For more information on each of these inns and other upscale, offbeat destinations in the Northeast USA, check out GetawayMavens.com.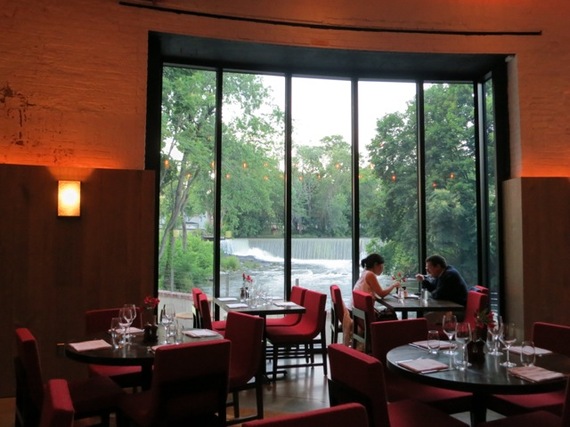 1. Roundhouse At Beacon Falls, Beacon NY. Opened in 2012 in a former dye-works (and then lawnmower) factory, The Roundhouse brought boutique cred to Beacon NY. Perched right over cascading waterfalls and boulder-strewn rapids, its crisp, industrial-luxe design drew urbane guests from The City, giving them a reason to stay in town after visiting DIA:Beacon. Since November 2016, there's another reason to wait out the storm here -Michelin-starred chef, Terrance Brennan has taken over the kitchen. Honeymooners generally book a third floor Penthouse Suite, if only for the private deck nearly cantilevered over the frothy water and sexy round soaking tub at the foot of the bed. But for optimal snuggle-in-while-its-stormy-out cocooning, you can't beat Room 101. A corner suite, you are surrounded by cascading water as the raging creek within 15 feet of all six windows, makes its dogleg turn. And no, you won't have to leave the premises to get to an exceptional restaurant. Roundhouse By Terrance Brennan serves "Nose to Tail" "Whole Farm Cuisine" in a stunning David Rockwell-designed dining room overlooking the falls and raging creek, right on the main floor.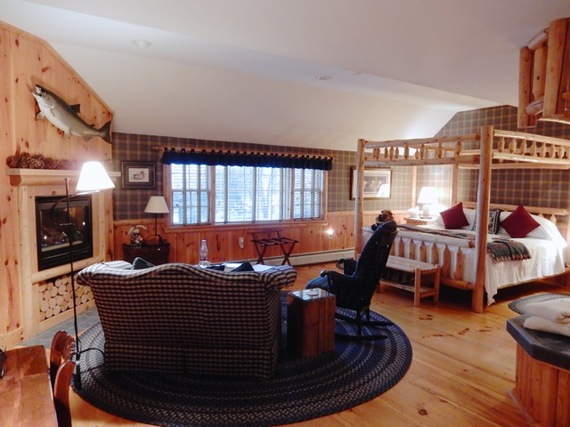 2. Rabbit Hill Inn, Lower Waterford VT. You might just inadvertently "lose" your car keys, or be happy the storm is raging and you can't go out, once you settle in at the Rabbit Hill Inn. Owners, Brian and Leslie Mulcahy, exude the kind of warmth and good will that radiates brightly - and thaws out everything - around them. A country-hamlet-white church stands across from this inviting whitewashed antique inn in Lower Waterford - a bucolic slice of rural Vermont. If there was ever a place to unplug, it's here, in this exemplar of New England hospitality. And now, the on site restaurant is better than ever. Once styled like a classic Colonial-era Tavern, Rabbit Hill Restaurant has just been renovated in more contemporary fashion; rooms are beautifully polished, modern art adorns the walls, and the food, well, the food is destination worthy - innovative, perfect for foodies, with a menu that changes seasonally to reflect what is available locally. Big Picture by Executive Chef, Andrew Hunter, executed by Sous Chef, Josh Riach. But even breakfast is a 5-star event. Brill Williams, formerly chef/owner of the highly regarded Inn at Sawmill Farm in W. Dover (now a Hermitage property), creates spectacular morning meals here. It's a very special place.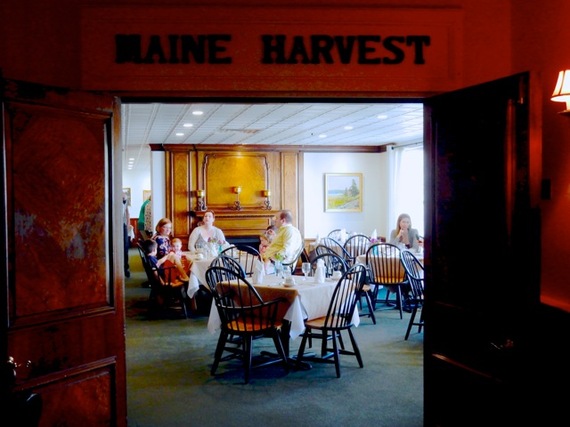 3. Harraseeket Inn, Freeport ME. The biggest surprise about the old New England style Harraseeket Inn is its age. Appearing to all the world like a hundred year old country inn and staple of Freeport, the lodging is just 30 years old; the brainchild of Nancy Dyer Gray, from a New England Inn owning family, who saw a niche in a town anchored by major retailer LL Bean, and filled it. Now, Nancy's son, the very hands-on Rodney "Chip" Gray, manages the Harraseeket. Chip is all about keeping the inn "green" in the environmental sense, and food organic and local. The Harraseeket is not lavish, but it is imbued with an atmosphere of New England comfort; roomy couches, overstuffed wingback chairs in floral print and a fire, oh so cozy on stormy days, glowing in the fireplace. It's the kind of place that couples and families book when a snowstorm is projected - as a safe haven with indoor swimming pool and great places to eat all under one roof. There are two restaurants on site: Maine Harvest (fine) and Broad Arrow Tavern (casual) and yes it's sea and field to table to the nth degree. The Inn works with local lobstermen and farmers: Chefs go so far as to cultivate purveyors to get the ingredients they want. So even if you're stuck inside for a few days, you will be pampered with food that's tremendously good.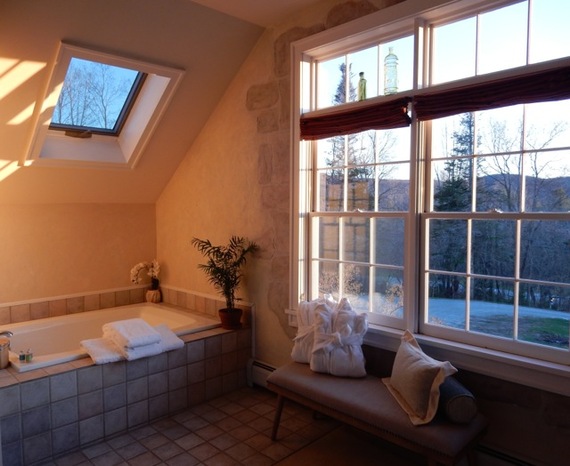 4. Red Clover Inn, Mendon, VT. Just a few miles from downtown Rutland, and about 15 minutes from Killington Ski Resort, this attractive yellow inn is fine enough for the local Chamber of Commerce to hold a monthly soiree, friendly enough to feel like family, and, with an excellent restaurant, a perfect place to hunker down when bad weather keeps you inside. Built in 1849 as a summer retreat and 200-acre farm for the Ripley family of Rutland, what is now the Red Clover Inn became the SATCO Lodge in the 60's and 70's before falling into disrepair. The Tyler's (who also own the family-friendly Tyler Place), purchased the property in 2009, and then renovated and updated all 14 rooms to striking effect. Rooms are named after each of the 13 kids in the Ripley family. Ask for a sun-filled corner room such as Emma, an exquisitely romantic sundrenched dormer with two skylights - one over an in-bedroom Jacuzzi, the other in a sizable bathroom. The Red Clover Inn is known for its destination restaurant, as innovative as it is excellent. You'll find Escargot atop a bed of seaweed, Duck pan-roasted with pomegranate demi-glaze, and other remarkable dishes on a menu that changes seasonally.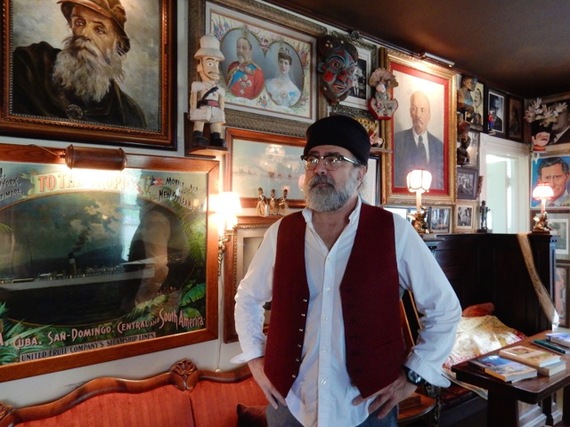 5. The Pentagoet Inn, Castine ME is the queen on the hill, a lovely Queen Anne overlooking Penobscot Bay. On the Select Registry, this lovely inn caters to the quirky foodie traveler who really wants to escape from the world and switch off. And if switching off means waiting out that two day white-out, even better. For the past 16 years, Jack Burke, looking ever the French seafarer with his salt and pepper beard and ponytail tucked behind his cap, and his wife, Julie Van De Graat, formerly an executive chef who owned the Pink Rose Pastry Shop in Philly, have run the Pentagoet Inn as a sanctuary for travelers wishing to avoid the typical Maine Coast crowds. The low-lit pub room, every inch of wall blanketed with photos of heads of state and officials from around the world - remnants from Jack's former life as a refugee worker in conflict zones - is one of the strangest and coolest B&B rooms anywhere. It's where you'll find yourself late afternoon for wine and cheese, contemplating the juxtaposition of Lenin, Kennedy and Ghandi among hundreds of others. Pastries served in the morning are decadently awesome, thanks to Julie's magical baking skills. Guests from DC and Philly come to Castine ME and the Pentagoet Inn specifically for her famous scones and muffins. Though a delicious second course hot dish is served as well, you might want to pocket some of those scones for later, or just hope the N'or Easter keeps up. In season, the Pentagoet's in-house restaurant opens for dinner, specializing in Maine-influenced dishes with ingredients sourced from farms on the Blue Hill Peninsula. The signature Bouillabaisse, says the Lonely Planet Guide, "may cause French visitors to weep with envy." (Closed February - April).
Support HuffPost
A No-B.S. Guide To Life
Related
Popular in the Community