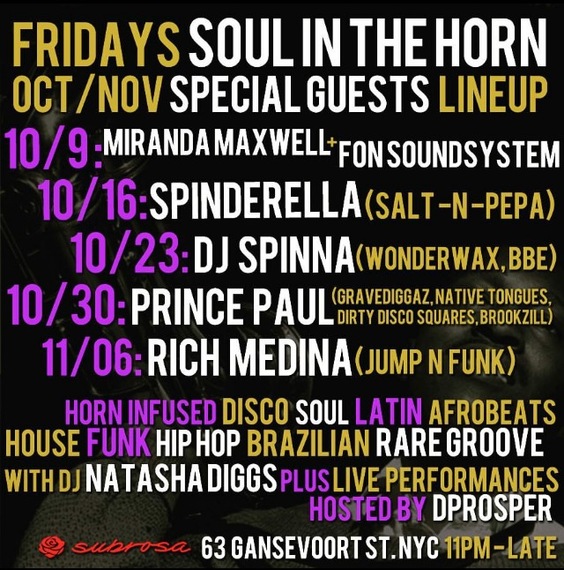 Fridays are like a wild card for me...
I am never quite sure where my Fridays will take me after a seemingly long work week...
Friday activities could range from preparing for the weekend activities with the family, heading out of town, extending my workload into the night, or "attempting" to catch up on rest...I can only try...
But on Friday, October 16th...
Yep, she is a hard-working DJ...
And it is hosted by D. Prosper, a talented and creative music influencer...
On this day in particular, the event flyer marked a lineup mixed of guests and live performances featuring the Legendary Spinderella, Adrian Younge, Daru Jones, Matt Pedals, Big Yuki, Bridget Perez, Rich Nice and Eric L Beats, who brought in his 30th birthday during his DJ set.
The party takes place at Subrosa, conveniently located in NYC's Meatpacking District. The scenario reminded me of growing up in Chicago and going to the basement parties in the late 80's/early 90's with the one red light bulb (screeches record) EXCEPT, this place was what you dreamed of turning your Grandma's basement into when your lottery numbers hit...
As you enter, the candlelit slanted concrete staircase lowered you into the party scene, where the exposed brick walls were the stage's backdrop. The dark and red lighting created an air of musical romance and I felt pretty, oh so pretty.
Since I have creative super powers, my instincts were reading a positive vibe about this party. DJ Natasha Diggs was playing a James Brown classic...
She was backed by a live performance given by drummer extraordinaire Daru Jones...
Give it up for the drummer, ladies and gentlemen (applaud here)...
I felt like I had one leg out and one leg in the television screen...
When DJ Spinderella learned that Large Professor was also in the crowd, she began her dj set with the perfect theme to my Friday night, with "Just Hangin' Out. " She then proceeded to play what seemed like, my life's Broadway musical, taking me back with the hip hop classics. At one point, I just wanted to grab the microphone and start rhyming (grabs mic here)...
New York City is a place where one can be entertained any day of week, so if you find yourself wanting to venture out into the " City that Never Sleeps," on a Friday night; here are Five Fabulous reasons why I believe you should find your way to Fridays SOUL IN THE HORN;

1) It's a party with a FLY Name. You have to admit that the name, Soul In the Horn is cool, right? It is just enough to spark a potential party-goer's curiosity. Appeal is everything.
2) It's FREE !! This is where the saying, "You can't get something for nothing," goes absolutely out the window. Please put your money away...well except for food and drinks.
3) Kick off your weekend with a quality event, on a FRIDAY night and move on with the rest of your weekend.
4) The FEATURED guests are amazing!! Any music lover would feel appreciative with the diverse range of talent.
5) It's a FUN party !! Need I say more?
Now take this FIVE and give me some SOUL IN THE HORN...
Love, Peace and Soulful Sips,
IG: @soulinthehorn
IG: @soulfulsips
Twitter: @soulful_sips
Blog: www.soulfulsips.com
Calling all HuffPost superfans!
Sign up for membership to become a founding member and help shape HuffPost's next chapter