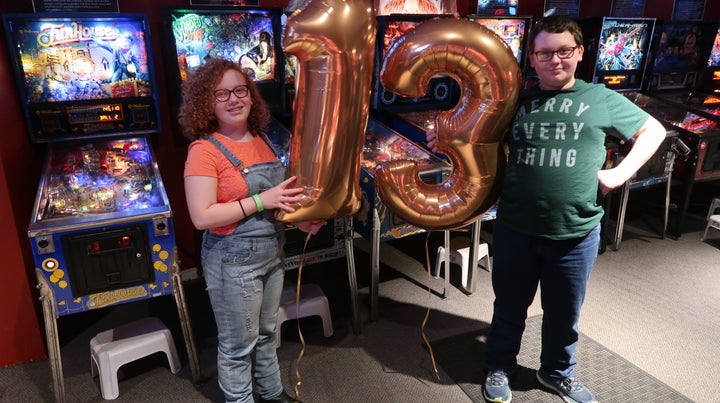 Birthdays are that special time in our life that we get to turn the spotlight on us and celebrate. When your children are younger there are swarms of birthday party places that can accommodate even crowds as young as 2 years old. BUT as your kids get older, their taste gets a little more discriminating and what was once considered a fun birthday tradition can turn into an eye rolling birthday idea. Teens are not quite adults, but they know what they like (and what they don't) and at a time where they don't want to be embarrassed in front of their friends, finding ways to celebrate your teens birthday gets more and more challenging. If you had anywhere near as much trouble as I did, hopefully you'll stumble upon this article and say "Thank You Nat!" since I've found the top five birthday party ideas for teens in NYC.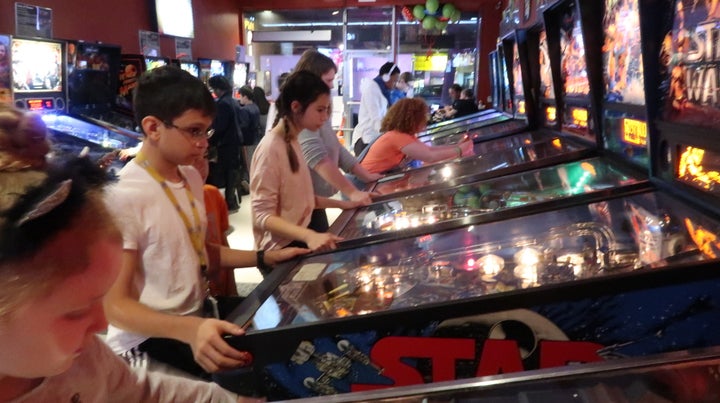 Pinball in NYC? Yup! A large party room in the back makes this a top birthday party spot for the teen crowd in NYC. Guests can plan unlimited games or just hang out. This pinball paradise offers party packages that even include food and can accommodate groups of all sizes. Your teen and their friends will fall in love with these classic arcade games and mom and dad will love it too. Create a challenge for the birthday group and ask them to take a snap of their highest pinball score for a prize or even make them go head-to-head on one of their many machines like their classic Star Wars Episode 1 pinball game. The choices are endless and even if younger cousins or friends join the celebration, there are convenient benches for vertically challenged folks so they can play just as easily. Bonus Party Tip: Popye's Chicken is around the corner and Baskin Robbins is across the street. If you opt to plan a party without the food package, you have a TON of selection in that amazing Murray Hill location. There is even a grocery store across the street to grab water, soda and chips. This is one of the most convenient spots in NYC for a party.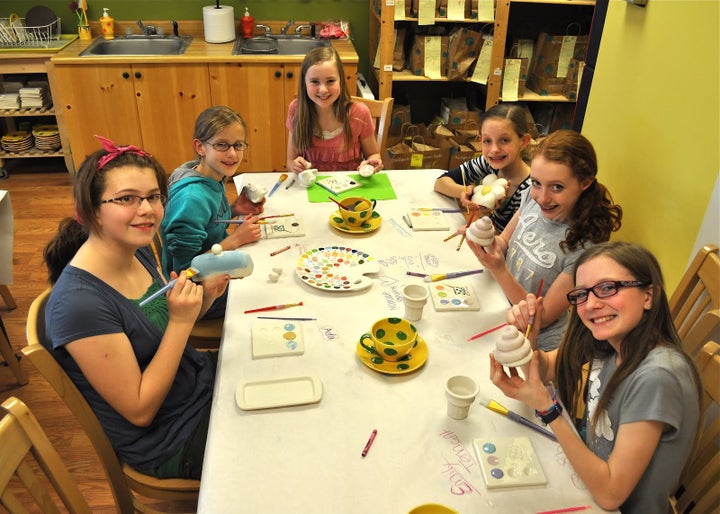 Teens love nothing more then taking something and making it their own! Color Me Mine has a HUGE array of remade pottery pieces that your teen (and their guests) can choose from. They can choose the same piece or different pieces for the whole party, but everyone gets a say. A colorful palate of paint is provided for each guest and off they go! Ask the location if you can bring your own party play list with you and your teen guests can belt out the words to their favorite song while they paint their amazing creations. Guest don't get to leave that day with their masterpieces, but it makes the celebration continue when they finally are picked up and handed out to their friends at school or sports. Bonus Party Tip: With the location hovering on the border of Chinatown, take your crew to eat some authentic dim sum and practice their chop stick skills!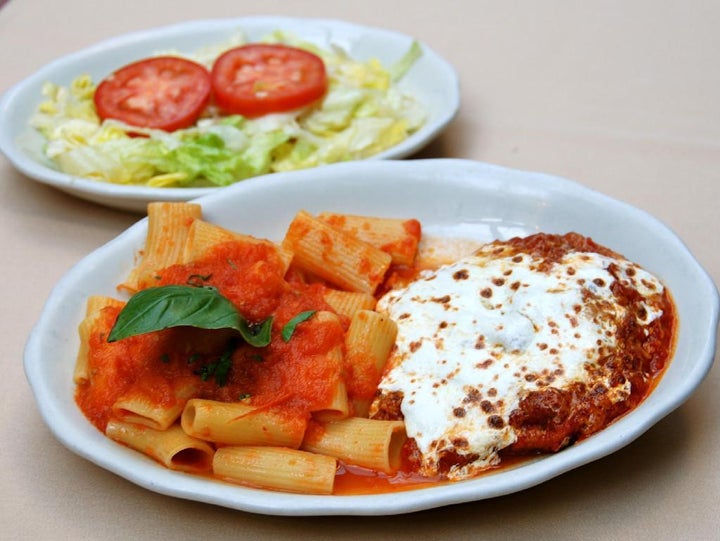 If your teen considered themselves a foodie, why not embrace their culinary palate and take a trip downtown to historic Little Italy. Lunch specials at La Mela, a classic NYC culinary institution start at $11.99 and can accommodate groups up to 50 teens! Gaze upon the pictures on the walls of all the celebrities that frequent this small neighborhood joint. You'll spot pictures of cast members from The Walking Dead, the Fox series Gotham and most recently Mariah Carey. Start your journey there and then head out into one of the most authentic neighborhoods in NYC. Continue your foodie journey at some of the amazing Italian bakeries right there like Cafe Roma, and La Bella Ferrara. Sample some rainbow cookies, cannolis, or delicious Italian ices if the weather is right. Then stroll! The small narrow streets and pop up street art projects make for the perfect backdrop for that perfect Instagram selfie. Bonus Party Tip: Stop at one of the (what seems like) million purse stores and have each guest pick out their own birthday party goodie since these items run from $5 and up!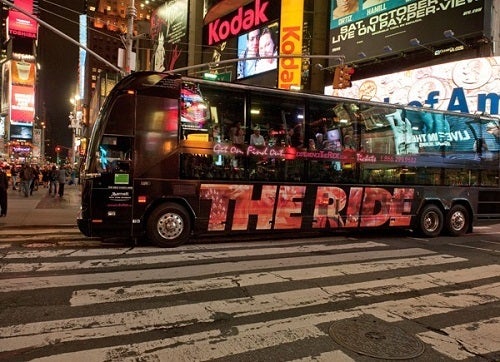 If your kids were born and raised right here in good old NYC or if you are a recent transplant, The Ride is one of those "MUST DO" activities in NYC. PERFECT for the teen crowd this experience starts in the theater district and takes you throughout the city. You and your crew will board this specially designed bus where the seats face the SIDE of the bus and as you drive around the city, flash mobs and other performances are perfectly executed right in plain site of the busy New Yorkers hurrying about. This is the perfect spot for a teen party because it's unique, fun, affordable, AND keeps them in one place while seeing the city instead of having to corral a bunch of kids about. They even have all inclusive party packages that include lunch! If you are looking for something that takes you around NYC, this is the birthday party for you. Bonus Party Tip: Get matching shirts (in the summer) or scarves (in the winter) for your party so as you galavant throughout the city, it's easier to keep tabs on everyone and each guest gets to take it home as a souvenir.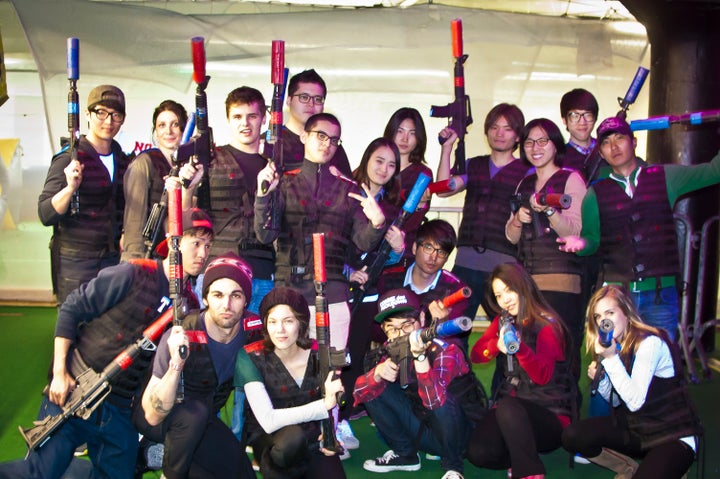 If you have teens that need to run around and have a "blast" then jump on the 7 train to the 33rd street stop in Queens and hoof it over to Indoor Extreme Sports. This is a hot spot for teen birthday parties and you must book it way in advance. Party packages include all the laser tag gear, food and drinks. This all weather perfect party is indoors in a football sized arena where your teen party guests will have to outsmart their fellow party guests and be the last man standing. There are plenty of other things to do at this indoor park if laser tag isn't your thing. An onsite arcade and even a paintball arena make this one of the best spots for a teen party in the five boroughs. Bonus Party Tip: Assign the teams ahead of time and create your invitations based on their team color. Encourage guests to wear that color that day so their teammates have an easier time spotting them on the field. OH and parents can get involved too. Do I sense a parents vs. kids game? Why not! Just have fun.
I hope these few quick party tips help make your teen party planning a bit easier. I can assure you, they are all winners that will guarantee your kids have a great time, and won't break your bank easier. Hey, we have to save for college...don't we?
Support HuffPost
The Stakes Have Never Been Higher
Related
Popular in the Community