Andrea Minarcek Senior Travel Editor, Sunset magazine
At Sunset, we've had cabin fever for years. Since the magazine began, in 1898, we've devoted countless pages to introducing our readers to gorgeous cabin retreats across the U.S. West. This fall, we decided to round up our very favorites and created the ultimate getaway guide. Here are five on my own travel wish list -- from the Big Sur coast to the Joshua Tree desert.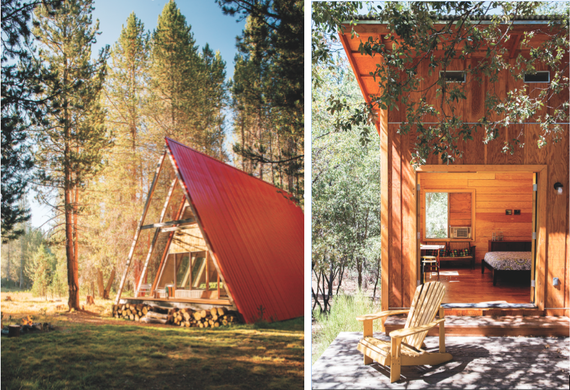 1. Far Meadow - Sierra National Forest, California
Yosemite may be only 12 miles away, but Far Meadow in some ways, trumps the iconic park. No valley floor swarmed with bus tours or crowded cafeterias -- just you, your friends, and family tucked into a 750-square-foot pine cabin, with 5 glorious High Sierra acres all to yourselves. The Base Camp cabin -- undamaged by this summer's Rim Fire, which actually stopped 100 miles north -- was remodeled in 2013, with the addition of a second bedroom and French doors that open onto the deck. In autumn, you'll find the kind of Technicolor fall foliage that'll make you think you've landed in New England. A bit farther east, above Bass Lake (and the snow line), Far Meadow maintains five additional properties in the Sierra National Forest: a new A-frame was added this season alongside a log cabin, two outfitted trailers, and another A-frame. From late May to November, you can swim, fish, and hike your heart out. After that, these five solar-powered accommodations remain open, but getting there gets more complicated. In winter, after the road closes, they're accessible only by snowmobile or snowcat, and guides will take only the adventurous in -- to cross-country ski, snowshoe, make snow angels -- with a friendly reminder to stay safe. As manager Kris Roni puts it, "This is the High Sierra, and we are, always, at the whims of nature."
Best time to go: November if you're adventurous, or June for the Sierra's sunny, clear-sky days.
2. Rimrock Ranch Cabins - Pioneertown, California
Surrounded by tumbleweed, cactus, and the twisted trunks of Joshua Tree National Park, 20 miles east, this 10-acre retreat is all about the stars. Hollywood celebs like Gene Autry and Roy Rogers used to hole up at the Rimrock Ranch Cabins in the 1950s, but we're also talking galaxies, smeared across the expansive, dark desert sky. You can stargaze from the Adirondack chair on your private patio, which proprietor Jim Austin keeps warm with a wood-stoked firepit. During the day, you can lounge in the hammocks or swim in the pool, an aboveground oasis filled with mineral water. Built in 1947, the property's four knotty-pine cabins are decorated in "desert eclectica" -- antique lamps, patchwork quilts, and vintage posters. Austin considers Rimrock his ongoing art project, and repeat guests are likely to notice new additions every few months: an 18-ton rock heart sculpture for weddings, say, or even the strikingly modern home and multiuse space he constructed with a suite for rent. Rimrock is a far cry from the Four Seasons, and that is entirely, exactly the point.
Best time to go: Early spring, when the desert wildflowers are in bloom.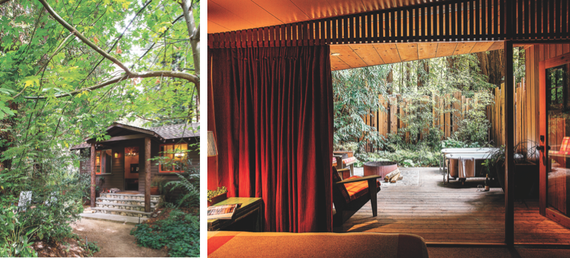 3. Glen Oaks - Big Sur, California
Let the luxury hotels on Big Sur's dramatic coast have all the glory -- in-the-know Highway 1 travelers would rather keep Glen Oaks all to themselves. The main lodge has 16 rooms, but it's the eight renovated cabins and two cottages along the burbling Big Sur River that are the most coveted. None more so than the Big Sur Cabin, with its private patio, outdoor firepit, and twin side-by-side clawfoot tubs, set up for soaking under the stars. (In fact, according to Glen Oaks's manager, they've already poached a few guests from high-end Ventana and Post Ranch Inn who've realized they can spa and sup there -- but save a load by bunking at Glen Oaks instead.) What this 1957 motor lodge turned eco-mod retreat lacks in sparkling ocean views, it makes up for with the kind of rare, woodsy quiet that comes only from snuggling under a Pen­dleton wool blanket by the crackling fire, beneath ancient, soaring redwood trees. (That includes the 500-year-old, 12-foot-wide, 100-plus-foot-tall Grandmother Pfeiffer Redwood, the second-largest in all of Big Sur.) The cabins' radiant-heat floors, cast-iron stoves, and ready-to-go s'mores make it a little too easy to hunker down instead of hike. The Big Sur Roadhouse restaurant is just steps away too, which means you can dine on grass-fed steak and stumble back to your bed instead of cooking in your (sparse albeit cute) kitchenette.
Best time to go: September and October, for Big Sur's sunniest, warmest weather.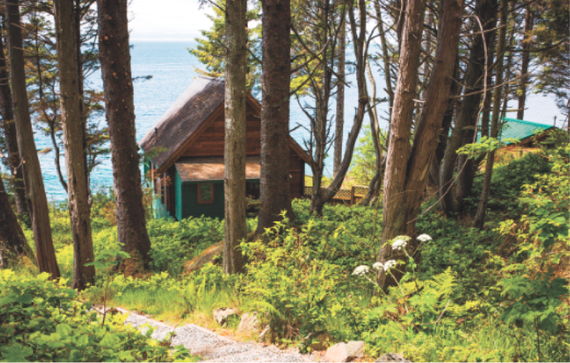 4. Point No Point Resort - Shirley, British Columbia
It exists: that private waterfront cabin with front-row views of the crashing Pacific, crackling fireplaces, and nary another tourist in sight -- for less than $200 a night. So why haven't you heard much about Point No Point before? Perhaps because it's on Vancouver Island and Canadians have somehow learned to keep these sorts of special places a secret. The decidedly un-resort escape is the best of both worlds -- seemingly on the edge of civilization and yet still accessible, just 40 miles west of Victoria. Point No Point's 25 simple log cabins were built on a cliff, some in the 1950s, but there have been gradual improvements over the decades, such as new two-person showers and, most recently, a hot tub on almost every wooden deck. Shaker-style furniture, bright red Adirondack chairs, and warm cedar walls give the cabins a timeless feel, as does the winding country road, which you can follow from rugged beach to beach, back to your own empty stretch of sand, complete with a covered firepit to keep you warm. When it's time for dinner, you can continue up the path to the intimate on-site restaurant. One of Vancouver Island's best, it has walled-in windows so you can scan for otters, whales, and dolphins (binoculars are on every table) over locally caught salmon and seared scallops. It's the kind of place that fosters loyalty, says Sharon Soderberg, who's owned Point No Point with her husband, Stuart, for 32 years. "We've watched children grow up here," she says, "who now come back with their own."
Best time to go: July through September for sunbathing on the beach and your best chance of spotting humpback whales; you can see orcas and gray whales year-round.
5. Dunton Hot Springs - Dolores, Colorado
Log onto the live webcam for Dunton Hot Springs and the scene looks straight out of the 1800s: a cluster of 12 Lincoln Log-like cabins scattered across a meadow at the foot of the towering San Juan Mountains -- a tipi here, a wagon wheel there, steamy natural hot springs everywhere. If you make the trek to this restored ghost town in remote southwestern Colorado, you'll find full-on 21st-century luxury as well. It's the kind of riverfront rusticity that can run you a thousand dollars a night, where both fly-fishing and reflexology are on the agenda, and the "Saloon" is more like an inventive, outdoorsy French Laundry, serving slow-roasted elk tenderloin and reserve bottles of Napa's best. Though Dunton recently added eight canvas tents to its Cresto Ranch site, 4 miles downriver, its 12 cabins, originally built out of aspen and cottonwood in 1885, have been sought-after escapes since 2001, when they reopened with outdoor rainshowers, ready-to-light fireplaces, and Rajasthani wedding beds. Couples come from all over the world to hike, ride horseback, and soak in the 107° hot springs, as the odd elk, moose, or black bear strolls by. (It's so peaceful, in fact, that at least one recent guest had to download a white noise app on his iPad.) Dunton ain't cheap, but as one honeymooner said, "Three days with the love of my life was worth every penny."
Best time to go: November. Rates are at their lowest, and the river water's still warm enough for swimming.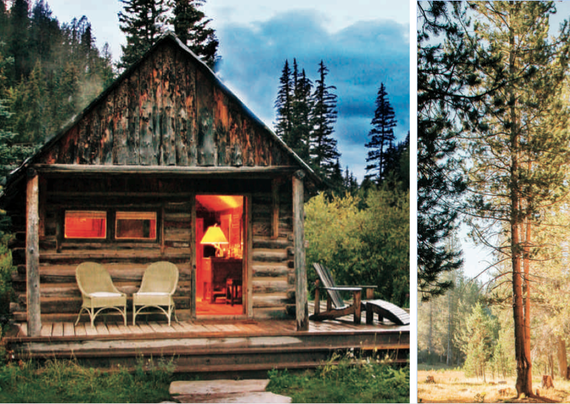 You can find all of Sunset's picks for the best cabin rentals on newsstands, in our November issue, and online here.
Photographs courtesy of Sunset magazine. All photographs used are the property of Sunset and are not to be republished without permission.