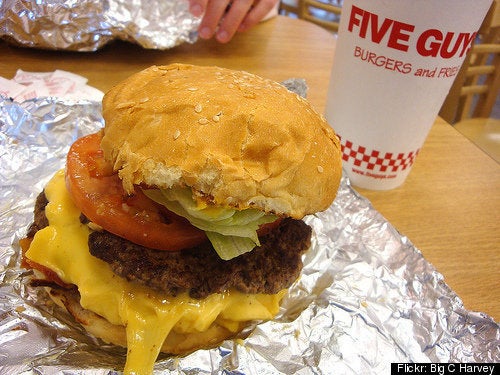 We first wrote about the Five Guys vs. In-N-Out showdown in August 2010, when Five Guys' third franchise in Southern California went up in the city of Orange.
Now at 27 Southern California locations, Five Guys seems set to overwhelm the burger landscape as well as the iconic In-N-Out franchise. The LA Times reports that "Five Guys has sold the rights to open 200 more in Southern California alone — nearly double the number operated here by In-N-Out. Next up is a Culver City location, set to open in mid-April."
Five Guys bested In-N-Out in Zagat's 2010 fast food survey for the "Best Fast Food Burger," although it was noted that it could be because the Five Guys chain is simply more prolific than West Coast-based In-N-Out.
The LA Times also notes some interesting differences between the clientele of In-N-Out and Five Guys:
In-N-Out's menu items are generally less expensive — the chain is most popular with young men ages 18 to 24 with an income of less than $70,000 a year, according to NPD. By contrast, Five Guys patrons are generally 25 to 50 years old, with an income of more than $100,000.
Have you been seduced by the East Coast newcomer, or are you sticking fast to In-N-Out, a Southern California staple?
Related
Popular in the Community