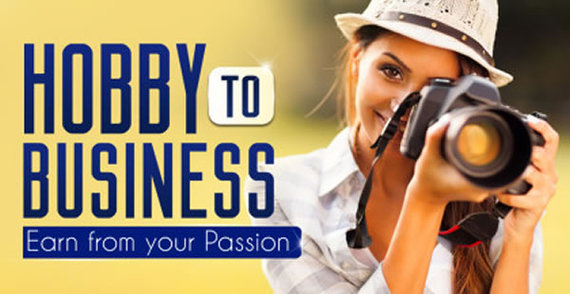 My story is similar to thousands of graduates before me. I graduated from school a few years back only
to realize that the saying "there are no jobs" was not without merit.
In my bid to leave the ever swelling mass of the unemployed, I was forced to think inside the box and look at the skills and hobbies I had formerly taken for granted.
The unbelievable truth is that there is a market for everything. The challenge is discovering what to sell and how best to get it to the people who need it.
For instance, Dustin Gyger, CEO of Six Three Zero Bicycle Company managed to successfully turn his cycling hobby into a six figure business. In his own words, "Riding my bicycle in the neighborhood was
my favorite thing in the world to do."
He combined his keen interest in fashion and pop culture and his obsession with bikes into a major business and revolutionized the cycling culture with really cool bike designs.
Maybe you are one of those who people that have really cool hobbies, and you are wondering what to do so it will start making money for you. Well, here are a few steps to turning your hobbies into a lucrative business.
1. Don't Underestimate the Earning Capacity of Your Hobby
Kim Lavine started making microwavable pillows as gifts for her children's teachers in 2001. When her husband lost his job around the same time, she turned her pastime into a source of income.
She went from selling pillows out of her truck to setting up mall kiosks and incorporating her company, Green Daisy, in 2002. Within two years, Lavine's Wuvit pillow was in national chains, including Saks Fifth Avenue, Macy's and Bed Bath & Beyond, and by 2006, it had generated more than $1 million in sales.
2. Determine the marketability of your hobby
To determine whether your hobby can become a business, first ask: "Do I have a great product and can I demonstrate and prove its marketability?"
This may sound elemental but too many entrepreneurs fail to consider this question.
When Terry Finley bought his first horse, Sunbelt, for $5,000 in 1991, he felt stuck in his job selling life insurance. After he won his first race that year, he knew his hobby had a market and could be profitable with further investment. Finley ran small ads in racing papers and attracted an investor who paid $5,000 for partial ownership of Sunbelt.
Soon after, he quit his job and founded West Point Thoroughbreds. Today, his company owns 55 syndicated horses with 550 investors and revenue of over $5 million annually.
When Craig Jenkins-Sutton started designing gardens he had no formal landscaping training, just a lifelong green thumb. Growing up in central Minnesota, he always had a love for gardening.
He knew he didn't want to work for someone else, so he put a small ad in the Chicago tribune, offering his garden design services. In a week, he received 40 calls but only one turned into a customer. That one customer was enough to get the business going. That same year, he founded garden design company, Topiarius, in Chicago.
Jenkins-Sutton learned how to market his business mainly by trial and error. With vast social media channels available at our disposal, we can reach customers faster than ever.
Megan Duckett moved to Los Angeles from Australia with big dreams of working in the entertainment industry.
She took a job with an event planner and in her free time began sewing at her kitchen table, making beddings, drapes and costumes. When the request to make the linings inside 10 decorative coffins for her employer's Halloween event came up, Duckett took on the challenge.
That was the point when she realized that she possessed a skill set that other people didn't have. Megan Duckett positioned herself as a specialist in designing props and entertainment décor and this set her apart from the rest. Big projects like designing 25 silk chandeliers for The Mirage in Las Vegas, came a year later.
She has gone on to start two businesses and manages over 44 employees around the world.
5. Prepare for a steep learning curve
Transitioning your hobby from being a fun activity you do, to relax to a full-time business is never easy and many hobbyists-cum-businessmen cautioned that after turning their hobby into work, they no longer enjoyed doing it.
The pressure of working to a schedule and meeting financial goals and customer expectations simply took away the fun, relaxation, and personal satisfaction they had previously felt doing it.
At the height of the Great Recession, the New York Times looked into how some corporate layoffs used the tough economic times as launching pad to pursue their passion businesses.
It turns out, transitioning from hobby to business is harder than it seems. It involves meeting a lot of deadlines, six-day weeks, a steep learning curve, a huge commitment, a non-existent social life, no security, physical exhaustion and emotional meltdowns.
According to Bplans, it is important to ask yourself the following questions before you take that plunge.
Will you enjoy doing your hobby on a deadline?
Sure you love baking the occasional cupcake for friends and family. Will you enjoy turning them out day in day out, under heavy pressure and tight deadlines for years on end?
Are you really committed to turning your hobby into a business?
Starting up will be tough. You will be wearing a lot of hats for a while- accountant, customer service rep, brand ambassador, CEO and so on. This might be a good time for you to think about what it takes to be an entrepreneur