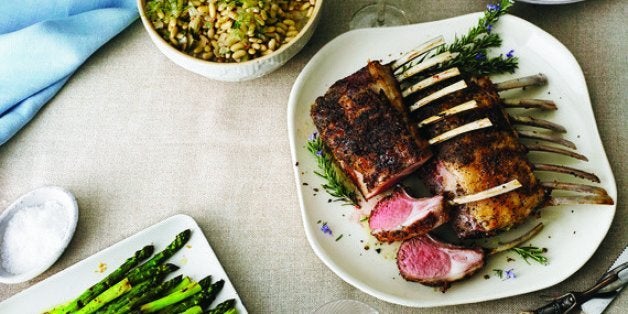 Lamb gives some people the shudders. I know--I used to be one of them; I remember shunning a reeking, rug-textured roast on the family table, back in the late 1970s.
But American lamb is a whole different animal now.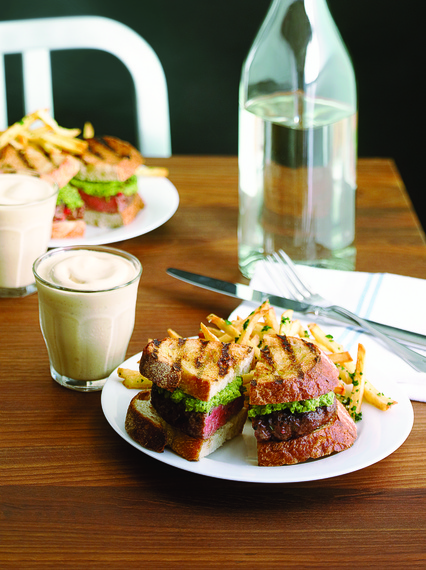 Recipe #2: These juicy lamb burgers are slathered with a fresh, lively pesto of peas and mint. Photo by Annabelle Breakey.
In the past several decades, lamb has been bred for flavor and tenderness instead of for wool. As a result, it's infinitely better. In fact, a good, rosy cut of lamb, succulent and earthy-sweet, is as good or better as any other meat you can eat. Grass-fed lamb in particular can be incredible; it's delicate and mild, seasoned with the flavors of the pasture.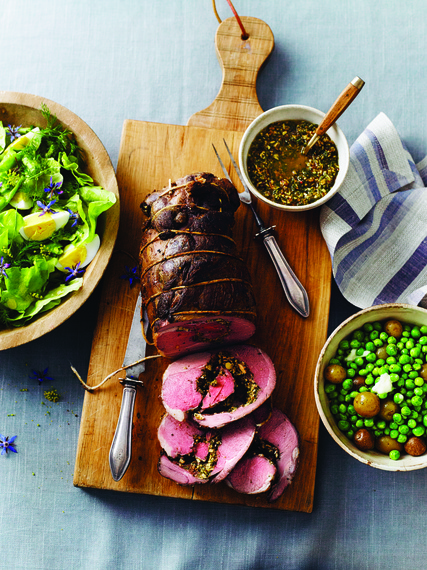 Recipe #3: Roast leg of lamb with almond-mint pesto is a fresh take on lamb with mint sauce. Photo by Iain Bagwell.
In just a few weeks, you can taste award-winning lamb recipes at the national Lamb Jam Cookoff in central California--and help pick the overall winner. Sunset SAVOR the Central Coast is hosting the cookoff on September 28.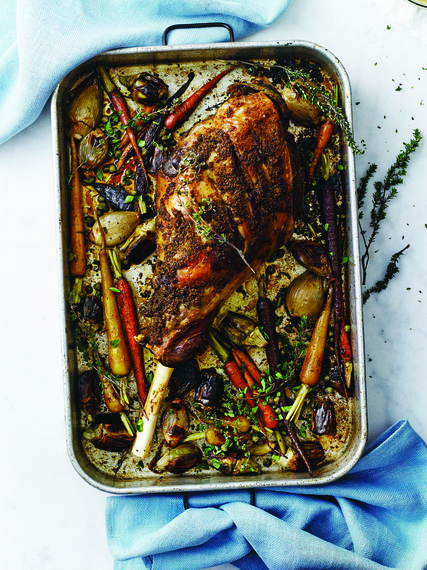 Recipe #4: A dinner-table showstopper: slow-roasted leg of lamb with spring vegetables. Photo by Iain Bagwell.
Meanwhile, here are two tips for buying good lamb:
1. Go for grass-fed lamb when you can. It's not cheap, but absolutely delicious, and many people feel it's healthier than grain-fed, as well as being better for the animals and the land. Find 100 percent grass-fed lamb at eatwild.com and well-stocked grocery stores. Three of our favorite ranches that sell online: GrassRoots Meats, Lava Lake Lamb, and Willow Spring Ranch Montana.
2. Choose lamb that's light red in hue. This is your clue that the animal is younger, and therefore milder-tasting. Size isn't necessarily an indicator, since American lambs are bred to be large. Pink or cherry red means it's young (less than a year); dark purplish red means it's older.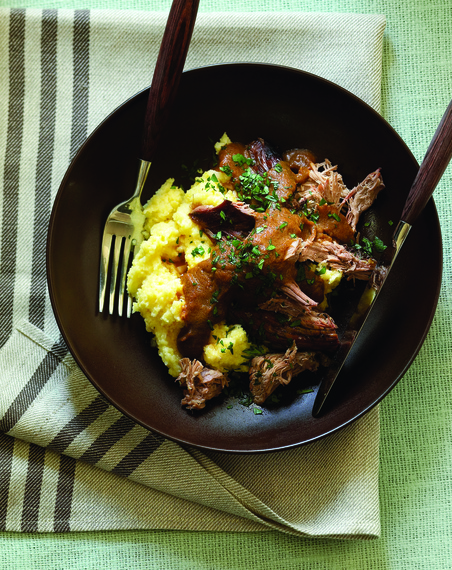 Recipe #5: Coffee-braised spoon lamb--so tender you can cut it with, yes, a spoon. Photo by Annabelle Breakey.