Many large State of Texas agencies and the Federal government are fertile markets for small, women, and minority owned businesses to grow their revenue and expand. And with the abundance of help available through many organizations such as Chambers of Commerce, Small Business Administration, Women's Business Centers, government agency's Small Business Development Departments, Small Business Development Centers and many more, it is a must-go time for minority businesses to take calculated risks to expand their footprint through government contracting.
To make a shift in expanding your small, woman or minority business in government contracting, keep in mind that it will take the application of smart strategies. From industry data collected over a period of time, here are five strategies that were found to be gems and can help small, women, and minority owned businesses succeed in expanding their footprint in government contracting. The first three of the five strategies are highlighted below.
Subcontract to Prime: Local, State and Federal government agencies award, negotiate and establish contracts with one entity for legal purposes. This company is known as the Prime contractor or consultant depending on the type of contract and scope involved. Regardless, if a Prime Contractor or Consultant, serving as a Prime on a government contract carries high risk.
The Sub-to-Prime strategy allows small firms to generate revenue and to expand without assuming the full liability for the government contract awarded. It also provides an environment for small businesses to build their company's resume and strengthen their capabilities while being informally mentored by the Prime.
Another plus with the Sub-to-Prime strategy is if your small business decides to submit a proposal as a Prime on future solicitations, you can use your subcontract projects as proof of a particular scope or agency experience. Other benefits gained from the Sub-to-Prime strategy to expand include improved cash flow from a government agency's prompt payment policies to minority businesses and specialized training offered by the Prime.
Establish a Joint Venture: A Joint Venture (JV) in government contracting involves two or more firms establishing a legal business entity to pursue market opportunities and subsequently, to grow revenues through combining the perspective firm's strengths. By participating in a Joint Venture, a small business can expand their market footprint in their city, state, or in other parts of the country.
The small business is considered as a Prime with its Joint Venture Partners on a government project; and will enjoy the benefits that typically go along with being a Prime.
In addition, this strategy enables small businesses to learn new skills and gain experience while building inside government agency relationships to support their expansion efforts.
Participate in a Mentor Protégé Relationship: The Mentor Protégé strategy is worthwhile to use in expanding because it opens doors and enables small firms to piggy-back with the Mentor into other government marketplace and event allows expansion in a new geographic location.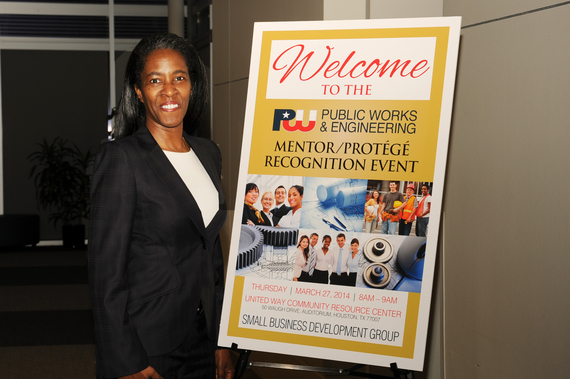 Mentoring relationships can be formal i.e. application submitted and accepted into a government agency Mentor Protégé Program or it can be informal with a large Prime. Either way, it is important that there is synergy in the Mentor's and Protégé's business principles including ethics; and both recognize how each play a role within each firm's value chain in delivering products or services to a targeted government agency client.
With an understanding of each other's business philosophy, alignment of principles and a genuine trust in place, your small business (Protégé) can leverage the relationship with Mentor to grow strategically into other markets. This strategy is a proven model and small firms can learn more about Mentor Protégé Programs by visiting www.sba.gov or for your local government, visit your city's web site.
In closing, what do you think? Use the comments area below or follow me on Twitter @BradlinkLLC to share your experiences or advice on this topic. Stay tuned for my next blog article on the Huffington Post for remaining two insider strategies on how to grow your small business in the government market.
This blogger graduated from Goldman Sachs' 10,000 Small Businesses program. Goldman Sachs is a partner of the What Is Working: Small Businesses section.
Calling all HuffPost superfans!
Sign up for membership to become a founding member and help shape HuffPost's next chapter